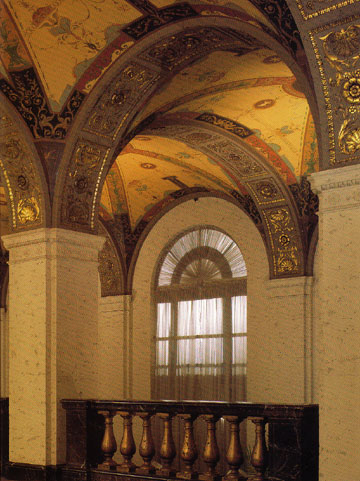 South Galeria, site of conference registration


Registration Totals
as of 10/1/2004


---

AGM registrations

487/550

Huntington Pre-conference

FULL

UCLA Post-conference

FULL

School for Scandal

FULL

Hat workshop

FULL

Ribbon workshop
FULL

Reticule workshop
FULL
Registration Information




---

By mail:
Carol Medine Moss
637 Lucerne Road
Cayucos, CA 93430
By telephone:
(805) 995-1818
By e-mail:
carol@sierrasol.com




POSTMARK DEADLINES

"Early Bird" Registration
August 1, 2004


Roommate matching advice

August 1, 2004

Regular AGM registration

Sept 24, 2004

Hotel special JASNA rate

Sept 13, 2004

Tours Deadline

Oct. 5, 2004




---

AGM attendance is limited to 550 JASNA members. We recommend early registration to avoid disappointment.




PLEASE NOTE THAT THIS CONFERENCE IS OPEN ONLY TO MEMBERS OF THE JANE AUSTEN SOCIETY OF NORTH AMERICA. (You can join as part of the conference registration process if you aren't currently a member.)

While a registration form was included in a mailing to all JASNA members, we would prefer that you filled out the version in Adobe Acrobat format posted below. (Click on "registration form" in the orange box.) This is an auto-fill version that will allow you to easily type in your information, and it will even do your sums!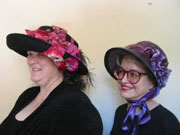 We ask you to print out two copies, keep one, and mail in the other with your check.

People who use this form to fill out their application (remember, it still must be mailed in!) will be entered in a drawing for a Mela Hoyt- Hayden Regency or tea hat of their choice. Two examples are modeled here by their proud owners, Margery Rich on the left, wearing the tea hat, and Susan Ridgeway on the right, wearing her Regency bonnet.


(Note: this requires
Adobe Acrobat Reader
.)
-TIPS FOR FILLING OUT THIS FORM-


Although they can't be seen, the text entry points are pre- established, as are the font styles and sizes, so no alignment of your cursor with a line is necessary. Therefore to fill out a blank line, all you have to do is casually to drop the cursor vertically down the page. As you approach a line you will see the cursor turn from a hand to an I-beam pointer. When this happens, click your mouse. A blinking insertion point will appear in a pre-designated spot. You simply begin typing. When done, just drop down to the next line with your mouse or hit Tab. Text can be removed by hitting the Escape key. Checks can be removed by clicking on them or using Command-Z. Dollar amounts will align around the decimal and will total at the bottom. When ready to print, use the Adobe print icon, not the browser icon. If you have problems getting the I-beam to appear or with printing, you might want to upgrade to the current Reader using the link above.
Special note for Mac OS10 users: If our form opens, but you can't fill it out, look in the upper left corner to see whether it says "Adobe Reader" or "Preview". If it says the latter, your computer has opened our form up in an image viewer program because it couldn't find Adobe Reader. If you can't find the program either, download it. If you do find it, open the program, drop the File menu, click on Open, then navigate to our Registration.pdf file, which has presumably been already downloaded onto your computer, then open it from within Adobe Reader. You should now be able to fill it out.