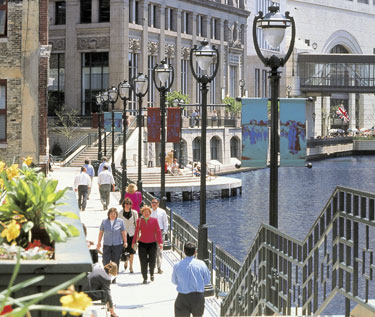 Milwaukee Riverwalk


Registration Totals


as of 10/3/2005


---

AGM registrations

443

Companion tickets

65

Tea, Thursday afternoon

200

Dance Lesson, Thursday

35

Dance Lesson, Friday

40
Villa Terrace Dinner, Sunday

80

Registration Information




---

By mail:


Janet Johnson
AGM Treasurer
Wipfli, LLP
P.O. Box 8700
Madison, WI 53708-8700


By e-mail:


JSJohnson@wipfli.com

POSTMARK DEADLINES

Early Registration

July 15, 2005

Roommate matching advice

July 15, 2005

AGM registration

Sept 23, 2005

Tours reservation deadline

September 5, 2005

Tour Information


---

By mail

Karen Bergenthal
East Town Travel
Attn: JASNA AGM Tours
765 North Broadway
Milwaukee, WI 53202-3623

By telephone

414-276-3131 or 800-822-3789

By Fax

414-276-9903

By email

kbergenthal@easttowntravel.com


PLEASE NOTE THAT THIS CONFERENCE IS OPEN ONLY TO MEMBERS OF THE JANE AUSTEN SOCIETY OF NORTH AMERICA. You can join as part of the conference registration process if you aren't currently a member.

The registration fee for the AGM is $225, if your form is postmarked on or before July 15, and $265, if it is postmarked after July 15. The final postmark date to register for the AGM is September 23. Walk-in registration and day tickets are not available.

Before completing the AGM Registration form, please check the chart on the left side of this page for sold-out events. Before selecting tours, please check the Milwaukee Tours page to see which are still available.

While a registration form was included in a mailing to all JASNA members, we would prefer that you fill out the version in the Adobe Acrobat format posted below. (Click on "registration form" in the purple box.) This is an auto-fill version that will allow you to easily type in your information, and it will even do your sums! We ask you to print out two copies, keep one, and mail in the other with your check. THESE FORMS MUST BE MAILED; THEY CANNOT BE SUBMITTED ONLINE. THE TOUR REGISTRATION MUST BE MAILED SEPARATELY TO THE TOUR PROVIDER, EAST TOWN TRAVEL.

Members who register for the AGM using the form from the website will be entered in a drawing for a special raffle basket.

These registration forms require Adobe Acrobat Reader software. You can download a copy of the most recent Adobe software by clicking on the link. Additional tips for using the forms are provided below.

-TIPS FOR FILLING OUT THESE FORMS-



Although they can't be seen, the text entry points are pre- established, as are the font styles and sizes, so no alignment of your cursor with a line is necessary. Therefore to fill out a blank line, all you have to do is casually to drop the cursor vertically down the page. As you approach a line you will see the cursor turn from a hand to an I-beam pointer. When this happens, click your mouse. A blinking insertion point will appear in a pre-designated spot. You simply begin typing. When done, just drop down to the next line with your mouse or hit Tab. Text can be removed by hitting the Escape key. Checks can be removed by clicking on them or using Command-Z. Dollar amounts will align around the decimal and will total at the bottom. When ready to print, use the Adobe print icon, not the browser icon. If you have problems getting the I-beam to appear or with printing, you might want to upgrade to the current Reader using the link above.

Special note for Mac OS X users: If our form opens, but you can't fill it out, look in the upper left corner to see whether it says "Adobe Reader" or "Preview". If it says the latter, your computer has opened our form up in an image viewer program because it couldn't find Adobe Reader. If you can't find the program either, download it. If you do find it, open the program, drop the File menu, click on Open, then navigate to our Registration05.pdf or ETTTours.pdf file, which has presumably been already downloaded onto your computer, then open it from within Adobe Reader. You should now be able to fill it out.