Imagination is everything.
—Jane to Cassandra, November 17, 1798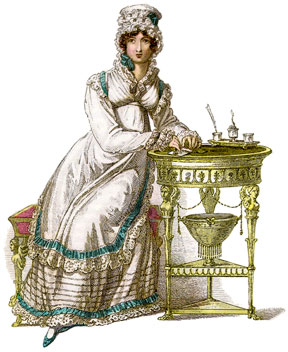 In keeping with the 2005 AGM theme,
Jane Austen's Letters in Fact and Fiction
, we invited JASNA members to "post an imaginary letter"
From one of Austen's fictional characters to another, in either the same or a different novel; or
From Austen herself to a real person, whom she may or may not have really known.
The submissions we received are clever, original, and sometimes even subversive (Mr. Knightley to Mr. Darcy with advice on how to disengage his London mistress before the wedding to Elizabeth Bennet?). Contest judges were Carrie Bebris, author of the Mr. and Mrs. Darcy mystery series (
Pride and Prescience, Suspense and Sensibility
, and
North by Northanger
), and Anne Klemm, an editor at the
Milwaukee Journal Sentinel
.
We are pleased to share the winning Imaginary Letters, written by Rachel Larson (Wisconsin Region), Jerry Vetowich (New York Metro Region), Sheryl Bonar Craig (Central Missouri Region), Carol Ann Krug Graves (Northern California Region), Miriam Rheingold Fuller (Central Missouri Region), and Judith Judson (District of Columbia Region).
Roberta Larson (Wisconsin Region)
Winner
Series of letters written after the close of

Pride and Prejudice
Hunsford Rectory
Hunsford, near Westerham, Kent
Dear Mrs. Bennet,
Allow me to express to you, Madam, my sincere condolences on the melancholy event of the passing of your worthy husband, and to assure you that my feelings upon the occasion are gravely despondent, notwithstanding that your sad loss leads inevitably to my greater comfort. Indeed, to spare your feelings, I will not mention the passing of the possession of the Longbourn estate to myself and to my male heirs, of which my dutiful wife has given me an ample number, since that acquisition must surely bring you, Mrs. Bennet, an increase of grief and despair. Were it not that some of your several daughters so luckily obtained for themselves husbands of fortune, thereby enabling them to provide for you in your declining years, I would deeply grieve for your reduced circumstances. I do, however, apologise for my wholly blameless involvement in the matter, and I congratulate myself that you can bear no resentment to one who, as you may recall, at one time offered to ameliorate the entail's consequence to your family in a most generous and unselfish fashion.
I trust that the necessary rituals consequent to death have proceeded to where it will not greatly inconvenience you to prepare for my initial visit to Longbourn House as its master, on Monday, inst. Do not distress yourself, Madam, that I come to immediately disposess you of your lodgings. That will come in due time. Rather, it is the recommendation of my attorney, Mr. Grimm of the Hunsford firm of Grimm, Dire and Slope, that I not delay in obtaining a full and detailed inventory of the contents of the estate to ensure an orderly transition to the lawful owner, that is to say, myself. Indeed, I am sure that you will agree that it is my duty to fulfill this obligation with all expediency. Mr. Grimm, therefore, will accompany me on my journey and will oversee the inventory process. The third-best bedroom will suffice for his accommodations.
My esteemed patroness, Lady Catherine De Bourgh, with her usual condescension, has taken a particular interest in my increase of fortune, as it relates to the parish of Hunsford. Naturally, I intend to engage a curate for the daily parish duties at Hunsford after I remove to Longbourn. Lady Catherine has graciously indicated that she will personally monitor the curate's performance of his duties, and will undertake to guide and correct him, as will no doubt be necessary, given Lady Catherine's exacting standards. I do not doubt that he will be amazed and gratified by her kind attentions. Bearing in mind Lady Catherine's diligence, I anticipate that a quarterly visit to Hunsford on my part will suffice to ensure prudent behaviour and proper moderation in the conduct of my flock there. Although, I reflect that in the winter quarter, it likely will be inadvisable and unnecessary to make such a long journey. In consequence of her parish oversight, Lady
Catherine will be instrumental in choosing a curate, and charges me to obtain a list of applicants for her evaluation with all due speed.
Being thus recalled to the pressing duties demanding my attention, I must close, and beg to remain,
Your obedient servant,
William Collins
_ _ _ _ _ _ _ _ _ _ _ _ _ _ _ _ _ _ _ _ _ _ _ _ _ _ _ _ _ _ _ _ _ _ _
Longbourn House
Meryton, Herts.
My Dearest Jane,
I am sorry if this letter is ill-written, but my hands tremble so that I can scarcely hold a pen. I have just received a dreadful letter from that odious Mr. Collins, which has brought on such a sick headache that I have hardly enough strength to instruct cook about my dinner.
Your poor father is not even cold in his grave, and already that greedy, grasping Mr. Collins is descending upon Longbourn to tally up all the goods he means to claim as his by this wretched entail. I am sure he will cast me out in the gutter as soon as he has determined that I have not smuggled any of the silver on my person. My nerves are in such a state that I can barely breathe, and the palpitations of my heart will surely cause me to join your father in the Hereafter in a very short time. Mary has been of no comfort whatever, though she does try to find an appropriate sermon for the occasion. But what good are sermons for the likes of Mr. Collins, I ask you! Oh, Jane, you must come to my rescue! If you and Bingley do not take Mary and me in and give us a home, I do not know what I shall do. Write directly and assure me that you will deliver me from this torment!
Your loving mother
_ _ _ _ _ _ _ _ _ _ _ _ _ _ _ _ _ _ _ _ _ _ _ _ _ _ _ _ _ _ _ _ _ _ _
Walton House
near Mansfield, Notts.
Dear Lizzy,
The news we have been expecting has come at last. Mama has written to say that she has received a letter from Mr. Collins regarding his intention of taking possession of Longbourn. As you can imagine, Mama is not taking the news well. She begs to come live with us and, of course, Mary too. When you and I spoke last of this possibility, it seemed so remote that it weighed but lightly on my thoughts. In consequence, I neglected to introduce the subject to my dear husband, and thus Charles was quite unprepared for the idea of Mama living with us here in Nottinghamshire. When I at last spoke to him about it this morning, he sighed quite heavily, but composed himself and
assured me of his complete acquiescence to the arrangement. But, Lizzy, I suspect that
he, like myself, feels not equal to the occasion. With five children under foot in this house, I fear the effect on Mama's nerves will not bear thinking of. Charles would never complain, but I cannot promise such sweetness of temper on my part! Lizzie, what shall I do?
Your loving sister,
Jane
_ _ _ _ _ _ _ _ _ _ _ _ _ _ _ _ _ _ _ _ _ _ _ _ _ _ _ _ _ _ _ _ _ _ _
Hunsford Rectory
Dear Elizabeth,
Remember the scheme you worked out when last we met during your visit to Rosings? If all is still as you described it at the time, then now is the moment to put the plan to action. Pray, do not delay, Elizabeth, Lady Catherine is as energetic as she is frank!
Yours ever, & etc.
Charlotte
_ _ _ _ _ _ _ _ _ _ _ _ _ _ _ _ _ _ _ _ _ _ _ _ _ _ _ _ _ _ _ _ _ _ _
Longbourn House
Herts.
Dear Elizabeth,
My kind sister, how can I thank you for all you have done for my dear Edward and myself? I was perhaps indiscreet in revealing to you the tender affection I held for Edward, but as he was too poor to marry, I felt that nothing would ever come of it. And now so much has happened to the contrary, it makes my head spin!
With Mr. Darcy's recommendation (which I well know you were behind, Lizzy), Edward has passed Lady Catherine's examination and is engaged as curate for Hunsford. He has now an income which allows us to marry, and you must come to Meryton next month for our wedding. Afterwards, Mama and Mary will join us at Hunsford where the Rectory will comfortably accommodate us all. How happy I am!
Edward wishes me to add his warm thanks for your thoughtfulness, although he seems to have some reservations on the advisability of making neighbors of Mama and Lady Catherine. However, I am quite sure they will become the best of friends since they are so closely connected. Mama has only to think of Mr. Darcy, and Lady Catherine has only to think of you, Lizzy, and their mutual delight will firmly unite them in all things.
Yours & etc,
Kitty
Jerry Vetowich (New York Metro Region)
Winner
Letter from Captain Wentworth to Mr. Darcy
At a
simultaneous
instant in time: At the beginning of
Persuasion
AND immediately after the proposal scene in
Pride and Prejudice
Dear Mr. Fitzwilliam Darcy,
Please accept my apology if you find this letter an intrusion into your private affairs. I have recently been portrayed very unfairly by a writer, Miss Jane Austen, and I understand that you have suffered a similar fate. In my case, prior to the beginning of
Persuasion
, I am portrayed as a headstrong young man who goes back to sea with a full portmanteau of hurt feelings. I understand that you have also been treated unfairly. The representation of your words and actions when first proposing to Elizabeth Bennett is harsh and slanted. You spoke from your heart with real feelings which are presented in the book as cold and derogatory.
How will the books proceed? Most likely we will be forced to have major changes in attitude or personality, while the female characters will be allowed to remain as they are. Miss Austen will lay the blame (or reader's perception of blame) to Lady Russell and to Elizabeth Bennet, when the blame is certainly all Miss Austen's for her unfair portrayals of our character and morals.
As we will make no progress appealing to Miss Austen's better nature (she has none, as can be seen in her letters), I hereby propose a plan of action. One of the sillier tasks that people do is to write sequels to Jane Austen novels. For us to sponsor a sequel to state our case would most likely have little effect. It would be just another such curiosity in a sea of curiosities and will most likely not be able to overcome the damage done to our character in the books as the books proceed forward from where they are at this point.
I would like to propose that we jointly sponsor a prequel that will be a more accurate portrayal of our personalities and moral standards. It should include (among other things):
- A history of our relationships with our sisters and what warm loving brothers we have been.
- Our lack of previous romantic entanglements, which demonstrates that we have always conducted ourselves as gentlemen and have shown proper respect to young ladies and have not played with their emotions or given false hope.
- Our responsible positions in society and the good deeds that we have done.
The purpose of the prequel will be to provide Miss Austen's readers with a fairer and more balanced knowledge of our character.
As I am going to sea shortly, I would like to begin this process immediately, if you find it acceptable. I will be placed in situations of some danger. If for some reason I do not return, you have my full permission to disclose my private affairs, as necessary, so that a better understanding of our characters can be achieved by the reading public.
You do not have a brother, but I feel that I am your brother in spirit (we have both been treated unfairly by Miss Jane Austen). Please accept my best wishes for your future happiness and may Miss Jane Austen treat both of us fairly in the future.
Respectfully,
Captain Frederick Wentworth
Sheryl Bonar Craig (Central Missouri Region)
Winner
Letter from Caroline Bingley to Louisa Hurst
Mrs. Louisa Hurst
Grosvenor Street, London
My dearest Louisa,
You find me still buried in the country. I have been contriving various stratagems to induce Charles to take me to Pemberley, but thus far he has refused to budge. Whenever I mention visiting the Darcys, Jane has nothing to say, and Charles steers the conversation to other matters, but you know how whimsical they both are; nothing is ever resolved on. I am sure if only Jane expressed a desire to see her sister, Charles should be gone in five minutes. Never-the-less, knowing their easy tempers, I am confident they cannot long resist me, and, by persistence, I am sure to prevail, though I am greatly vexed at present. I have not yet been able to find out how long Colonel Fitzwilliam will be staying at Pemberley, but I must arrange a chance encounter as soon as may be. Since I am not to have Mr. Darcy after all, I am now determined that I shall marry his cousin.
I know your objections, Louisa, and I am well aware that the Colonel is more fashion than fortune, but he is the son of an Earl. He makes a very good appearance, though he is only a Colonel, and I should not be ashamed to be seen on his arm anywhere in town. And, he is sure to be promoted. General Fitzwilliam sounds well enough, and then he would be given a knighthood. Lady Fitzwilliam will suit me very well, and it sounds much better than mrs. darcy, does it not? And his elder brother may be very sickly or may fall from his horse, and what then, my dear? I admit, it would be better if Colonel Fitzwilliam were ready-made, still I can make something of him.
Jane has formed some odd notion that the Colonel is destined for his cousin, but I cannot believe it. Georgiana is such an awkward, timid creature. I shall have no difficulty in putting myself forward and appearing to advantage in her company. The last time I visited Pemberley, Charlotte Collins was there, the wife of that odious clergyman now claiming before all the world to be Mr. Darcy's cousin, though he is no more than a Bennet by another name. I do hope the insufferable Mrs. Bennet is not also visiting. No doubt, mrs. darcy and her vulgar relations are contriving to entrap the poor Colonel for one of Eliza's tedious sisters. Though Miss Eliza did very well for herself, she must not expect them all to have Jane's good fortune. Considering who and what they are, one wonders that any of the Bennets aspire to more than George Wickham, but we are well acquainted with their impertinence. So I am off to Pemberley where they shall find me fonder than ever of Georgiana, almost as attentive to Mr. Darcy as heretofore and all civility to Eliza. I find myself quite capable of willfully deceiving anyone. I shall be entirely charming and save all of my keen observations and cutting remarks for you, my dear, at least until Colonel Fitzwilliam is secure. As soon as Charles can be prevailed upon, I shall write you from the guest quarters at Pemberley.
Adieu, Caroline
P.S. Reassure Mr. Hurst that Jane's cook does a very nice ragout, so he need have no alarms on that score, but Jane does not much care for cards, so, when you come to the country, he shall have to make a point of it if we are to play whist of an evening.


Sheryl Bonar Craig (Central Missouri Region)
Winner
Letter from John Thorpe to Master Freeman


Master Freeman, Oxford
Hey-day Freeman,
What are you about you d- scoundrel? I write from London with news of my exploits in Bath. As I've always been an enemy to matrimony, I dare say you'll be surprised to hear that I am to marry. But then, I did not go to Bath to drive my sisters about and look like a fool. No doubt you will quiz me famously, but what's a young buck to do in Bath but go upon the strut and play the beau? I won't say that it hasn't been a devilish long fortnight. I had to squire the little woman about all day and stand up and jig it together at night, but what a dust she would have made had I not, for she was determined to have me. When it comes to a woman, I hate to be pitiful.
"Oh! D-," says I. "I'm your man." So it's all settled, more or less.
The little filly is a Miss Morland of Fullerton, a smart looking girl, but then you know I could never stand a thick ancle. She has a monstrous deal of good-nature, but she's a bit obstinate, wants to have her own head, but I'll soon break her to harness. Her father's a rich old devil, rolls in money, so I expect ten to fifteen thousand pounds, which will be a pretty addition to the Allen estate and her other legacies. Old Allen's ninety from the look of him and all gout, so he can't last long. I believe there's a rich aunt as well and only her brother James, you know James Morland, and two or three sisters. So no more little tittuppy gigs and broken-winded jades for the best coachman in the country. I've been looking at carriages here in town, and, as soon as the marriage settlement is made, I shall be ordering a new phaeton for Thorpe of Fullerton, by Jove, and four very pretty cattle to pull it.
Did I mention that General Tilney and I had a little touch together at billiards? I did beat him, one of the cleanest strokes in the world, but I could not make you understand it without a table, and the General declared Miss Morland "the finest girl in Bath." "D- it," says I. "Is she? I suppose she must be." A bit touchy that, as I had to cut out Tilney's son who was after her for himself. Henry Tilney's a good figure of a man, well put together, but I dare say he knew when he was bettered.
I suppose Old Morland will lay in plenty of bottles for the wedding, so come if you like and help me to empty a few. It may be a double wedding as my sister has got James Morland on toast as well. And since Old Morland will be out the expense of my wedding, it would save old Mater a great deal of trouble, but Bella will have to see to herself. It is not my way to bother my brains with what does not concern me.
A famous good thing this marrying scheme. As long as it fills your pocket, it is no bad notion. You know how going to one wedding brings on another, so come to Bath, d- you. I dare say there will be broken hearts enough when my engagement is announced. You may pick up one for yourself.
Your humble servant,
John Thorpe
P.S. Do you want a horse? Sam Fletcher has one to sell, a famous clever animal for the road – only forty guineas.



Carol Ann Krug Graves (Northern California Region)
Honorable Mention
Letter from Jane Austen to William Shakespeare
Chawton
near Alton
Hants:
My Dear M
r
Shakespeare,
You must allow me to tell you how ardently I admire and love your Work. If you read my Letters, you can have no doubt of my esteem and passion for the Theatre in general, and for your works in particular. I am a great playgoer, not ashamed of being so, and never feel it necessary to my self-consequence to profess otherwise. If you read my Novels, you will discover that I have quoted, misquoted, and otherwise referred to your works on numerous occasions. But perhaps you are no novel-reader. In my
History of England
, I twice referred my Readers to your Plays, since I would not trouble myself to write in great detail what I did not perfectly recollect.
I desire that the report that I disapprove of the Theatre may be firmly contradicted. There is absolutely no truth to such a report, which seems to have arisen from some Readers' unfortunate misconstruction of
Mansfield Park
. On the contrary, it is in
Mansfield Park
that I pay homage to the seductive power of your Language, as well as the ubiquity of your Influence. I expect that Crawford's "part of an Englishman's constitution" speech must give you satisfaction, though he is not the Hero of the Novel. I have often observed that, in your plays, some of the finest lines -- and some of the truest -- are given to some of your finest Villains.
I have made it my habit to gather and transcribe such comments and Opinions on my works as are passed on to me by family and friends, or otherwise come my way. Almost as soon as I quitted this world, my Admirers began to compare my work to yours in the most alarming fashion. Is it possible that you are ignorant of such reports? Imagine to yourself everything most profligate and shocking in the way of "a deep Communion between two great Minds", and you will have some idea of what they have all been saying. In spite of the very material differences in the style, form, and content of our works, the association of our names and intimation of a very close connection between us persists.
Pray do not suspect me of starting and industriously circulating such intimations myself, to gratify the ambitions and upstart pretensions of the most unlearned and uninformed Female who ever dared to be an Authoress. I assure you I have not. However, in being compared to you, I should not consider myself to be quitting the sphere in which my work has placed me. You are a Playwright; I am an Authoress; so far we are equal.
You write Plays in which you "o'erstep not the modesty of nature: for any thing so overdone is from the purpose of playing, whose end, both at the first and now, was and is, to hold, as 'twere, the mirror up to nature; to show virtue her own feature, scorn her own image, and the very age and body of the time his form and pressure."
I write Novels "which have only genius, wit, and taste to recommend them, . . . in which the greatest powers of the mind are displayed, in which the most thorough knowledge of human nature, the happiest delineation of its varieties, the liveliest effusions of wit and humour, are conveyed to the world in the best-chosen language."
Although I did not initiate these reports of our close association, I am too vain to be surprised at their appearance, and too gratified to attempt to suppress them. Should they seriously offend you, I can only say that since I have often attacked and devoured your words with pleasure, it cannot occasion much surprise if some of the scraps should turn up in my compositions. If I am a wild Beast, I cannot help it. It is not my own fault. So you must excuse me.
Yrs affec:tely
Jane Austen
Mr W: Shakespeare
New Place, Chapel Street
Stratford-upon-Avon
Warwicks:
Miriam Rheingold Fuller (Central Missouri Region)
Honorable Mention
Letter from Mrs. John Dashwood to Mrs. Ferrars
My Dear Madam,
I write you in some concern regarding my dear brother Edward, who, as you know, has been with us these three months. Mrs. Dashwood and the Miss Dashwoods are with us still as well, having not yet found a place to suit them, as I suspect Mrs. D has not yet reconciled her current fortune to the situation she should like to have and that she is all too happy to remain at Norland, where she can pretend to fancy herself mistress still and take advantage of dear John's generosity and play upon his goodness and pity for her circumstances. They are, therefore, become well acquainted with dear Edward, whose manners, you know, have all too much to recommend them, and are indeed all four become very friendly with him. This unfortunate but unavoidable intimacy has led to, I greatly fear, a still more lamentable attachment between him and the eldest Miss Dashwood, a pretty, sensible girl to be sure, but very sly and reserved—their attachment has been building for some time, I believe, but her cunning has concealed it for some time or to be sure I would have written you sooner.

Had Miss Dashwood a suitable fortune I should have no real objections, though naturally I should prefer our dear Edward married to a daughter of someone greater than a private gentleman, but she will have only 3,000 pounds, which would not match Edward's fortune at all. Mrs. Dashwood, I greatly suspect, is dilatory in finding a house in order to further this attachment, as a match between them would be most advantageous to her, though most shocking and inconvenient for us. But then, she only thinks of her own comfort and that of her family; some people, as I am sure my dear mother knows all too well, are like that: they think only of themselves and give never a thought to the well-being of others.

I have acted upon my suspicions already, and let Mrs. Dashwood know, in polite but clear terms—I may not be as open as I should like with them, as dear John is so unaccountably fond of them, though Mrs. D is no real relation at all and the sisters only half-blood—of Edward's great expectations, of your own wise resolution that both your sons should marry well, and of the danger attending any young woman who attempted to draw him in. I believe therefore, that the lady will act more expeditiously to find a house to her liking. My only regret upon her leaving is that she takes some very fine furniture with her—including a breakfast set that is twice as handsome as what belongs to this house. A great deal too handsome, in my opinion, for any place they can ever afford to live in. But, however, so it is. John's father thought only of them. I had occasion to remind John of this when, in his excessive grief and generosity at his father's death, he wanted to give each of the Miss Dashwoods a thousand pounds apiece, even though they are already quite comfortable. They have five hundred pounds a year and what on earth can four women want for more than that? But I at last managed to convince him not to rob our poor little Harry for the sake of half-sisters, especially when our current state of affairs is by no means easy. I do not complain, for I daresay with time and prudence we may be more comfortably situated, but we are far from rich: the moiety of the late Mrs. Dashwood's fortune and the rents from Norland are scarce enough to maintain us in the style we are expected to keep, and to put by enough for dear little Harry.

I must dress for dinner, and so will end my letter, but I wanted to acquaint you, my dear Mother, a little with my unease, and to confer with you on how to extract Edward from this most deplorable attachment, which, owing to his too tender nature, may not subside as quickly as I would wish after the Dashwoods leave Norland.

Your affectionate daughter,
Frances Dashwood
Norland Park
Letter from Mrs. Ferrars to Mrs. John Dashwood
My Dear Fanny,
I hope this letter finds you better than your last left you, and that the Dashwoods have gone from Norland or are preparing for their journey thence. You did quite right to acquaint me with your suspicions of poor Edward's passion for this presumptuous Dashwood girl. Be not alarmed, however; I have been for some time active in the manner of finding a suitable wife for Edward, and I believe her to be found. It is the Honorable Miss Morton, daughter of the late Lord Morton, with a fortune of thirty thousand pounds. Say nothing of this at present however, but as soon as the Dashwoods are gone—for Edward, I well know, will not leave until they do—send me word and I shall bring him to London, where the charm and accomplishments of the Hon. Miss Morton shall, I trust, speedily chase all thought of this impertinent Dashwood creature from his head, and bring our plans to a pleasant and profitable conclusion.
I am very sorry you should be robbed of your breakfast set, my dearest Fanny, and I enclose a little something that will soon help you to a better one with something left besides for yourself, for you should not allow your current expenses to rob you of the necessary comforts of life. You think too much of others and too little of yourself. Have no fear that I am denying myself by my gift to you, for it is my pleasure to provide for my dear children, and besides, old Atkinson has finally died, which was the only decent thing he could do after living for such an unaccountably long time as he did, and so the last of the annuities is done and I may call my income my own again. Give dear little Harry my best love.
Your affectionate mother,
Frances Ferrars
London
Judith Judson (District of Columbia Region)
Honorable Mention
Letter from Mrs. Sophia Croft, Bath, to Lady Hornblower with the British delegation at Vienna
My dear Barbara,
I am so very delighted to have your latest letter. It is wonderful news that your husband recovered so well from his bout with typhus, and had the leisure to spend some time with his little son. It is disappointing I know not to have him accompany you to Vienna, but since he is no courtier, that sort of society would probably not suit him at all! You can deal better with all those dignitaries. I remember well meeting his lordship (How we would all have stared to think of him so denominated!) some years ago at Malta. We had all been dragooned into attending a concert and Hornblower was beside himself with ennui—he did not know a concerto from a fandango, poor fellow, and the expression on his face! I am sure he was playing whist games in his head the entire evening. We all had smoked out his problem, but he hated to have it known, so mum's the word.
As for Croft and myself we are very happily situated. Kellynch-hall is a fine old place, if a little neglected. I fancy Miss Elliot had a mind above housekeeping, the kitchen stove was a disgrace. Croft found himself disconcerted amongst so many looking glasses—the baronet is a fine looking man but, I am sorry to say, very conceited, and surrounded himself with mirrors. Croft did not have the courage to reveal his feelings in the matter to such superior (if somewhat idle) servants, so between the two of us we shifted most of them from his bedroom to one of the unused chambers.
However we are now in Bath for a time, for my husband claims to be gouty. Myself, I think it is only that he needs a bit of bustle now and then to vary his country amusements—since winter can pass but slowly for him—he never shoots, and we do not pretend to have the income for maintaining hunters, even if either of us had the desire. Nor does his driving improve no matter how often we go out, so walking the steep streets may keep us both in trim without my losing my bonnets to the mud when we are overturned, as I have been twice so far—and in Bath, I can shop to replace them! And there are many navy folk here—old Sir Archibald Drew, for one, and his upstanding grandson, and that scurvy fellow Bland. But when we see him we cross to the other side. (You may remember the problem Croft had with him, and he served others so, as the tale goes.)
I can speak freely to you, dear friend, on another matter. We have had my brother Frederick with us at Kellynch, and despite his stated desire to be caught in "parson's mousetrap" he has not as yet "spread his canvas to bring home a prize" as my Admiral would say. The neighborhood boasts some amiable young ladies to be considered, but he has been sheering off, and tacking about, but refuses to grapple—to continue the nautical language. No "light frigates" these (the shocking slang can be excused in a private letter!), but two very pleasant sisters, and from a well enough landed family, but as for me—no, I am not quite sure that either of them would do. Frederick is fastidious, and his
old failed romance has not faded from his mind. He never told us who she was, but always spoke of her beauty and delicacy, and in such glowing terms that these Miss Musgroves cannot equal, at least in my opinion. One of them injured herself severely just recently when they all went off on a trip to Lyme—heedless folly, but Frederick felt himself responsible. He was quite disturbed after, and I felt that perhaps he was really in love at last, but he sheered off again, and went to visit my brother Edward when he should have been in attendance on his lady. We await developments!
Several days after
I kept this letter open to describe my new bonnets, but I have more interesting news to recount. What do you think was sprung on us just yesterday. The two young ladies I was telling you of have come to Bath to buy their wedding clothes! Both of them are engaged—and not to Frederick (what a to-do that would be if they both were)! The elder is to marry her cousin, a young clergyman and heir to a small estate, and the younger is betrothed to James Benwick. You will not know of him, he is but a commander, although Croft speaks quite highly of his merits. It seems that he was at Lyme, staying with Captain Harville (another excellent officer, I think Admiral Leighton may have known him around the time of Copenhagen) and came to know Miss Louisa Musgrove during her recovery. This leaves Frederick with fewer choices, but I have a notion about him that I will tell you in another letter—so that you will look forward to receiving it!
But I must tell you of one bonnet at least before I close this too long missive. It is quite a la mode to wear long pokes, and so I have bought one in chip straw, with velvet ribbons in dark green, and ornaments of silk fern—it looks quite pastoral, without being laden with flowers. It is just the thing for my green spencer, which is precisely the same shade. I enclose a snip of the muslin I have bought for a gown to go with it all, what do you think? I will be very smart without looking as if I were trying to be a young Bath miss. Apropos of youth—I know that Sir Walter Elliot can scarcely contain himself but to recommend Gowland's lotion to me, he would almost tell one to gargle with it—but I content myself with the Water of Ladies of Denmark which you told me of, and which does as well for me as I need—or perhaps deserve.
Dear Barbara, I trust this will reach you in good time. I am quite sure I will have more amorous adventures to recount in my next, and I count on you to tell me all the on-dits of the great doings at Vienna.
Yours, etc.,
Sophia Croft
Notes:
It is singular that Lady Hornblower (born Lady Barbara Wellesley, a sister to the Duke of Wellington and daughter of the first Earl of Mornington) has been almost entirely overlooked by historians of the Regency and Napoleonic eras. It took the diligence of C. S. Forester, eminent chronicler of the life of the great hero Horatio Hornblower, to winkle out some details of her life. (This feat has been equaled in recent years by the diligent research of George McDonald Fraser into the astonishing career of General Sir Harry Paget Flashman, and is an indication that conscientious scholars can still find a niche for their endeavors.) Although Lady Hornblower was higher in rank than Mrs Croft, their friendship began when they were both at a boarding school at Tunbridge Wells. It was renewed when Lady Barbara (as she then was) married her first husband, Admiral Leighton, and these two courageous and intelligent women became fast friends. The scanty available data may be sifted out from Mr. C. S. Forester's account of Hornblower's career, which was augmented by the further researches of C. Northcote Parkinson, in
The Life and Times of Horatio Hornblower
. Lady Hornblower's presence at the Congress of Vienna was as hostess for her brother, the Duke of Wellington.
Hornblower's tone deafness is chronicled in several places in Forester's multi-volume biography of the great hero, but although we know Hornblower was at Malta in the year 1806, the concert (Mrs. Croft gives no date) is not mentioned. Even Homer nods.
"Light frigate" is one of the cant terms for prostitute, and despite being slang—which ladies were not supposed to use—is an appropriate term from an "intelligent and keen" naval wife—in a private letter.