Hotel
"They were soon settled in comfortable lodgings in Pulteney Street."
—Northanger Abbey, Chapter 2
For the first time, conference attendees will have two hotel options: to enjoy the luxurious experience of the Williamsburg Lodge or the warm, homey atmosphere of the Woodlands Hotel & Suites, another Colonial Williamsburg property. JASNA has room blocks at both locations. JASNA room rates will range from $138 to $231 a night, depending on your selection of accommodations.
All AGM programs will be held at the Lodge.
Our room blocks at the Williamsburg Lodge
and the Woodlands Hotel & Suites are open for reservations.

Book your room by telephone
(855) 231-7240

or through this link
https://book.passkey.com/go/39753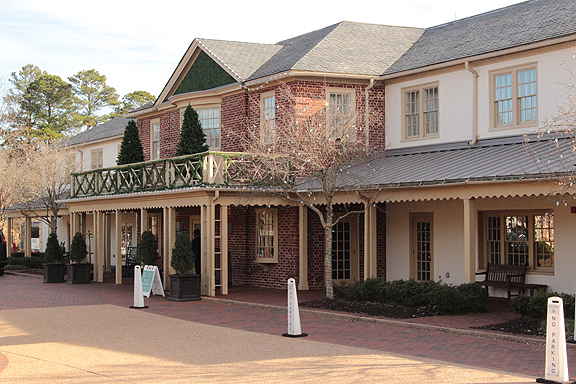 The Williamsburg Lodge is situated in the heart of town, within sight of the restored eighteenth-century capital, Colonial Williamsburg. It features two in-house restaurants, Traditions and Sweet Tea & Barley, where patrons are treated to tasteful live music many evenings. The recently renovated guest rooms are in low-rise brick buildings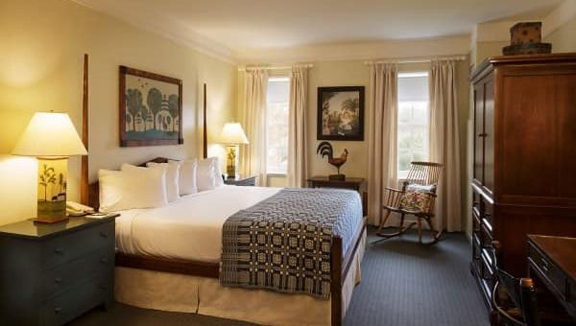 interspersed with courtyard gardens. Our room block includes rooms at the "Standard" and "Deluxe" levels. Standard rooms ($191 a night) are 325 square feet and contain a queen-sized bed, chair and desk; Deluxe rooms ($231 a night), more spacious at 400 square feet, feature a table and chairs or a sofa in addition to one king- or two queen-sized beds. There is complimentary on-site parking for guests, as well as a pool, fitness center, and other amenities. There are numerous spaces within the Lodge where visitors may relax and converse, including a beautiful lobby with ample seating, a patio attached to Sweet Tea & Barley, and tables and chairs tucked into comfortable corners throughout the hotel's public space.
ADA and Special Needs
If you have special needs that make a particular room location necessary, please speak to the agent when making your reservations. There are elevators and ADA accessible guest rooms so that you can stay at the Lodge in comfort.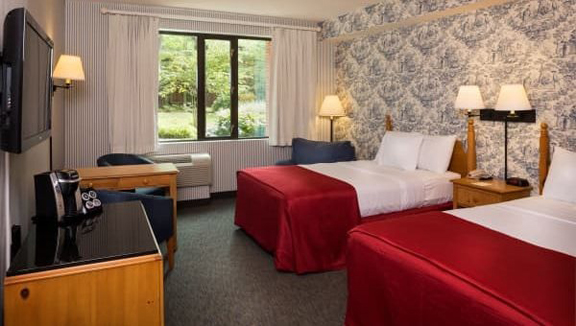 The Woodlands Hotel & Suites, in its quiet, sylvan setting, offers a warm and welcoming environment. Its standard rooms ($138 a night) accommodate two double beds, a table and chairs within a space just over 300 square feet. Unlike the Lodge, the Woodlands provides guests with a complimentary breakfast in a bright, cheery breakfast room as well as in-room refrigerator. Here, the in-room sinks have the advantage of being separate from the baths, making preparations easier for those sharing a room. The airy and attractive lobby boasts a working fireplace and lets you relax and converse with friends amid its charming rustic décor. Adjacent to the hotel is Huzzah's Eatery, which specializes in barbeque, pizza, sandwiches, and micro-brews during dinner hours. Laundry facilities, a fitness center, and other conveniences round out the Woodlands experience. Once again, there is free on-site parking for hotel guests.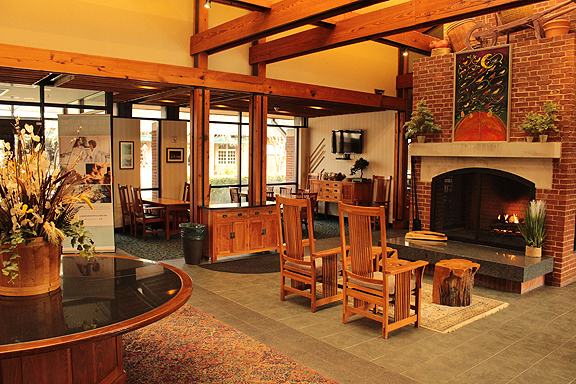 Transportation & Parking
While the Woodlands is a few minutes' drive away, transportation to the conference site should pose no difficulty. Guests staying at any of Colonial Williamsburg's properties may take the shuttle bus from one hotel to another and around the Historic Area. During the conference, JASNA will provide an additional shuttle to serve our attendees in the early morning, late evening, and before the Saturday banquet and ball. Guests at the Woodlands are strongly encouraged to take advantage of the shuttle; similarly, attendees staying elsewhere are encouraged to park in the large Visitors' Center lot beside the Woodlands and also take the shuttle. Though there is parking around the Lodge, the space is insufficient to accommodate all attendees who are not staying there. Selected lots throughout the Historic Area also offer parking, either free or paid, but be sure to be attentive to any signage regarding time limits—most free lots have a two-hour limit before 5:00 pm. Alternatively, it's a pleasant one-mile walk through the colonial capital from the Woodlands to the conference site. Please see the map below.
Other Amenities and Opportunities
A third Colonial Williamsburg hotel, the Williamsburg Inn, is located beside the Lodge. Though we have reserved no rooms at the Williamsburg Inn, as we anticipate that most attendees will prefer the Lodge or the Woodlands, you may consider a stay at the Inn to enjoy an atmosphere of true opulence amid elegant Regency-style decor. And though Williamsburg is not a Georgian spa town like Bath, there is an on-site spa, should you feel inclined to immerse yourself in the most modern treatments and cures. Spa access is also available to guests at the Lodge; spa day passes may be purchased by guests at the Woodlands.
Colonial Williamsburg itself sits less than a five-minute walk from the Lodge and, again, is served by the shuttle bus. We are delighted to be able to offer our attendees deeply discounted seven-day passes to Colonial Williamsburg (available as an add-on with AGM registration for attendees and companions). Other travel partners who are not registered companions may purchase a discounted pass through the hotel.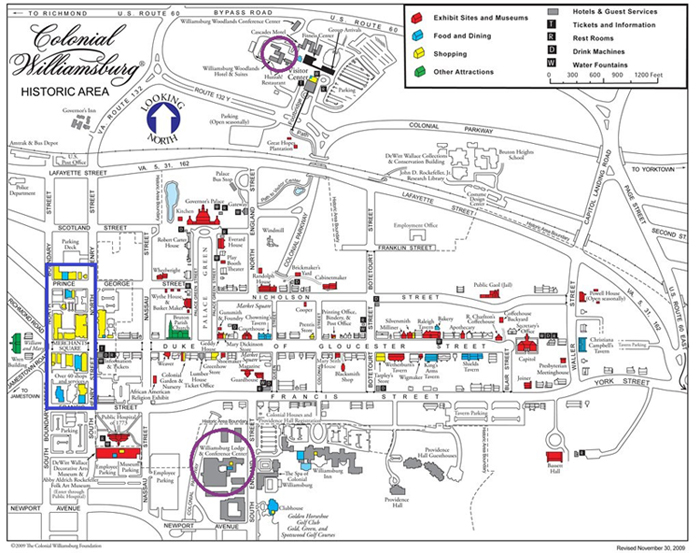 The Williamsburg Lodge & Conference Center can be seen towards the bottom left of this map, circled in violet. Beside it, on the opposite side of South England Street, sit the Spa and the Williamsburg Inn. At the top center of the map is the Woodlands, also circled in violet. A variety of shops can be found within the royal blue rectangle in Merchants' Square and along Prince George Street.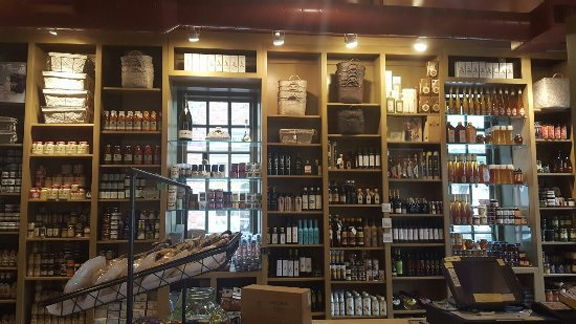 There, and in the Historic Area itself, you will discover additional culinary offerings easily accessed on foot or via Colonial Williamsburg's shuttle bus. Among our favorites are The Cheese Shop, a local institution serving sandwiches with famous House Dressing; The Blue Talon Bistro, offering French cuisine and the best chocolate mousse in town; the Dog Street Pub, with hearty English "pub grub" and sticky toffee pudding that is a thing of legend (but is only on the dinner menu); Aroma's, a coffeehouse and café featuring an extensive menu of food and beverage options; and the tavern dining at Colonial Williamsburg. Chowning's Tavern, conveniently located a few minutes' walk from the conference hotel, offers a casual environment and options for both indoor and outdoor seating in favorable weather.
Beyond the immediate area are numerous breweries, delis, sit-down restaurants, and another feature peculiar to Williamsburg—a plethora of pancake houses to cater to your breakfast cravings at almost any hour of the day. Visitors without their own cars may find it worth their while to take the local public transportation, a taxi cab, or an Uber to access these dining options. Enjoy exploring our small, friendly town!