Hotel
"They were soon settled in comfortable lodgings in Pulteney Street."
—Northanger Abbey, Chapter 2
For the first time, conference attendees will have the option to enjoy the luxurious experience of the Williamsburg Lodge or to favor the warm, homey atmosphere of the Woodlands Hotel & Suites, another Colonial Williamsburg property. JASNA has room blocks at both locations. AGM programs will be held at the Williamsburg Lodge.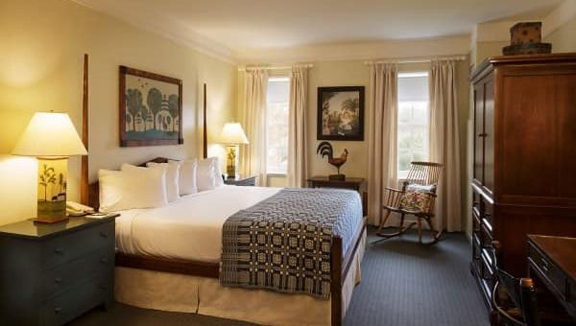 A deluxe room at the Williamsburg Lodge
While the Woodlands Hotel & Suites is a few minutes' drive away, transportation to the conference site should pose no difficulty. Guests staying at any of Colonial Williamsburg's properties may take the shuttle bus from one hotel to another and around the historic area.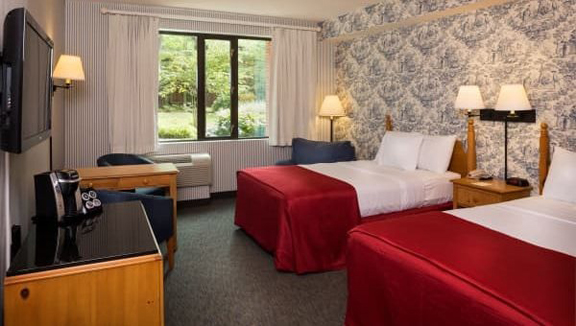 A standard room at the Woodlands Hotel & Suites
A third Colonial Williamsburg hotel, the Williamsburg Inn, is located beside the Lodge. Though we have reserved no rooms at the Williamsburg Inn, as we anticipate that most attendees will prefer the Lodge or the Woodlands, you may stay at the Inn if you wish. And though Williamsburg is not a spa town, there is an on-site spa, should you feel inclined to immerse yourself in the most modern treatments and cures.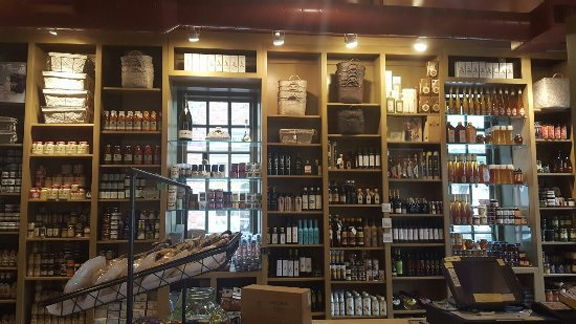 The Cheese Shop—it's so much more than cheese.
Colonial Williamsburg itself sits less than a five minute walk from the Lodge and the Inn and, again, is served by the shuttle bus. The Lodge, Inn, and Woodlands each offer dining options on-site, and there are further alternatives in the historic area and Merchants' Square, easily accessed on foot or by shuttle bus. Among our favorites are The Cheese Shop, a local institution serving sandwiches with famous House Dressing; The Blue Talon Bistro, offering French cuisine and the best chocolate mousse in town; the Dog Street Pub, with hearty English "pub grub" and sticky toffee pudding that is a thing of legend (but is only on the dinner menu); Aroma's, a coffeehouse and café featuring an extensive menu of food and beverage options; and the tavern dining at Colonial Williamsburg.
Beyond the immediate area are numerous breweries, delis, sit-down restaurants, and another feature peculiar to Williamsburg—a plethora of pancake houses to cater to your breakfast cravings at almost any hour of the day. Visitors without their own cars may find it worth their while to take the local public transportation, a taxi cab, or an Uber to access these dining options. Enjoy exploring our small, friendly town!