Answers to common questions about JASNA's first virtual AGM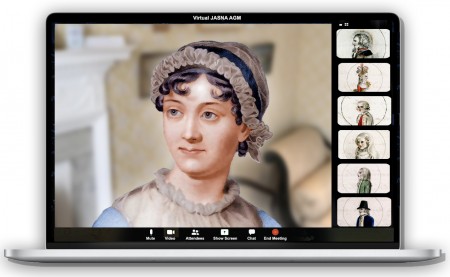 What will I need to learn to participate in the Virtual AGM?
Ease of use was our first criterion in choosing our virtual conference platform. Once you log in to the platform, you can watch presentations, participate in real-time Q&A, visit video-chatting "rooms" during the social hour, play games, and explore extra content. You don't need Zoom or social media accounts—just your AGM registration credentials. Registered attendees will receive instructions on how to access the virtual platform via email before the conference begins.
What kind of computer, web browser, and Internet connection do I need?
You can log in to the virtual platform with any type of computer and even a smart phone or tablet, but the best experience will be on a desktop or laptop computer using Chrome as your web browser. You can also use Firefox or Safari. We will be streaming high-definition video, so having a good Internet connection is important for a good viewing experience. In general, if you are able to watch a YouTube video, you should be able to watch our AGM content (though we won't be using YouTube; our platform is much better!). A minimum Internet upload speed of 10mbps is recommended. You can go to https://fast.com/ to check yours. Also, keep in mind that if other members of your household are playing online games or streaming movies while you're watching the AGM, performance may be affected.
What if my computer doesn't have a web camera, or I prefer not to use it?
No camera is needed for the core AGM content and most of the extra activities. Attendees will have the option to appear live on camera during the social hour and in one or two games.
May I view Virtual AGM programs on multiple devices?
Yes, you may switch from one device to another. However, you can have only one device signed in to the meeting platform at a time—when you sign in on a second device, you will be automatically logged off on the first.

Registration Policies and Payment

New Members: If you would like to join, please go to http://jasna.org/join/ for information about JASNA membership and a link to the New Membership form.
Existing Members and Lapsed Members: If you need to renew your membership, log in to JASNA's Member Portal and select "View My Membership or Renew" from the dropdown menu near the top of the Welcome page. If you don't remember your Member Portal log-in credentials or need other assistance, please email membership@jasna.org.
Why is there a charge for the Virtual AGM?
There is always a charge to attend the JASNA AGM. The move to a Virtual AGM for 2020 enabled the registration fee to be set at approximately one-third the cost of registration at recent in-person AGMs. The fee is based on the cost of the virtual meeting platform, professional services, license fees, honoraria, and other vital elements. While some organizations have presented virtual events through YouTube and other applications, JASNA elected to use an advanced, all-in-one platform that will not limit the number of registrants and will not require attendees to switch to a social media platform for some activities.
How do I pay the registration fee?
As in past years, a link to the AGM Registration Form will be posted on the AGM Website. Registration will be open from September 1-30, 2020. You may pay by credit card, e-check, or mailed-in check. All checks must be received no later than September 30. The registration system uses SSL encryption to protect your personal data.
What is the registration deadline?
You must register and have completed your payment by September 30, 2020.
What is the refund policy?
If you register for the Virtual AGM and then find you won't be available on AGM weekend, keep in mind that all of the formal presentations will be available to registered participants for 30 days after the initial broadcast. Refunds of the registration fee will be given upon written request, minus a $10 processing fee, if received before September 30. No refunds will be available after that date.
My spouse and I are both JASNA members. Do we both need to register?
No, unless you wish to participate in the Virtual AGM from different locations or have separate log-ins for the interactive functions. If you wish to have separate registrations, please bear in mind that each person must have a unique email address to log in.
May I share my Virtual AGM registration with someone else?
Someone else in your household may watch alongside you. However, registration credentials will allow only one device to be signed in to the meeting platform at a time; a second sign-in will cancel the first.

The Virtual AGM Experience
Is the Virtual AGM just a bunch of videos to watch?
Our AGMs have always enabled JASNA members to talk and learn about Jane Austen, to do things together, and to build friendships. This year's AGM, despite the physical distance between us, will offer the same opportunities. We are building a variety of interactive elements to enable everyone to be part of the event and to communicate with other JASNA members.
How will interactive elements such as Q&As and the Social Hour work?
Plenary and breakout speakers will participate in real-time question-and-answer sessions with attendees. Some Q&A sessions will use text chat, and in others the speaker will answer questions on live video. This will all occur seamlessly, right on the meeting platform—no moving from one application to another will be required. The social hour will be like those at an in-person AGM: high-energy, maybe a little bit chaotic, but not to be missed!
Will there be social media hashtags for the event?
Keeping with our all-on-one-platform concept, you can communicate without going on Facebook, Twitter or other social media. We'll have an online message wall where you can post comments and pictures throughout the event. In addition, you can add yourself to our world map and upload your photo for inclusion in the Virtual Promenade.
Will there be an Emporium?
Yes! We will have an Emporium page with links to participating Regions and vendors, along with descriptions of their offerings. All transactions are between the vendor and buyer, and JASNA assumes no liability for transaction completion.
Will Virtual AGM presentations be available for viewing later?
All of the formal presentations will be available to registered participants for 30 days after the initial broadcast so that you can catch up on any that you missed. Real-time chat, games, and other social elements will not be available later, so make plans to join in online during the AGM weekend, October 9-11, 2020.

Other Questions
Will future AGMs be available online?
We hope that JASNA members can gather in Chicago in the autumn of 2021, and the Host Region is moving full steam ahead with plans for an in-person conference. At the same time, we are looking at expanding the reach of the JASNA AGM by complementing future in-person conferences with some content delivered online. The investment JASNA is making this year in building the knowledge, infrastructure, and team needed to implement virtual events prepares us for all eventualities.
How did the cancellation of the 2020 in-person conference in Cleveland affect JASNA financially?
This topic will be addressed in detail at the JASNA Business Meeting. While some expenditures for the Cleveland AGM were unrecoverable, JASNA was able to redirect certain commitments toward the Virtual AGM or future events. If you wish to support JASNA in adapting to the new conditions we face, contributions may be made on the Virtual AGM registration form or through the JASNA Member Portal.