New York Metropolitan Region: Who Wore What, Where, and When
Sep 26
2:00 PM - 4:30 PM
American Reactions to European Fashion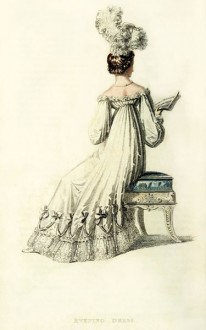 In this virtual presentation, noted textile and fashion scholar (and JASNA member) Alden O'Brien will look at how Americans adopted and adapted European fashion trends. Fashion news reached the large cities, of course, but even women in the smaller cities and rural areas learned of new styles. How interested were they in following the trends? And what were the reactions of women whose religions discouraged displays of vanity? Alden is a popular presenter at AGMs and Regional meetings whose clear explanations and humorous comments promise an entertaining afternoon.
This virtual meeting will be conducted on Zoom and is free and open to all. Donations to offset expenses are welcome. Please note: the meeting time listed is Eastern Time.
For more information and instructions for registering, please visit the Region's website.