---
Persuasions #3, 1981 Pages 22-23
<![if !supportEmptyParas]> <![endif]>
JANE AUSTEN IN THE OCTOPUS ISLANDS
by Joan Austen-Leigh
Victoria, British Columbia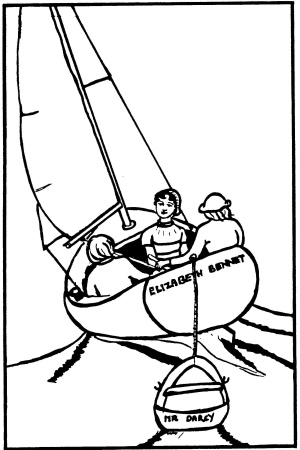 We had left our vessel at anchor and were rowing in the dinghy, Mr. Darcy, among the rocky green channels of the Octopus Islands, when a voice from a passing boat politely hailed us: "Excuse me, but is that name anything to do with English literature?"
Recognition at last! Our interlocutor was Jack Hart, Lewis & Clark College, Portland. "I saw the Elizabeth Bennet at Roche Harbor last summer," said he, "but there was nobody aboard. I've told my students about your sailboat, though, that there are people in the world who think that much of Jane Austen."
We invited our new friend aboard for a drink, and told him that during our peregrinations he was the first, indeed the only person, ever to identify the name.
It really isn't fair, people not knowing Jane's names, because were she to join us cruising in British Columbia waters, she would know so many of ours.
Supposing we could prevail? Surely Jane would be all eager delight; – her eyes here, there, every where. When people come into a beautiful country of this sort, you know, one naturally wishes them to see as much as possible. We are extremely fond of exploring, and Jane would be enchanted with the sea, now at high water, dancing in its glee and dashing against the ramparts. Of course she might be concerned about the propriety of her gown, protest that on board a boat a clean gown is not five minutes wear in them. You are splashed getting in and getting out and the wind takes your hair and your bonnet in every direction. We, on the other hand, might suggest that she wrap herself up very warm about the throat, "Jane, Jane my dear Jane … here is your tippet." Of draughts we would not expect her to be at all afraid. Her sailor brothers would have taught her that draughts are most necessary to the progress of sailboats.
Leaving the white glare of Vancouver, she would no doubt be struck beyond expectation by the grandeur of the scenery. If the wind was fair we would tack up the Straits of Georgia and Jane would recognize that they were named in compliment to George III, monarch of England during the whole of her lifetime. The Queen Charlotte Islands, we would be pleased to inform her, were further north. And this intelligence would undoubtedly remind her how in 1809 she had written to Cassandra: "The Queen's birthday moves the Assembly this night, instead of last – and as it is always fully attended, Martha and I expect an amusing shew."
Next, looking up Howe Sound, she would descry a tall wooded island, rising some 3000 feet out of the sea. Her pleasure on hearing that this was Gambier Island, named for the very admiral who had done so much for Charles and Frank, would be delightful to all, and no doubt she would recollect writing to Cassandra about Charles, "My father will write to Adm. Gambier. He must already have received so much satisfaction from his acquaintance and patronage of Frank, that he will be delighted I dare say to have another of the family introduced to him."
Leaving Gambier Island to starboard, a sudden scud of rain driving full in her face, might make it impossible to observe anything further. The boat could heel, we might even gybe, and although not in immediate danger, it's possible that by the sudden whirling round of something or other amongst the sails, she could be dashed into the sea at once, and actually be all but gone, if we did not, with the greatest presence of mind, catch hold of her habit.
Such thoughts do not bear thinking. There must still be a degree of uneasiness. Still we must move on – something better will yet be in view; and by a continued exertion of strength and ingenuity we will find ourselves at last in the passage approaching Nelson and Hardy islands, we would be very much surprised if Jane were not at this juncture to recollect how much Frank admired Lord Nelson, and how he had written to his future wife after the Battle of Trafalgar,
Alas! my dearest Mary, all my fears are but too fully justified. The fleets have met, and, after a very severe contest, a most decisive victory has been gained by the English ... but I am truly sorry to add that this splendid affair has cost us many lives, and amongst them the most invaluable one in the nation, that of our gallant, and ever-to-be-regretted, Commander-in-Chief, Lord Nelson.
Thinking of her brother and of Nelson, of the navy and of all that a man might bear and do, could be very affecting for Jane. We would not be surprised if she could not immediately have uttered another sentence her heart being too full, her breath too much oppressed.
We, of course, would spare no exertion to maintain a happier flow of ideas, and without having actually to place the backgammon table in the cabin below, would tell her that our most famous race in these waters, to which four hundred vessels come every year from as far away as San Francisco – a city with which she is not unfamiliar – is called the Swiftsure. Then would she brighten and remember that in 1810 Charles gained post rank in H.M.S. Swiftsure, flagship to Sir J. Warren.
These reflections we trust would be satisfactory. Her recognition of familiar names in the New World together with the knowledge that she is always first with us should dispose her to look with complacency on Toronto, which will be arranged chiefly to do her honour. All our wishes are of giving her that distinction.
How many quotations can you identify? Click here to see a partial list of quotation references and to submit your candidate quotation.