---
Persuasions #6, 1984 Page 6
<![if !supportEmptyParas]> <![endif]>
<![if !supportEmptyParas]>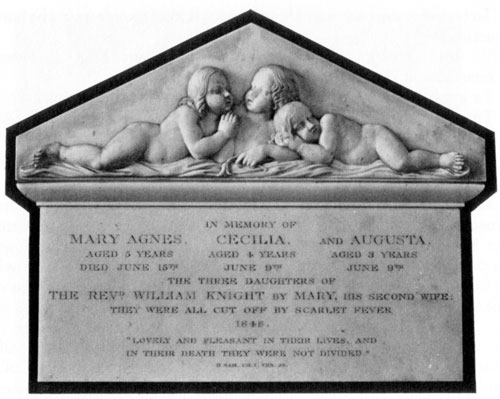 IN MEMORY OF
MARY AGNES
AGED 5 YEARS
DIED JUNE I5TH
CECILIA
AGED 4 YEARS
DIED JUNE 9TH
AND AUGUSTA
AGED 3 YEARS
DIED JUNE 9TH
THE THREE DAUGHTERS OF
THE REVD WILLIAM KNIGHT BY MARY, HIS SECOND WIFE
THEY WERE ALL CUT OFF BY SCARLET FEVER
1848
"LOVELY AND PLEASANT IN THEIR LIVES, AND
IN THEIR DEATH THEY WERE NOT DIVIDED."
II SAM CH. 1 VER. 23
This poignant testament to mortality and early death in the 19th Century hangs on the wall of St. Nicholas Church, Steventon. William Knight (né Austen) was JA's nephew of whom she wrote to Cassandra at Godmersham on 17 January, 1809:
"I hope you have had no more illness among you, and that William will be soon as well as ever. His working a footstool for Chawton is a most agreable surprise to me, and I am sure his Grandmama will value it very much as a proof of his affection and Industry – but we shall never have the heart to put our feet upon it. –"
William was eleven years old at the time. When he grew up he became the Revd William Knight and married Caroline Portal, his first wife, who died at the birth of their eighth child. One of their sons, Arthur Charles, emigrated to Christchurch, New Zealand, and had twenty-one children. The three little girls, above, were the only children of William's second wife, Mary Northey. He married a third time, Jane Hope, by whom he had no issue. (Information from Joan Corder's invaluable Jane Austen's Kindred)
* * *
Members are reminded that their donations to the maintenance of St. Nicholas are very much appreciated by the fewer than 200 people who live at Steventon and who are working with such dedication to preserve the church in which JA's father, brother and nephew officiated for over a century. In 1983-84 U.S. members contributed $971.00 and in 1984 Canadian members $310.00.