Eastern Washington/Northern Idaho Region: Jane Austen's Proposals
Feb 4
2:00 PM - 4:00 PM
The Funny, Embarrassing, and Offensive
Just in time for Valentine's Day, we will be discussing "Jane Austen's Proposals"! Austen is famous for not including the full dialogue in the final proposal scenes between her heroes and heroines. Despite that, we love the parts of the romantic proposals that we do get, as well as the funny, embarrassing, and offensive proposals from the minor and major characters (Mr. Darcy's first proposal!). Bring your favorite proposal scenes from the books and film adaptations to discuss!
The event is free and open to all. Register now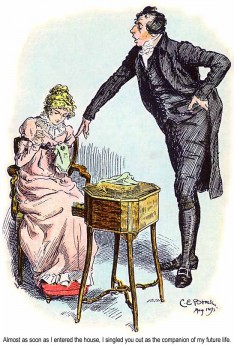 .
We will have craft supplies available for those who want to create Jane Austen Valentine's Day Cards or bookmarks, as well as a couple of Austen games to enjoy if there is time and interest. Please bring your own craft supplies if you wish.
Food and drinks are allowed in the Studio Room (no alcohol). If you would like to volunteer to bring a treat, please let us know. However, it is not a requirement of attending.
Regency attire is always admired, never required.
We have a new blog on our website about "Jane Austen's Proposals" with a discussion of Sarah Franz's argument that the real purpose of the proposal scenes is to show the hero's moral growth. There are also several discussion questions to get you thinking about the proposal scenes in the novels and the choices Austen made about what she did and didn't show to the reader.