Maryland Region: Shopping with Jane Austen...
Dec 17
12:00 PM - 3:00 PM
... in Fact and Fiction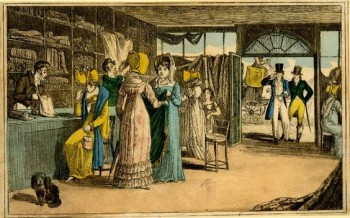 Austen's novels and letters contain numerous references to shopping for textiles, clothing, and accessories from 1798 to 1815. Her letters describe shopping expeditions to the small town of Steventon, as well as the cities of Bath and London. And we can't forget the fictional forays into the shops of Meryton, Highbury, and Sanditon.
Presenter Ann Wass, a clothing historian, writes and lectures widely on dress and other aspects of early 19th-century life. She earned her PhD in textile history from the University of Maryland. and makes Regency clothes for herself and her husband.
For more information and to register, please click here.