Maryland Region: Jane Austen Day
Jun 17
1:00 PM - 6:00 PM
Jane Austen Day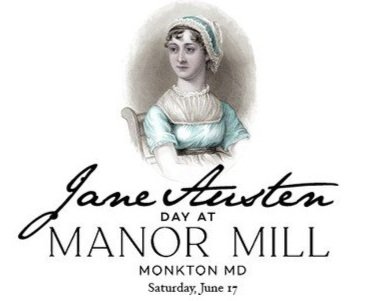 Celebrate the life and works of Jane Austen with an afternoon at Manor Mill. Austen enthusiasts will lead talks on her "big six" novels (ranging from "Sense and Sensibility: God Help the Mister that Comes between Me and My Sister" to "Persuasion: Setting Boundaries and Self-Care"). Others will explore Austen's medical woes, her poetry, what she ate, and her lasting effect on publishing. There will be plenty of crafting opportunities with make-and-take, period-inspired projects and expert demonstrations of everything from spoon carving to basket making.
The cost is $30 for a day pass, and you can choose your own schedule from a range of offerings, including add-ons such as Regency-style portraits or a photo op with a historical carriage.
The event is sponsored by JASNA Maryland and Manor Mill, with proceeds supporting Manor Mill's Water Wheel Restoration Project.
Visit the event website for details and to register.