San Diego Region: Austen Adaptations
Apr 22
2:00 PM - 3:30 PM
Austen Adaptations Lecture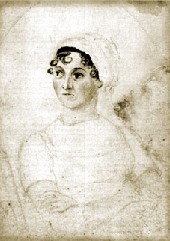 Join the San Diego Region at our first in-person speaker event in three years! We are delighted to have Martha Stoddard Holmes speak on"Getting 'Close' with Jane Austen." She will introduce attendees to the practices of close reading and close looking as ways to discover the different but complementary strategies that Austen novels and adaptations use to tell meaningful stories. Attendees will learn about adaptation theory models and will be invited to consider their loved and unloved Austen screen versions through the lens of those models.
Stoddard Holmes is a professor of Literature and Writing Studies at California State University San Marcos (CSUSM). A member of JASNA, she teaches a popular "Jane Austen Novel into Film" course annually, along with courses in creative writing, literature and medicine, and British literature. Author of Fictions of Affliction: Physical Disability in Victorian Culture, Stoddard Holmes has co-edited several books and special issues of journals. A Pushcart Prize nominee for creative nonfiction, she loves teaching workshops in the writing process focused on memoir and other creative nonfiction and has received the Harry E. Brakebill Distinguished Professor Award, CSUSM's highest honor for effective teaching.
Tea will be available for you to serve yourself, and you are invited (but not required) to bring a snack for yourself or to share with others. To keep everyone healthy, please do not attend if you are sick, and we invite you to wear a mask.
For more information, email jasnasandiego@gmail.com.