South Carolina Region: Jane Austen Summer Fun (Virtual)
Jun 1 - 29
6:30 PM - 7:30 PM
Jane Austen Summer Fun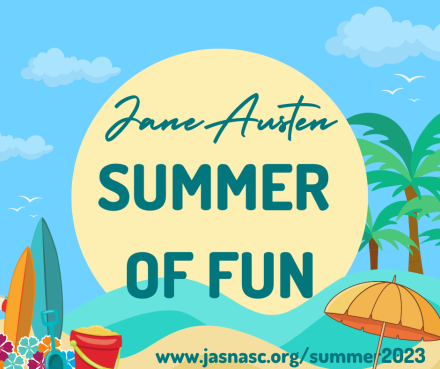 The South Carolina Region invites all JASNA members and interested Janeites to join the Jane Austen Summer of Fun, our romp through three months of reading, community, games, and scorching fun activities the likes of which Jane Austen herself would have loved. Whether you want a deep dive into Northanger Abbey, a quick-paced read through four Austen-adjacent books, or you're just here for the prizes, all are welcome!
Details and updates will be posted on the South Carolina Region's website. Any questions should be directed to Nikki Willoughby at nikkiwdc@gmail.com. Come for one session or come for them all!
The Summer Fun program will include two reading tracks: a deep dive into David M. Shapard's The Annotated Northanger Abbey and a review of four Austen-adjacent titles: Among the Janeites by Deborah Yaffe, The Pursuit of Mary Bennet by Pamela Mingle, Pudge and Prejudice by A.K. Pittman, and The Austen Girls by Lucy Worsley.