Vancouver Region: Monstrous or Misunderstood?
Oct 14
10:15 AM - 1:00 PM
Mothers in Jane Austen's Novels: Monstrous or Misunderstood?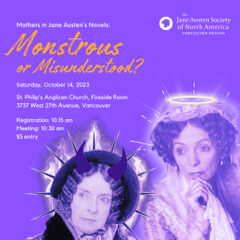 In Jane Austen's novels, mothers are often portrayed as ridiculous, frivolous, overbearing, and sometimes even downright monstrous.However, it is important to consider the societal norms and expectations of the time in which Austen was writing. In the late 18th and early 19th centuries, a mother's primary role was to ensure the successful marriage of her daughters, often through strategic matchmaking and social connections. This pressure to secure advantageous marriages for their children could lead to mothers being seen as controlling and manipulative.
Join the Vancouver Region for a panel discussion by region members on this interesting topic, which will explore the complexity of Austen's maternal characters and the social context in which they operated. Which mothers in Austen's novels do you think are wrongly vilified and why? Pick a mother and fight her case! Alternatively, if you do think a mother is actually monstrous, tell us why she is the monster she is made out to be.
For more information, visit jasnavancouver.ca or Facebook page, or email Robyn Martin.