Welcome Back:
Jane Austen Celebration Tour

Tour A: June 30–July 10, 2022
A Pathfinders Tour Sponsored by JASNA

(Itinerary tentative as of January 2022)


Wednesday, June 29: Tour participants fly to England. Pre-tour overnights will be available at a hotel near Heathrow Airport.)
Thursday, June 30: The tour begins this morning with participants meeting at Heathrow Airport or at the designated airport hotel. Depart for Oxford and enjoy a walking tour of the city upon arrival, followed by some free time for independent sightseeing. Meet this evening for the tour welcome dinner. Hotel in Oxford; D*
Friday, July 1:

After breakfast (included each morning), visit the Bodleian Library for a presentation by Dr. Chris Fletcher on the manuscript of The Watsons. After free time for lunch, continue to one of the University's most prestigious colleges, St John's, where Jane Austen's father, and later her brothers James and Henry, were undergraduates. George Austen became a fellow of the College. Other plans are being made for meetings with members of the University English faculty. Hotel in Oxford; B*
Saturday, July 2:

Depart this morning for London. On arrival, take an orientation tour of places Jane Austen visited and areas of the Mayfair district featured in Sense and Sensibility. The day's program concludes with a visit to the British Library and the opportunity to see Austen's writing desk and some of her manuscripts. Check into the hotel. Tour participants have the opportunity to attend the theater. Hotel in London; B*
Sunday, July 3: Today participants are at leisure in London for their own program of sightseeing, shopping, and visiting museums (the British Museum and Charles Dickens Museum are both located near our hotel). Hotel in London; B*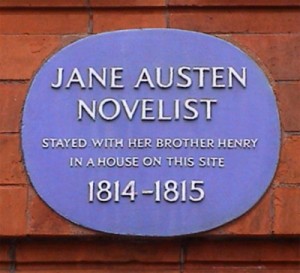 Monday, July 4: Head west this morning to the Georgian city of Bath. En route we can make a short visit to the Abbey Gate in Reading. Part of this medieval abbey, which dates from the time of Henry I, was used for the school run by Mrs. Latournelle and attended for a short time by Cassandra and Jane Austen. Hotel in Bath; B, D*
Tuesday, July 5: On a guided tour of the beautiful city, visit a number of sites associated with the Austen family and their stay in Bath after the Rev. George Austen's retirement (Sydney Place, Green Park, and the Assembly Rooms), as well as No. 1 Royal Crescent. The afternoon is open to explore more of Bath at your leisure, perhaps visiting the Roman Baths. Hotel in Bath; B*
Wednesday, July 6: The morning will be spent with further touring near Bath. On our return to the city, we visit St. Swithin's Church, where Jane Austen's parents were married and where her father is buried—as is also Fanny Burney. This evening we are guests for dinner and musical entertainment at the Sir Walter Elliot House in Sydney Place. Hotel in Bath; B, D*
Thursday, July 7: We leave Bath for the county of Dorset and the small town of Lyme Regis. Stroll on the Cobb and listen to a reading of the famous passage from Persuasion recounting Louisa's "accident" on the harbor wall. If time permits, there may be an opportunity for interested tour members to visit the Philpot Museum, famous for the fossil discoveries of Mary Anning. Then on to Winchester to visit the Hampshire Cultural Trust for a talk by Louise West, former curator of Jane Austen's House. Afterwards, check into your hotel for a three-night stay. Hotel in Winchester; B, D*
Friday, July 8: In the morning visit Jane Austen's home village of Steventon. Meet village residents, visit St. Nicholas' Church, where Jane Austen's father and brother were incumbents. A short service at the church will be led, if he is available, by the Rev. Michael Kenning, former rector of the parish. Continue to nearby Chawton village to visit Chawton House and the library; lunch will be included here. After lunch, visit "Chawton Cottage," now known as Jane Austen's House, before returning to Winchester. Hotel in Winchester; B, L*
Saturday, July 9: After breakfast explore Winchester and visit the Cathedral, with a ceremony at Jane Austen's grave. In the early afternoon, return to Chawton to attend the afternoon proceedings of the Jane Austen Society's AGM, including the keynote lecture, tea, and the opportunity to meet informally with JAS members. After the special Evensong at Chawton's St. Nicholas Church, we return to Winchester for a Farewell dinner. Hotel in Winchester; B, T, D*
Sunday, July 10: Transfers will be provided to Heathrow Airport for return flights. Extension stays for one or two nights at the tour hotel can be arranged. B*
To register, email tour@jasna.org. Please include your name, mailing address, email address, and phone number.

NOTES
---

Included in Tour:
Ten nights' accommodation in first-class hotels, all breakfasts (B), five dinners (D), one lunch (L), one tea (T).
All sightseeing and literary inclusions as mentioned, transportation by deluxe air-conditioned coach, guided by Marian Bacon.
Tips and taxes for included services at rates in application at date of preparation, porterage of one suitcase per person.
Not Included in Tour:
Air fares, meals and visits not listed.


---

Photos:
• Radcliffe Camera, Oxford (David Iliff, License CC BY-SA 3.0)
• Blue Plaque, Hans Place, London (Jane Austen Society of North America)
• Lyme Regis (Carrie Bebris)
• Winchester Cathedral (Carol Moss)