| | |
| --- | --- |
| PERSUASIONS ON-LINE | V.30, NO.1 (Winter 2009) |
Affiliation

Susan Allen Ford

<![if !supportEmptyParas]> <![endif]>

Susan Allen Ford (email: sford@deltastate.edu) is Professor of English at Delta State University, a Life Member of JASNA, and Editor of Persuasions and Persuasions On-Line.
In a nice conjunction, members of JASNA gathered in the City of Brotherly Love to talk about Jane Austen's brothers and sisters during the same year that celebrated the bicentenary of Jane Austen's move to Chawton, a move allowed by Edward Austen's provision of a house for his sisters and their mother. For those who link Jane Austen's success as a writer with her move to the settled spaciousness of Chawton, brotherly love becomes the facilitator of her fiction-making. But do we read Edward's invitation simply as a tangible instance of the Austen family's fraternal affection? Or do we wonder why four years passed between the Reverend George Austen's death and this offer of a home? We might even exclaim, with some impatience, "And in good time you gave it!"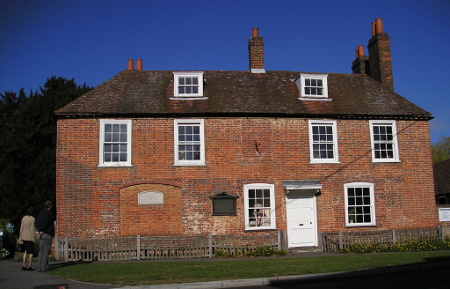 Sibling relationships—reservoirs of affection and irritation, trust and jealousy—can be difficult to sound. How can we measure what has been said against what might never be articulated, how weigh act against omission, how account for the power of feeling? Even language as precise as Jane Austen's can turn treacherous. Her hymn to fraternal affection in Mansfield Park (to which my copy now opens automatically!) moves in a heartbeat, on the hinge of a semicolon, from celebration to mourning:
Children of the same family, the same blood, with the same first associations and habits, have some means of enjoyment in their power, which no subsequent connections can supply; and it must be by a long and unnatural estrangement, by a divorce, which no subsequent connection can justify, if such precious remains of the earliest attachments are ever entirely outlived. Too often, alas! it is so.—Fraternal love, sometimes almost every thing, is at others worse than nothing.
How great a distance there is between the "almost every thing" and the "worse than nothing," and how many varieties of sibling relation fall between those two marks.
The Philadelphia AGM, wonderfully devised by Elizabeth Jane Steele and her band of brothers and sisters, provided the opportunity for testing—and of course arguing about—the varieties of sibling relationships in Jane Austen's life and art. We publish here a sampling of that variety. Ruth Perry's essay, delivered as the Carol Medine Moss Keynote Lecture, delineates the changed definition of the brotherly role and its representation in the fiction of the period. Laura S. Dabundo and Stephanie Eddleman look, in very different ways, at sisterly affiliation and its tensions. Deborah Knuth Klenck and Celia A. Easton examine the connections between siblings and spouses. James Thompson reads Sense and Sensibility and Marcia McClintock Folsom analyzes Mansfield Park through the lens of sibling relationships. For Juliette Wells and Jan Fergus, contemporary film and fiction cast light on the bond between Jane Austen and her sister, Cassandra. And Robert Hurford's illustrated essay on pens and penmanship provides a very instructive look at those materials and skills so essential to brothers and sisters who must live at a distance from each other.
This issue of Persuasions On-Line represents a different kind of affiliation, an affiliation not of blood, perhaps only partly of memory, but an affiliation through the works of Jane Austen. These essays—even in their diversity—represent an attachment to Jane Austen's fiction but, more important, an attachment to the idea of understanding those works and the myriad places they can take us. The Miscellany brings together essays that move beyond the confines of the family focus. While Sarah S. G. Frantz and Laurie Kaplan look at contemporary adaptations of Austen (vampire romance and the BBC/Masterpiece Emma), Kathleen E. Urda sees Austen herself as an adapter—in this case of Clarissa. Joan Ray's essay looks at the significant concluding phrase in Sir Walter Scott's review of Emma. Essays by Kelly M. McDonald and Akiko Takei examine the biographical and historical context of Pride and Prejudice and Emma. C. Durning Carroll, Horace Jeffery Hodges, and Edward Kozaczka read individual novels through very different but strangely compatible perspectives.
Besides the writers who have contributed their lively new perspectives on Austen to this issue, many others have played a role. The members of the editorial board (listed on the title page) labor throughout the year, reading and commenting on essays, generously sharing their time and expertise. Lee Ridgeway sharpens the images that illuminate these pages. And Carol Moss, JASNA's web manager, cheerfully expends the countless hours needed to move these essays into the virtual world.