| | |
| --- | --- |
| PERSUASIONS ON-LINE | V.30, NO.1 (Winter 2009) |
Adapting Emma for the Twenty-first Century: An Emma No One Will Like

Laurie Kaplan

<![if !supportEmptyParas]> <![endif]>

Laurie Kaplan (email: lkaplan@gwu.edu), Professor of English and Academic Director of George Washington University's England Center, has published essays on Jane Austen, Tom Stoppard, Paul Scott, and women writers of the First World War. She is a former editor of Persuasions.
How do you solve a problem like Emma/Emma? How do the scriptwriter, director, and producer get to the "essence"—a concept fraught with difficulties—of a psychologically and socially complex classic text in just four hours of viewing time? As Kathryn Sutherland points out in Jane Austen's Textual Lives,
Austen's novels are largely plotless (and film relishes action); Austen's text displays a weak dependence on metaphor and figurative language (and film's power lies in the manipulation of image and imagery); Austen's mature art (and, risky word, her "essence") is a sophisticated aural figuration in which, through free indirect discourse, voice is laid on voice to produce critical (specifically, ironic) connotative effects, and the blurring of character with character and narrator, which are almost impossible to achieve in film whose aural effects, however sophisticated, are subordinated to an immense visual rhetoric. (341)
Emma may be so difficult to capture on film because it contains Austen's most mundane plot, concerned more with the quotidian activities of three or four country families walking and talking and visiting than with the big bow-wow events that draw large contemporary audiences to theatres and televisions. The heroine is a rich, self-possessed, self-centered, snobbish young woman in a big bonnet, who discovers that she is falling in love. Jane Austen is reported to have called her "a heroine whom no one but myself will much like" (Le Faye, Family Record 209) though generations of readers have proved that prediction wrong. Of prime importance is the question of why a twenty-first-century audience should care about Emma, with her faults, her sense of entitlement, her luxuries. Austen's carefully structured social milieu of Highbury—with its rigid class system, prescribed manners, petty jealousies, and sense of life suspended—seems to baffle filmmakers, primarily because the novel focuses not only on interactions between very ordinary members of a tightly structured community but also on the endemic boredom that permeates their lives.
In the new BBC1 adaptation, shown in the UK in October 2009,1 Emma Woodhouse (Romola Garai), like Maria (Julie Andrews) in The Sound of Music, swings her arms, swirls her eyes, and seems unable to stop smiling. Emma shrieks during country dances. Ignoring Highbury's class-bound rules about behavior and the well-defined delineations of hierarchies—unless such rules and delineations affect her own position—Emma swanks across grandly decorated rooms, grins, giggles, and, yes, gurns2 at the camera. Anyone who had read Jane Austen's novel would deduce that the "handsome, clever, and rich" heroine (5) has been translated into, as Rogers and Hammerstein might put it, "A flibbertigibbet! / A will-o'-the-wisp! / A clown!" As Amanda Vickery points out in her introduction to The Gentleman's Daughter, a woman of Emma's class and status followed prescribed codes for female behavior: "To be mistress of oneself was paramount—genteel ladies aimed to be self-possessed in social encounters, self-controlled in the face of minor provocations, self-sufficient in the midst of ingratitude, and, above all, brave and enduring in the grip of tragedy and misfortune" (8). Does clownish behavior fit with Austen's vision of Hartfield's Emma Woodhouse? Is this Emma evidence of another Austen novel pulped in the name of the burgeoning Austen Industry?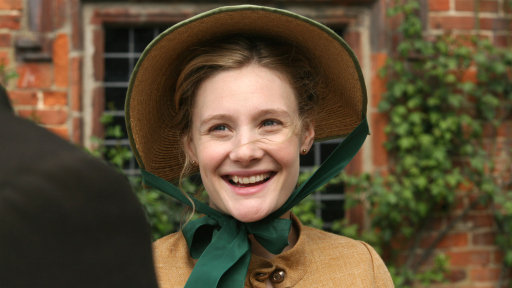 Romola Garai as Emma. © BBC 2009.
"Austenmania," Linda Troost asserts, "started with Amy Heckerling's Clueless in August 1995" (iii), and there is no sign of the fascination with all things Austen abating.3 Heckerling's transformative and brilliantly acute vision of an Emma for the late twentieth century was followed in 1996 by two close-to-the-text traditional films of Emma: Douglas McGrath's feature film for Miramax, with Gwyneth Paltrow and Jeremy Northam; and Andrew Davies's ITV/A&E television film, with Kate Beckinsale and Mark Strong.4 Sandy Welch's 2009 BBC adaptation of Emma, with Romola Garai and Jonny Lee Miller, is an expensive cog in the machinery of what Kathryn Sutherland calls "the indefatigable Jane Austen film industry" ("Well persuaded" 18)—an industry that seems to have a stockroom filled with dodgy adaptations of Austen's novels. Welch's version, which "has been kicking around for a decade" (Mullaney), is the third Emma that traces its inception to the bountiful 1990s, and it is the fifth UK television presentation of an Austen novel in the past three years; the total goes up to six with Miss Austen Regrets (2008), and to seven with the remarkably witty Lost in Austen (2008) (Davies). But what does this new script/adaptation add to our understanding of Jane Austen's Emma/Emma? What will viewers unaccustomed to the domestic themes, subtle characterizations, and slow pace of Austen's novels take away from this film version, described as being "very modern"? As Serena Davies points out in her review of the first instalment of Emma, "in order to justify its own existence," this new adaptation "need[ed] to be exceptional"—but instead the "production seemed in thrall to its own loveliness. . . . The result was that Austen ended up feeling like a comedy of long forgotten manners rather than timelessly perceptive."
The fact that there have been three attempts to capture Emma on film since 1996 suggests that Austen's novel about personal transformations and fragile relationships somehow eludes the scriptwriters' and filmmakers' art. Janet Todd observes that "Emma is a dangerous novel" (15), yet the film industry forges intrepidly on, trying to create an Emma/Emma for new target audiences. In "Emma—Behind the Scenes—BBC1," a short video promo on the web, producer George Ormond identifies the target audience for this "lively, bitchy, spiky, entertaining, emotional" adaptation. Sandy Welch, the scriptwriter, he says, has created "an Emma for a contemporary audience." At the heart of this potential "contemporary audience," however, is a wide gulf: some of the viewers will be meeting Emma/seeing Emma for the first time; other viewers (e.g., Janeites) will know the original novel and will assert the primacy of the written text; another set of viewers will have seen the Emmas that preceded this adaptation, and they will perhaps assert the primacy of one of those films. It is a given that, in the process of transferring fiction to film, changes must be made, thematic emphases re-arranged, and characterizations developed (or in some cases dropped from the filmic version), but what kinds of revisions should be made when the audience is so various?5 The final product must determine whether or not the adapted material will stand on its own, separate from the primary text.
The web promo hints at how this adaptation will differ from the two previous incarnations of Emma. The aim, says director Jim O'Hanlon, is to create a "modern spirit by reflecting the present" and to achieve an adaptation that is "bright, funny, colorful, energetic, modern, vivacious, and completely of the period." Actors will use "slightly modern body language," and Emma herself will be "very, very modern," a young woman full of "physical energy." Trying to be simultaneously "modern" and "completely of the period," however, produces a hybrid adaptation that fails to satisfy. Those gorgeous period trappings of the Heritage film genre—costumes, art objects, antique furniture, carriages, and country houses—create a visually pleasing film, but Garai's "modern" Emma remains entrapped by early nineteenth-century codes of manners and propriety. A. A. Gill, writing for the Times (London), points out, somewhat sarcastically, that "[t]echnically, [Emma] is everything we've come to expect from WGBH Boston's contribution to British cultural life—National Trust house and garden; unflattering costumes that are undoubtedly deeply authentic; mad, squiffy wigs; and an orchestra that has to fill in for all the bits of writing they can't get on screen." Neither Gill nor other reviewers mentions the "modern" thrust of the production.
Since nothing much happens in the environs of Highbury, that Austenian place defined by Rachel Brownstein as a "green and pleasant, cultivated and comfortable, tight little island in which the best people have delicacy, sensitivity, and moral seriousness" (228), the "changes" that rock Highbury are small shifts in daily life: a picnic, a dinner party, a letter, a visitor. These small shifts are subsumed by larger directorial and script-driven choices, often with the effect that when the modern elements are juxtaposed on Austen's delicate social satire, the times seem out of joint. An energetic (does energy make a heroine "modern"?) heroine, an extended and irrelevant back-story, and an intrusive physicality that owes more to current film-making conventions than to Austen's Highbury manners create snags in the texture of the series. While they talk and walk, visit and dance, Austen's characters have the opportunity of gaining insight into themselves and others. Exhibiting on screen the characters' internal emotional battles while they are handing each other cups of tea or dishes of strawberries often eludes the skills of both the scriptwriter and the director.

<![if !supportEmptyParas]> <![endif]>
Problems with this adaptation surface during the first episode and continue to affect the rest of the series, precisely because Emma is portrayed as so unlikable, so spoiled as a child, so bratty as a teenager, and so egotistical as a young woman that viewers unfamiliar with Austen's novel must wonder why her story is considered a classic tale. Instead of meeting Austen's nearly twenty-one-year-old Emma at the vexatious time of Miss Taylor's marriage, the viewer sees the events that disrupted the childhoods of three of Highbury's children, an overextended back-story that tries too hard to link Emma, Jane Fairfax, and Frank Churchill as a triumvirate of characters whose fates are intertwined. The series exploits this connection, with recurring scenes of a rather bad-tempered Emma ranting about Jane's accomplishments, and a very insensitive Emma quizzing Mr. Weston about his son's purported visits.
Invented scenes and invented narrative obscure the central consciousness of the novel. Sarah Morrison notes that "typically filmmakers create scenes and add dialogue to fill in gaps in the narrative that result from the excision of a narrator," but in this Emma the decision to use a male voiceover (Mr. Knightley? an omniscient narrator?) and to set out at length the children's back-story deflates the sense of expectation evoked in the first chapters of the novel. The effect of foregrounding the events of childhood is to turn the viewer against Emma, who as a child is impudent to Miss Bates and as an adolescent affectedly clever with Mr. Knightley.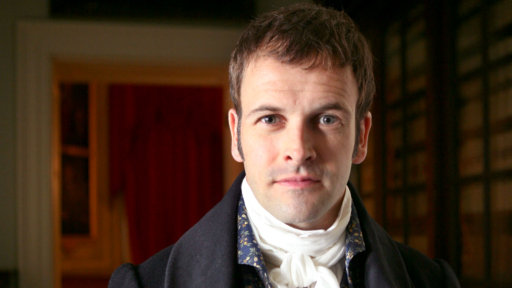 Jonny Lee Miller as Mr. Knightley. © BBC 2009.
This ostensibly "fresh" Emma opens with visual and aural clues that signal the adaptation's separation from Austen's original text. The bland language of the adapted script effaces the clarity of Jane Austen's language, eliminating the famous first line of the novel and substituting clichés. Instead of Austen's elegantly cadenced first line about her "handsome, clever, and rich" heroine (5), the narrator proclaims that "Emma Woodhouse was born with the sun shining." This cliché becomes the filter through which we view the very grand eighteenth-century country house that dominates the landscape—a house much bigger and grander than "the comfortable home" of the first paragraph of the novel.6 While the sun shines brightly, two doting parents, in singularly unflattering close-ups, peer into the pram at a fat, happy, blonde baby. The voiceover announces that Mr. Woodhouse "always expected the worse" and that Mrs. Woodhouse was "a carefree mother whose smile Emma was not to remember." As the film proceeds, a bland but smiling Mrs. Woodhouse (in a very bad wig) metamorphoses into a pasty-faced cadaver in a coffin marked with the initials KW and the year 1795. Whereas Austen informs readers succinctly that Emma's "mother had died too long ago for her to have more than an indistinct remembrance of her caresses" (5), the adaptation sentimentalizes the issue of maternal mortality. In the first few minutes of the first instalment we are shown not only a dead Mrs. Woodhouse but a second dead mother as well.7
The script seems shaped to make the viewer unsympathetic to Emma. The voiceover, still focusing on external events, reminds us that while "the sun continued to shine on Emma," "other children in Highbury were not so fortunate." Young Frank Weston's mother takes "a turn for the worse"; we get a glimpse of young Mrs. Churchill's dead body just before Frank's dour Aunt Churchill takes him off in a carriage—in the rain. Next, we discover that Mrs. and Miss Bates, having descended the economic ladder, are being forced to move to a smaller house. To do their best for Jane Fairfax, they must give her up to Colonel Campbell if she is to have a better life. Emma remains in sunny Highbury, but Frank and Jane are taken away to "trust their fortune to strangers." So, even before the credits run, these invented scenes maneuver the viewer into a sentimental reaction: poor little Jane, poor little Frank, lucky—and rich—little Emma.
By employing a hybrid narrative technique that implants segments of Austen's text into invented descriptions and dialogue, the script dismantles Austen's irony. The narrator relates that Emma had "very little to distress or vex her for many years to come" (emphasis added), a fact that does not endear her to the viewer because we have visual evidence that she is simply too lucky and too rich. Here the script—not Emma's class or riches or status—once again keeps the viewer at a distance. The dull generality of "many years" does not get to the essence of Austen's deliberate, complex, and certainly more ironic information that Emma "had lived nearly twenty-one years in the world with very little to distress or vex her" (5). Austen's specificity about Emma's age, combined with the qualifier "nearly," suggests that at this age she should be mature, thoughtful, polite, caring—all of the virtues celebrated in Highbury. In this line, Austen suggests not only the limits of Highbury ("the large and populous village almost amounting to a town" [7]), which is "the world" for the young woman, but also the experiential limits of Emma herself.
Using a male narrator to describe Emma's interiority destabilizes the point of view and leads to some confusion in the story-telling, especially when, later in the series, Emma's own voiceover begins. In the first instalment, after the opening credits, the narrator drops out for a few scenes but re-emerges on Miss Taylor's wedding day. Whereas the voiceover for the back-story focuses primarily on the external events that shaped Highbury's children in the 1790s, the narratorial point of view changes after Miss Taylor's marriage. Now he reveals Emma's innermost feelings and thoughts about the changes she will face with the loss of Miss Taylor. He does not, however, comment, as Austen does, upon Emma's "happy disposition"; nor does he suggest that "[t]he real evils . . . of Emma's situation" had to do with the fact that she grew up "having rather too much her own way, and a disposition to think a little too well of herself" (5). Rather, the invented scenes and narratorial voiceover invariably—perhaps unintentionally—establish Emma's character in the most negative light.
From the first chapter of the novel, Austen uses "change" and "matrimony" as interconnected motifs to prod her heroine not only into growing up but also into subconsciously thinking about the next phase of her own life. Mr. Woodhouse "hat[ed] change of every kind," and considered "[m]atrimony, as the origin of change, . . . always disagreeable" (7), but Austen's heroine is different from her father. When Emma faces the question "How was she to bear the change?" (6), she recognizes simultaneously that, in the abstract, she promoted the match that has taken Mrs. Weston a half a mile away, and that, in the concrete, Hartfield could no longer offer her a companion who would offer any kind of intellectual challenge (7).
In this series, the back-story diminishes the positive effects of Miss Taylor's sixteen years of friendship, affection, guidance, and kindness—important shaping factors in the growth of an otherwise spoiled child. Miss Taylor, who features in nearly every early scene with Emma, indulges her and never reprimands her, even when she is making funny faces behind the backs of guests like Mrs. and Miss Bates. Time passes (seven years), and adorable baby Emma changes into gawky modern teenager (in what is a very awkward casting decision, Garai plays the adolescent Emma as well as the twenty-one-year-old), still fussing with her dolls. Infantilized, Emma displays annoying mannerisms that serve only to emphasize the adult Emma's misplaced sense of superiority. In one unnecessary scene, Emma, tired of listening to Miss Bates itemize Jane Fairfax's accomplishments, interrupts and proclaims, "I'm going to ask Mr. Knightley to teach me Chinese." When she delivers this fatuous line, Emma flashes a grin and a wide-eyed expression to indicate to her father and her governess how cute she thinks she is (neither her father [Michael Gambon] nor Miss Taylor [Jodhi May] find fault with or reprimand her). In this one invented line Emma shows an inbred sense of arrogance and rudeness. The script presents a pantomime Emma, a show-off who seeks always to be the center of attention. She reveals herself to be not only insolent and peevish but shrewish. Jocelyn Harris points out that "Emma Woodhouse, like Elizabeth Bennet, speaks too freely because her father's power is weak" (14), but in this production, Emma's great opinion of herself seems to be a serious character flaw, not a minor fault to be blamed on her father's (or Miss Taylor's) weaknesses. Emma is so very unlikable as a young person that it is no wonder the ratings for the series fell dramatically—by more than one million viewers—after the first episode.
As part of the modernizing thrust of the series, the back-story invests the young Isabella Woodhouse and her suitor John Knightley with youthful energy and high spirits, but the scene holds the narrative back instead of moving it forward. In an unconvincing invented scene, teen-aged Emma stands at a window with Mr. George Knightley while they watch pre-nuptial Isabella (Poppy Miller) and John (Dan Fredenburg) affectionately smack each other with what appear to be willow branches. Shouting and cavorting, Isabella and John jump over low box hedges; in the next scene, standing motionless in church, they are being joined in matrimony—just as Emma has predicted. In the novel, however, we first meet the John Knightleys as serious parents caring for five young children. Jane Austen presents Mrs. John Knightley as "a pretty, elegant little woman, of gentle, quiet manners," and Mr. John Knightley as a "gentleman-like, and very clever man . . . with reserved manners" (92). The riotous "courting" scene brings a modern physicality to the plot but it does not make the viewer understand either these two adults or Emma any more deeply, except that it confirms for Emma that she has an uncanny ability to see into people's hearts, a confirmation that generates another set of unattractive smirks. The wedding scene is followed by a static image of the John Knightleys at their home in London, with the father at work at his desk, a tired Isabella holding a newborn baby, and four more exuberant children capering through the room. This image functions, perhaps inadvertently, as support for Emma's precocious decision not to marry.
By drawing out Emma's adolescence and, more important, by compressing, comparing, contrasting the childhoods of three of Highbury's children, this adaptation depicts how the children taken away from Highbury flourish in terms of economic well-being and accomplishments but suffer psychological feelings of abandonment and betrayal. Emma comments, "Jane, Frank Churchill, and I are bound together"—a line that seems to be the guiding thesis of the production. Perhaps through the invented childhood scenes viewers are being primed to be more sympathetic when, later in the story, all three of these young adults behave badly. The back-story, however, serves Emma badly: lucky Highbury-bound Emma appears to those viewers who have not read the novel as a very unpleasant, self-centered, and jejune adolescent. And seeing Frank, Jane, and Emma as children of Highbury distracts attention from Austen's very particular focus on the present, on the choices that young adults are forced to make as they grow in wisdom and sensitivity while the world changes around them.

<![if !supportEmptyParas]> <![endif]>
The choices made in the first episode define the strategy of the whole: invented dialogue and scenes as well as attempts to update that end up flattening Austen's irony and characters. Too often, in this modern Emma, broad strokes of physical activity supplant Austen's more suggestive and discreet rules of decorum. Emma cannot settle; even her face is constantly mobile. In church, imagining a match in the making, she swivels her head and rolls her eyeballs from Mr. Weston to Miss Taylor. Emma's exaggerated body language telegraphs her emotions. When she argues with Mr. Knightley over Harriet's refusal of Mr. Martin, she traipses from room to room poking flowers into vases. Emma's fantasies are all visualized: she repeatedly "sees" Mr. Dixon saving Jane Fairfax from falling off the cliff in Weymouth. She envisions Jane Fairfax in Mr. Dixon's arms, a scene worthy of any bodice-ripping romance. When Frank is recalled by his aunt and the ball is put on hold, Emma wanders from room to room trying to understand what she is feeling. Susan Allen Ford points out how "[i]n Emma, the educational process and the courtship plot are inextricable" (181), and that "[p]erhaps most amusing, and most endearing, is Emma's blindness to her own romance" (178), but in this adaptation Emma, who prides herself on her wit and intuition, does not seem to learn anything quickly; she seems slower than Harriet at taking up cues.
To its credit, this adaptation uses window imagery to great effect to show how Emma, a watcher, lives in a veritable cocoon at Hartfield. On the evening of Miss Taylor's wedding, Emma stands at a window, but she first looks back at the hall and envisions herself and her sister as Miss Taylor's little charges; when she turns again to look out the window she sees Mr. Knightley approaching the house. This scene conveys the sense that Emma is caught between childhood and adulthood. In other scenes when Emma stands at the same window, either watching Mr. Knightley appear or disappear, her quietness and immobility give rare glimpses into her interior life. It is important to note that windows bank the entire front of Mr. Knightley's Donwell Abbey, an image that suggests Mr. Knightley's experience with a wider world, as well as his more enlightened vision. Welch's script could do more with these refined, domestic images and with silence.
Instead, physical activity and restlessness are transformed in this modern adaptation into familiarity and intimacy, resulting in shocking breaches of the early nineteenth-century codes for decorous behavior. Mr. Elton stands and sits impossibly close to Emma. Even as he helps her remove her cloak at Randalls, his attentions are tinged with sexual threat, which are realized when he proposes to her as the carriage takes him home after the Westons' dinner party. Fidgeting, complaining that he is bored or hot, Frank Churchill also moves in too close to Emma. His manner is flirtatious, his sexual presence undeniable. When the Westons, Frank, and Emma are looking at the Crown Inn to determine if it will do for their private ball, Frank Churchill, after the most perfunctory bow, impulsively grabs Emma and embraces her in this very intimate dance. But it is one thing to have the impetuous young man pretend to waltz with her, and quite another to have him lie down during the picnic at Box Hill and settle his head in Emma's lap. The physical intimacy is an outrageous violation of propriety, something Emma would never have allowed and would have rebuked.
Austen's Emma, while maintaining propriety in a physical sense, violates it in an ethical sense. Austen shows how Emma, under the influence of a bored Frank Churchill and chuffed not only with her own self-importance but with Frank's attention and the exhilaration of "'talking nonsense for the entertainment of seven silent people,'" loses her self-control (369). When Frank challenges the group in the name of Miss Woodhouse, "'demand[ing] from each of you either one thing very clever . . . or two things moderately clever—or three things very dull indeed,'" and Miss Bates chatters on about how "'I shall be sure to say three dull things as soon as ever I open my mouth,'" Emma delivers her unforgettable, and unforgivable, quip to Miss Bates. As the text says, Emma "could not resist": "'Ah! ma'am, but there may be a difficulty. Pardon me—but you will be limited as to number—only three at once'" (370). Emma delivers her lines with "mock ceremony," and she thinks Miss Bates is too slow to understand her quick wit; she laughs a couple of lines later, not at her own quip but at Mr. Weston's conundrum (371). When Frank's high spirits rise "to a pitch almost unpleasant," Emma finds that she is finally tired of his "flattery and merriment" and that she would rather be walking about with the other members of the group, "or sitting almost alone, and quite unattended to, in tranquil observation of the beautiful views beneath her" (374). Yet, she remains sitting with him, essentially paralyzed by the unhappiness at the heart of the day's events. When the carriages arrive to take everyone home, Mr. Knightley privately admonishes her for being "'so unfeeling . . . so insolent in your wit to a woman of her character, age, and situation'" (374). Until Mr. Knightley speaks to her Emma does not understand that, in effect, she, a woman of fortune, has publicly insulted a person less fortunate. While "Emma recollected, blushed, was sorry, but tried to laugh it off" (374), Mr. Knightley provides a bleak description of the economic situation for Miss Bates, a figure, as Devoney Looser says, who is "the stereotypical old maid" (90) as well "as Emma's direct foil in regard to her future imagined marital status" (81). Looser observes that "Emma is brought to maturity in the novel by Mr. Knightley's rebuke" (92).
In this film, the scene is handled differently but convincingly, especially in accordance with the practice of updating adaptations to reflect current values. Frank Churchill's physical encroachment, which Emma has allowed, is only one element of that difference. No longer mistress of herself, and having lost all self-possession and self-control in a public situation (Vickery 8), Emma laughs uproariously at her own joke, practically slapping her knee with pride at her witticism, but when she sees that no one is laughing with her, her laughter falters. She is visibly shaken, and viewers can see that Emma knows instinctively—without being told by Mr. Knightley—that she has done something wrong. Deflated and discomposed, Emma slinks off to sit alone and to contemplate the view. Throughout Austen's Box Hill episode, we could lodge against Emma the same complaint that Elizabeth casts at Darcy, criticizing him for his "'arrogance, . . . conceit, and . . . selfish disdain of the feelings of others'" (PP 193). But here Garai undergoes a visual change, making it clear that Emma is embarrassed by her words and actions. It does not take Mr. Knightley's rebuke to make her see that she has indeed violated codes of propriety and generosity. As Sue Parrill points out, "Miss Bates becomes the test case for Emma, whereby her grasp of only the superficial aspects of conduct towards one's social inferiors is contrasted with Mr. Knightley's true gentility." When she understands how her insolence masked as cleverness inflicts inestimable pain, Emma comes to regret her extreme rudeness. She is mortified.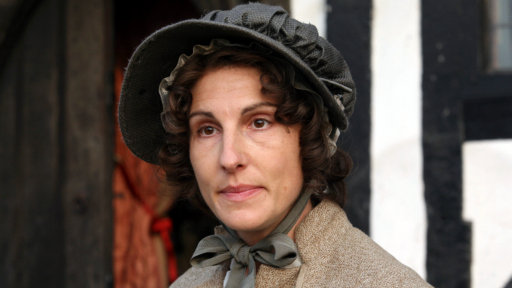 Tamsin Greig as Miss Bates. © BBC 2009.
For the contemporary viewing audience of this series, Emma's impertinence from childhood, through adolescence, to young womanhood has obviously led her to the brink, that is, to the point where it is inevitable that she will hurt someone with her words—a situation not unlike those in today's high schools where bullies, egged on by their friends, pick on younger or weaker or less fortunate students. Emma's inappropriate laughter at the expense of Miss Bates is something a contemporary audience understands as problematical. Morrison points out that "it is very difficult for filmmakers to convey the precise terms of Emma's error and subsequent self-recriminations and reformation without substituting more democratic notions of social equality for the class distinctions that Austen accepts as appropriate if not positively desirable." Ideas about class are connected with the characters' economic situations, most obviously evident in the size of the houses depicted on screen.8 Focusing on Emma's reformation rather than on her self-recriminations, this series shows that Emma recognizes that she has been rude to a person for whom the sun does not always shine and that charitable visits will repair the damage.
The physical intimacies attending the picnic at Box Hill extend into other scenes in the fourth segment of the series, most particularly into the scene of Mr. Knightley's proposal. In what is essentially a hybrid scene, the dialogue and the silences that frame the proposal are very close to Austen's, but it is Emma's acceptance—her reaching out to caress and then to kiss Mr. Knightley—that distorts the essence of the novel, although the scene is unobjectionable in itself. It could be argued that Austen has left this scene open for interpretation, and that readers as well as filmmakers have a responsibility to fill in the blanks. Austen's narrator reports simply that Mr. Knightley proposed to Emma, and that Emma replied "[j]ust what she ought, of course. A lady always does" (431).9 The mystery of those missing words (and actions) has intrigued readers for two hundred years. Hence, in this film Emma's physical response to Mr. Knightley is an adaptive technique intended to appeal not to Janeites but to a new generation of viewers. The embrace certainly fulfils the web-promo's promise of a modern adaptation and a modern Emma. But, as Charles Moore points out, "It is inconceivable that Emma would have made the first move in kissing Mr. Knightley, let alone in full view of her father's house."

<![if !supportEmptyParas]> <![endif]>
The adaptation has been savaged by critics, but in many cases for the wrong reasons. Some reviewers claim that the production seemed "plodding and overly sanitised" (Davies), and that it "limped" and "dragged" (Mullaney). Caitlin Fitzsimmons, writing for the Guardian, notes that Ben Stephenson, controller of drama commissioning, says that the BBC remains "committed to retelling classic stories for a new generation of viewers and [that] this four-part adaptation—the first serial version of Emma since the 1970s— . . . find[s] new detail and added psychological depth in Austen's characters." Yet, this new viewing generation (sometimes referred to as Generation-Y), many of whom are meeting Emma and the other inhabitants of Highbury for the first time, may be so put off by Emma's egotism, arrogance, and vanity that they will not decode the psychological clues to Emma's bad behavior. The script too often sacrifices the subtleties of the universal story of a young woman's transformation from self-centered ingénue into responsible young wife for invented scenes, dull dialogue, and exquisite set decoration—none of which gets to the underlying appeal of Austen's complex character.
Absurdly modern and quite comic insertions find their way into the script for the benefit of the contemporary viewers the production company hopes to attract.10 Rejecting any kind of hybridity, Moore complains that "whole passages of the original [dialogue] are used, but then the script veers madly away," and that the early nineteenth century dialogue is cluttered with hilarious infelicities of expression (e.g., "exercise regime," "expansion project," "a mystery honeymoon," "wanderlust," "countryside," and, finally, Mr. Elton's "Absolutely". Dialogue in an adaptation must necessarily be trimmed and adjusted, but what is most troubling in this version is the way the script draws the characters and invents whole scenes that do not help viewers gain a deeper understanding of Emma/Emma. Rather, many of these scenes, perhaps suffering from over-writing as well as over-direction, serve to alienate the viewer from the main character.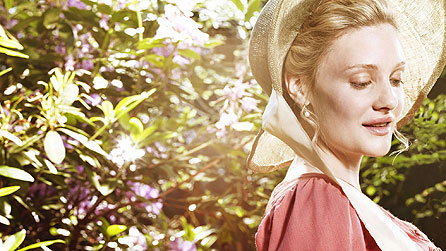 Romola Garai as Emma. © BBC 2009.
It is easy to suspect that, in her portrayal of Emma, Romola Garai was directed to go for broad rather than subtle strokes. Garai was stunning in Atonement, approaching the difficult character of Briony with sensitivity and finesse. Her interpretation of Emma, however, has newspaper critics split into opposite camps. Mullaney, suggesting that "[p]erhaps it really was an Emma too far," comments on Romola Garai's "slightly exaggerated . . . daffy expressions," yet Serena Davies finds Garai's Emma "gorgeous" and "notably grand," although she also observes that Garai "managed the peculiar trick of appearing both adorable and a cow at the same time." While A. A. Gill cites Garai's Emma as "nothing short of brilliant, though possibly not icy enough," the Telegraph's Charles Moore asserts only that she
is very pretty, and she has an animation which makes her watchable. But her gait would have been unknown in the polite society at whose apex Emma is supposed to stand . . . and her way of opening her mouth wide to express delight or amusement is the "Ohmigod, I can't believe it" grimace of a 21st-century Oscar winner. She, and one feels, the directors, do not actually believe in the world they are depicting. Neither, therefore, does the audience.
Critics were unconvinced by Garai's interpretation of a changed, more sincere Emma, but the scriptwriter's and the director's decisions also affect what a talented actor can do with a problem like Emma.
The actors in both the minor and the major roles for this production have been both praised and assailed.11 Charles Moore credits some of the actors in supporting roles (Robert Bathurst as Mr. Weston; Tamsin Greig as Miss Bates) with "successfully imagin[ing] themselves in Austen's milieu. Others [including Emma] stumble around as if they have just rented the kit . . . for a fancy-dress party." Another critic finds Dan Fredenburg's John Knightley "a wonderfully dry character, a proto-grumpy old man but with a good heart" and Rupert Evans's "flirtatious Frank . . . more believable than Ewan McGregor's uncomfortable film version (with hideous wig)" (Mullaney). Although she criticizes Jonny Lee Miller's idea of converting Mr. Knightley from stuffy to "strangely cheery," Mullaney finds him "committed fully to [his] interpretation." While some critics and bloggers find Jonny Lee Miller's Mr. Knightley "wet" (Gill) and too young (Le Faye, Blog), others praise the 37-year-old actor for his sensitive performance, particularly because he is handsome and gentlemanly and because he works so well with Garai in their give-and-take arguments. For Sutherland, "the most obviously problematic ingredient in the transference of Austen novel to film is the visualization of the leading romantic males" (Textual Lives 348), but Miller's Mr. Knightley is convincing and attractive in the difficult role of what could be the bossiest male scold in literature.
The Times's A. A. Gill carries his criticism of the characters and the overall production further:
This manga romance makes irredeemably dire television Let's start with the obvious. There is nobody to like. There is nobody you could even bear. The eponymous heroine is the most worthlessly loathsome in all fiction. She is manipulative, vain, selfish, arch, shallow, insensitive, capricious and a bully. Her only mitigating feature is a vaunting snobbery so absurd and overweening, so hopelessly eugenic, that it could only be a medical condition. It's not even that she can claim to be naive or misunderstood or well meaning. She's a knowing, arrogant little bitch, and we're supposed to watch and care about her until she reaches a wholly undeserved happy ending and marries that wet bloke who argues with her all the time, as if you hadn't already guessed.

By intentionally missing some of the key points about Jane Austen's Emma, Gill makes it quite obvious that he despises not only Austen's character but also Highbury's social relationships, manners, and values. But his response exposes the main weakness of this miniseries: Emma is a most difficult character. She is a challenge to readers and viewers, she is not easy to know or to like, and this adaptation has not done anything to help a new audience understand her. Since neither the script nor the production makes clear why viewers should care about Emma, or why a rational man like Mr. Knightley would want to be saddled with such a meddlesome wife, this modern Emma is easily dismissed as a spoiled brat.
In Jane Austen's Textual Lives, Kathryn Sutherland points out that for filmic adaptations "[b]eing true means doing it different" (339). Before filming started, the BBC predicted that its new Emma, an in-house production, "would offer a 'humorous' new take on Emma, but would remain faithful to its regency setting" (Rushton). The houses and landscapes are indeed glorious. The humor, however, seems tied to Emma's immaturity, to her giggles, facial contortions, and laughter. Those same awkward gestures and facial movements make her seem vulgar—not the Emma who is "first in consequence" in Highbury. Shrewish Mrs. Elton—"Emma's monstrous double" (Ford 177)—has her funny, acerbic moments, and poor Harriet is as silly as ever, but the problem is that Emma appears as shrewish and/or monstrous as Mrs. Elton and as silly (perhaps sillier) than Harriet.

This adaptation, a hybrid entity that transposes large blocks of Austen's dialogue but also shifts the thematic emphases of the original text (Whelehan 8), cannot stand "as an artful object in its own right" (Sutherland, Textual Lives 340) because the characterization of Emma is so misjudged. It may be that Emma, of all Austen's novels, should be ensconced solidly in the perfect period details of the Heritage film, and that Emma herself, the elegant first lady of Highbury, should be imbued with an air of gentrified delicacy. Alternatively, perhaps Emma should be totally transformed and converted into a new, culturally significant, and updated entity. Directors, producers, and scriptwriters should look at the success, the cleverness, and the wit of the radically transformed Clueless, or at the way Lost in Austen re-imagined Pride and Prejudice. Linda Troost and Sayre Greenfield, in their article "Appropriating Austen: Localism on the Global Scene," describe four recent films that demonstrate how Austen's work can be completely re-configured for a contemporary audience: Rajiv Menon's Tamil-language Kandukondain Kandukondain (2000); Sharon Maguire's film of Helen Fielding's Bridget Jones's Diary (2001); Andrew Black's version of Pride and Prejudice set in Utah (2003); and Gurinder Chadha's Bollywood Bride & Prejudice (2004). Troost and Greenfield analyze how these
contemporary-setting films utilize what is convenient in Austen's tales but update plots and settings, alter characters, broaden or divert the satire, and reposition the moral framework. They do not represent Austen adapted to modern media and morals but Austen appropriated to particular modern cultural positions. They also reveal what filmmakers and audiences in the early twenty-first century find compelling or repelling in Jane Austen's novels.
Compared to these creative adaptations, BBC1's quasi-traditional, quasi-modern Emma for the twenty-first century viewer has unfortunately made us re-see the title character only in the most negative terms. She is a heroine no one could possibly like.
<![if !supportEmptyParas]> <![endif]>
<![if !supportEmptyParas]> <![endif]>
Notes
<![if !supportEmptyParas]> <![endif]>
1. This adaptation will be broadcast in the US in January and February 2010.
<![if !supportEmptyParas]> <![endif]>
2. British: "gurn" is a distorted facial expression; a grimace.
<![if !supportEmptyParas]> <![endif]>
3. There are reports that a film of Seth Grahame-Smith's sci-fi Pride and Prejudice and Zombies is in the process of being developed.
<![if !supportEmptyParas]> <![endif]>
4. For extended discussions of these filmic adaptations of Emma, see Persuasions On-Line, Occasional Papers No. 3 (fall 1999): Sarah Morrison's "Emma Minus Its Narrator: Decorum and Class Consciousness in Film Versions of the Novel"; Sally Palmer's "Robbing the Roost: Reinventing Socialism in Diarmuid Lawrence's Emma"; Laura Mooneyham White's "Emma and New Comedy"; and Christine Colón's "The Social Constructions of Douglas McGrath's Emma: Earning a Place on Miss Woodhouse's Globe." Also, see the collection edited by Linda Troost and Sayre Greenfield, Jane Austen in Hollywood, in particular Carol M. Dole's "Austen, Class, and the American Market."
<![if !supportEmptyParas]> <![endif]>
5. Note that Mrs. Bates's character has been modified radically in this adaptation. In the novel, Mrs. Bates is described as "a very old lady, almost past every thing but tea and quadrille" (21), but in this series, after the first instalment, Mrs. Bates is confined to a wheelchair. She appears catatonic, neither speaking nor moving throughout the events of the plot—until the last few moments, when Jane's happiness is secured. See Devoney Looser's Women Writers and Old Age in Great Britain 1750-1850, for her analysis of "What Is Old in Jane Austen" (75-96). Looser examines Emma, in particular, "as an important text for studying the old in Austen" (80).
<![if !supportEmptyParas]> <![endif]>
6. Sutherland points out that in McGrath's Emma Hartfield "is huge, scarcely conceivable as the novel's 'comfortable home'" (Textual Lives 344).
<![if !supportEmptyParas]> <![endif]>
7. Two dead mothers recalls Persuasion: "By this time the report of the accident had spread among the workmen and boatmen about the Cobb, and many were collected near them, to be useful if wanted, at any rate, to enjoy the sight of a dead young lady, nay, two dead young ladies, for it proved twice as fine as the first report" (111).
<![if !supportEmptyParas]> <![endif]>
8. An exception to this observation is the dinner party at Hartfield at which Emma introduces Harriet and shows her how to use her napkin and eat her soup. It is inconceivable that Mrs. Goddard would not have instructed Harriet in matters of dinner manners prior to taking her out in company.
<![if !supportEmptyParas]> <![endif]>
9. Janet Todd points out that Persuasion's Anne Elliot's declaration of "passion in the love scene with the hero" caused the "charge of vulgarity" to be levelled at the author by "several modern critics who find this sort of thing both sentimental and indelicate" (17).
<![if !supportEmptyParas]> <![endif]>
10. I agree with Juliette Wells, who points out that "[e]ven those scholars who aim, as I do, to treat adaptations as not mere versions of a privileged original text but coherent works on their own terms—the approach advocated by Whelehan, among others—can fall into the trap of complaining about screenwriters' lack of fidelity to Austen's own glorious words."
<![if !supportEmptyParas]> <![endif]>
11. Deirdre Le Faye, blogging a response to Charles Moore's article "This misjudged 'Emma' is a pedant's dream," claims that "almost everyone was wrong for the part":
Mr. Woodhouse was too big and burly—if you read the book carefully, you'll see he's small and thin; George Knightley was too young and slight; Emma was gawky and shrill; Jane Fairfax was a dull little doll—she should be dark-haired, slender and elegant; Frank Churchill was coarse-faced and vulgar; Mrs. Weston was too young—she must be at least 40; and why were all the females fair and all the males dark?
These subjective casting quibbles will always arise because, even with Austen's descriptions at hand, readers envision the novel's characters so variously. (Note, for example, the variety of Mr. Darcys: each characterization has a loyal fan base.)
<![if !supportEmptyParas]> <![endif]>
<![if !supportEmptyParas]> <![endif]>
Works Cited
<![if !supportEmptyParas]> <![endif]>
Austen, Jane. The Works of Jane Austen. Ed. R. W. Chapman. 3rd ed. Oxford: OUP, 1933-69.
Brownstein, Rachel M. "England's Emma." Persuasions 21 (1999): 224-41.
Davies, Serena. "Review: Emma (BBC1) and Monty Python—Almost the Truth—the BBC Lawyers' Cut BBC1)." Telegraph 5 Oct. 2009. http://www.telegraph.co.uk/culture/tvandradio/6256274/Review-Emma-ITV1-and-Monty-Pyton---Almost-the-Truth---the-BBC-Lawyers-Cut-BBC1.html
"Emma—Behind the Scenes—BBC1." BBC. 2009. Lights, Camera . . . History! http://lightscamerahistory.com/2009/10/04/emma-behind-the-scenes/
Emma. Writer Sandy Welch. Dir. Jim O'Hanlon. Perf. Romola Garai and Jonny Lee Miller. BBC1, 2009.
Fitzsimmons, Caitlin. "BBC to remake Jane Austen's Emma." Guardian 28 Jan. 2009. http://www.guardian.co.uk/media/2009/jan/28/bbc-remakes-jane-austen-emma
Ford, Susan Allen. "Romance, Pedagogy and Power: Jane Austen Re-writes Madame de Genlis." Persuasions 21 (1999): 172-87.
Gill, A. A. "This Emma is paper thin—right down to its pants." Times Online 11 Oct. 2009. http://entertainment.timesonline.co.uk/tol/arts_and_entertainment/tv_and_radio/article6865016.ece
Harris, Jocelyn. "Silent Women, Shrews, and Bluestockings: Women and Speaking in Jane Austen." The Talk in Jane Austen. Ed. Bruce Stovel and Lynne Weinlos Gregg. Edmonton: U Alberta Press, 2002. 3-22.
Le Faye, Deirdre. Blog response to Charles Moore's "This misjudged 'Emma' is a pedant's dream." Telegraph 27 Oct. 2009. http://www.telegraph.co.uk/comment/columnists/charlesmoore/6443318/This-misjudged-Emma-is-a-pedants-dream.html
_____. Jane Austen: A Family Record. 2nd ed. Cambridge: CUP, 2004.
Looser, Devoney. Women Writers and Old Age in Great Britain 1750-1850. Baltimore: JHU Press, 2008.
Moore, Charles. "This misjudged 'Emma' is a pedant's dream." Telegraph 27 Oct. 2009. http://www.telegraph.co.uk/comment/columnists/charlesmoore/6443318/This-misjudged-Emma-is-a-pedants-dream.html
Morrison, Sarah. " Emma Minus Its Narrator: Decorum and Class Consciousness in Film Versions of the Novel." Persuasions On-Line, Occasional Papers 3 (1999).
Mullaney, Andrea. Rev. of Emma, Sunday, BBC1. The Scotsman 26 Oct. 2009. http://living.scotsman.com/tvradio/TV-review-Emma-Sunday-BBC1.5764793.jp
Parrill, Sue. " The Cassandra of Highbury: Miss Bates on Film." Persuasions On-Line, Occasional Papers 3 (1999).
Rushton, Katherine. "BBC back to 'bonnets' with Emma." Broadcast 28 Jan. 2009. http://www.broadcastnow.co.uk/news/multi-platform/news/bbc-back-to-bonnets-with-emma/1976594.article
Sutherland, Kathryn. Jane Austen's Textual Lives: From Aeschylus to Bollywood. Oxford: OUP, 2005.
_____. "Well persuaded." Rev. of Miss Austen Regrets BBC1. TLS 25 Apr. 2008: 18.
Todd, Janet. "The Anxiety of Emma." Persuasions 29 (2007): 15-25.
Troost, Linda V. "Introduction: Jane Austen and Technology." Jane Austen Goes to the Movies. Topic: A Journal of the Liberal Arts 48(1997): iii-v.
Troost, Linda, and Sayre Greenfield. " Appropriating Austen: Localism on the Global Scene." Persuasions On-Line 28.2 (2008).
Vickery, Amanda. The Gentleman's Daughter: Women's Lives in Georgian England. New Haven: Yale UP, 1998.
Wells, Juliette. " 'A Fearsome Thing to Behold'? The Accomplished Woman in Joe Wright's Pride & Prejudice." Persuasions On-Line 27.2 (2005).
Whelehan, Imelda. "Adaptations: The Contemporary Dilemmas." Adaptations: From Text to Screen, Screen to Text. Ed. Deborah Cartmell and Imelda Whelehan. London: Routledge, 1999. 3-19.