| | |
| --- | --- |
| PERSUASIONS ON-LINE | V.30, NO.1 (Winter 2009) |
Scott's "tenderest, noblest and best" in his Review of Emma

Joan Klingel Ray

<![if !supportEmptyParas]> <![endif]>

Joan Klingel Ray (email: jray@uccs.edu), Professor of English and President's Teaching Scholar at the University of Colorado, Colorado Springs, was JASNA's President for three terms between 2000 and 2006. She has scholarly publications on Austen, as well as Charles Dickens, George Herbert, Dr. Johnson, and other authors.
Readers of Sir Walter Scott's famous unsigned review of Emma are frequently tantalized by its final paragraph, particularly that paragraph's final words, which are surrounded by quotation marks: "the 'tenderest, noblest and best'" (201).1 Scott uses the quoted phrase when he returns in the essay's final paragraph to his earlier one-paragraph discussion of Sense and Sensibility. Commenting on Austen's first published novel, Scott observes that Marianne Dashwood "transfers her affection to a very respectable and somewhat too serious admirer" (194). According to Edward Copeland, Scott's closing paragraph "registers his lingering disappointment in the conclusion of Austen's first novel" (SS xxxi), where realism replaces romance. Scott begins the final paragraph with a plea in favor "of that once powerful divinity, Cupid, king of gods and men, who in these times of revolution, has been assailed, even in his own kingdom of romance, by the authors who were formerly his devoted priests" (200). He then asks:
Who is it, that in his youth has felt a virtuous attachment, however romantic or however unfortunate, but can trace back to its influence much that his character may possess of what is honourable, dignified, and disinterested? . . . [They] are neither less wise nor less worthy members of society for having felt, for a time, the influence of a passion which has been well qualified as the "tenderest, noblest and best." (QR 200-01; qtd. by Copeland xxxi)
Responding to the same Scott paragraph and the quotation with which he ends it, Janet Todd and Antje Blank see Scott as being "[s]eemingly more inspired by personal nostalgia than by critical acumen" (lx). Jane Millgate observes that Scott's closing paragraph is "a surprisingly personal passage to find in the pages of the Quarterly Review . . . , but it is also specifically—if codedly—autobiographical" (190). She then lengthily decodes the passage in terms of the young Scott's early love for and loss of Williamina Belches: "the encounter with Austen's more prudential lovers for some reason triggers in Scott not only the memory of his loss, but the need to celebrate more generally the energies and aspirations generated by the lover's pursuit of the beloved, even when that pursuit proves ultimately vain" (190).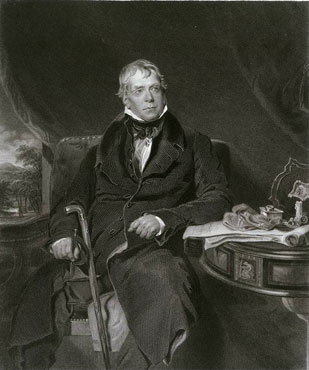 Sir Walter Scott, Bart., J. Horsburgh after Thomas Lawrence.
From Ancestry Images (www.ancestryimages.com).
However provocative such biographical speculations about Scott's use of the phrase "tenderest, noblest and best" to speak of love may be, his inspiration was literary, rather than personal. The original use of the phrase "The Tenderest, Noblest, and the Best" to describe love comes from Part I of Armine and Elvira, A Legendary Poem (1770) by British clergyman and inventor of the power loom, Dr. Edmund Cartwright.2 Quoting the recollections of her father, Mary Cartwright Strickland writes that this "'legendary tale . . . went through seven editions in a little more than a year'" (17). Scott definitely knew and admired the poem, which was originally published by John Murray (1745-1793), whose son and successor, John Murray (1778-1843), was Scott's own publisher and friend, and the founder of the Quarterly Review, where Scott's review of Emma appeared. Scott's high regard for Cartwright's ballad is recorded in his "Essay on Imitations of the Ancient Ballad," which introduces Part III of Minstrelsy of the Scottish Border, where he complains about poets whose works poorly imitate "the simplicity of ancient poetry" (4:17). A notable exception, Scott says, is Cartwright's Armine and Elvira: "We need only to stop and mention another very beautiful piece of this fanciful kind, by Dr. Cartwright, called 'Armin (sic) and Elvira,' containing some excellent poetry expressed with unusual beauty" (19).
Armine and Elvira is a product of the age of sensibility in which it was composed. The ballad begins with an elderly hermit who nostalgically speaks of his beloved son, Armine, a true hero of sensibility, whose
Heart no selfish Cares confin'd,
He felt for all that feel Distress,
And, still benevolent and kind
He bless'd them, or he wish'd to bless. (9-12)
But because of Armine's sensibility, his hermit-father prays a warning to his son to be chary of that "One Passion [that is] a dangerous guest": "Well may'st thou wonder when I blame / The Tenderest, Noblest, and the Best" (14, my italics). "The Flowers of Love," he claims, "are Weeds of Woe" (15). But the father's "Precept was too late" (16).
Part II begins with a setting that may have inspired Mrs. Radcliffe's castle of Udolpho, as Armine rambles into "the Bosom of a Wood," where he sees "An antique Castle towering stood, / In Gothic Grandeur" (17).3 The castle's owner, "Raymond, long in Arms renown'd," has "an only Daughter" (17). Elvira—like Marianne Dashwood, "eager in every thing; her sorrows, her joys, could have no moderation" (7)—refuses to exert self-control: "Her Breast, impatient of Controul, / Scorn'd in its silken Chains to lye" (18). While Armine experiences immediate love for Elvira, he harbors this love for two years: "Her ARMINE saw, he saw, he lov'd. / He lov'd—alas! And he despair'd!" (19). Armine despairs that the highborn Elvira probably "listens to no lowly Swain; / Her Charms must bless some happier Youth, / Some youth of Fortune's titled Train" (20). (Here, one may note a similarity to Wentworth's initial courtship of Anne Elliot, who is considered socially and economically superior to him.) Armine and Elvira finally meet, however, and Elvira observes that Armine's "mournful Voice, that modest Air, / . . . speak the courteous Breast" (26). Cartwright's lovers experience the type of love-at-first-sight that Marianne Dashwood feels for Willoughby and that she loves to read about in "a favourite story" (SS 51). Unfortunately for the young lovers, Elvira's father, Raymond, relying on first impressions, scorns Armine as low-born and hurls a javelin at him—only to learn that Armine's hermit-father is actually the heroic Egbert, who had been Raymond's youthful patron.
In a letter concluded on 2 December 1815, John Murray, the publisher of Emma, had enquired of Scott, "Have you any fancy to dash off an article on Emma? It wants incident and romance, does it not? None of the author's other novels have been noticed [i.e., in the Quarterly Review], and surely Pride and Prejudice merits high commendation" (Smiles 1:288).4 Murray's comment that Emma lacks "incident and romance" may well have influenced Scott to begin his discussion of Austen's fourth published novel with the contention that "Emma has even less story than either of the preceding novels" (195). But Murray's observation that the book lacks "romance" may also have suggested to Scott the idea of providing a literary history of the development of the genre for the essay's first nine paragraphs before even reaching an Austen novel. Observing that "the novel was the legitimate child of the romance," he traces the romance's influence "in the conduct of the narrative, and the tone of sentiment attributed to the fictitious personages" (189). However, "a style of novel has arisen, within the last fifteen or twenty years, differing from the former in the points upon which the interest hinges" (192). This genre depends on "the art of copying from nature as she really exists in the common walks of life" (193). Then comes his great compliment to Austen:
We, therefore, bestow no mean compliment upon the author of Emma, when we say that, keeping close to common incidents, and to such characters as occupy the ordinary walks of life, she has produced sketches of such spirit and originality, that we never miss the excitation which depends upon a narrative of uncommon events, arising from the consideration of minds, manners, and sentiments, greatly above our own. In this class she stands almost alone. . . . (193)
Yet however much praise Scott gives to Austen for her realism, Scott also yearns for the aforementioned "tone of sentiment attributed to fictitious persons." As Scott states:
Upon the whole, the turn of this author's novels bears the same relation to that of the sentimental and romantic cast, that cornfields and cottages and meadows bear to the highly adorned grounds of a show mansion, or the rugged sublimities of a mountain landscape. It is neither so captivating as the one, nor so grand as the other. . . . (200)
Clearly, Scott, like many readers of Sense and Sensibility, could not accept the narrative reassurance offered by Austen that in marrying Brandon, "Marianne could never love by halves; and her whole heart became, in time, as much devoted to her husband, as it had once been to Willoughby" (430). As a writer who relied heavily on sentiment in his own books, it is not surprising that after reviewing Emma, Scott returns to Sense and Sensibility, where Marianne feels for Willoughby that passion "which has been well qualified as the 'tenderest, noblest and best'" (201). Ironically, however, Scott did not remember that the hermit follows his accolade to love by warning that "The Flowers of Love are Weeds of Woe," which is what the lovesick and physically weakened Marianne, of course, learns at Cleveland. She walks where "the grass was the longest and wettest" (346). But the "Weeds of Woe" do not nearly kill Marianne; rather, unsentimentally, the cold and feverish infection she suffers from neglecting to change out of "her wet shoes and stockings" nearly does. With Scott's desire for sentiment, it is surprising that he did not complain of Austen's realistic cure of Marianne through the skills of a country apothecary.5
<![if !supportEmptyParas]> <![endif]>
<![if !supportEmptyParas]> <![endif]>
Notes
<![if !supportEmptyParas]> <![endif]>
1. While dated 1815, this issue of the Quarterly Review actually appeared in 1816. Recent scholarly treatments discussing Scott's review and its closing quoted phrase appear in the "Introductions" to the Cambridge University Press editions of Sense and Sensibility (xxxi) and Persuasion (lx), written respectively by Edward Copeland and by Janet Todd and Antje Blank. Recent scholarly discussion about Scott's review of Emma include books by Annika Bautz (11-12, passim), Adela Pinch (141), Janet Todd (129), and Peter Knox-Shaw (225). Three collections of edited Austen criticism, which include Scott's Emma review without identifying the closing quotation, are edited by Ian Littlewood (1:296), B. C. Southam (72), and Fiona Stafford (56). All quotations from Scott's review of Emma are to the original version in the Quarterly Review.
2. Armine and Elvira (14). All quotations refer to page numbers from the 3rd edition.
3. Radcliffe describes Udolpho looking down on a "deep shaggy valley" with its "towers and battlements" in all of its "gothic greatness" (226).
4. After reading the anonymous review sent to her by Murray, Austen returned it with a letter saying, "The Authoress of Emma has no reason I think to complain of her treatment in it—except in the total omission of Mansfield Park.—I cannot but be sorry that so clever a Man as the Reveiwer of Emma, should consider it as unworthy of being noticed" (1 April 1816).
5. Coincidentally, Oxford University's digitized copy of Armine and Elvira consulted for this essay has a flyleaf bearing the following handwritten words: "Bt. from Mr. R. W. Chapman."
<![if !supportEmptyParas]> <![endif]>
<![if !supportEmptyParas]> <![endif]>
Works Cited
<![if !supportEmptyParas]> <![endif]>
Austen. Jane. Sense and Sensibility. Ed. Edward Copeland. Cambridge: CUP, 2006.
_____. Jane Austen's Letters. Ed. Deirdre Le Faye. 3rd ed. Oxford: OUP, 1995.
_____. Persuasion. Ed. Janet Todd and Antje Blank. Cambridge: CUP, 2006.
Cartwright, Edmund. Armine and Elvira, A Legendary Tale. In Two Parts. 3rd ed. London: Murray, 1772.
Chapman, R. W. Jane Austen: Facts and Problems. 1948. Rev. ed. Oxford: Clarendon P, 1949.
Knox-Shaw, Peter. Jane Austen and the Enlightenment. Cambridge: CUP, 2004.
Littlewood, Ian, ed. Jane Austen Critical Assessments. 4 vols. London: Routledge, 1999.
Millgate, Jane. " Persuasion and the Presence of Scott." Persuasions 15 (1993): 184-99.
Pinch, Adela. Strange fits of passion: Epistemologies of Emotion, Hume to Austen. Stanford: Stanford UP, 1996.
Radcliffe, Ann. The Mysteries of Udolpho. Ed. Bonamy Dobrée. Oxford: OUP, 1990.
[Scott, Sir Walter]. "ART. IX. Review of Emma. A Novel." Quarterly Review 14 (Mar. 1815): 188-201.
_____. Sir Walter Scott's Minstrelsy of the Scottish Border. Ed. T. F. Henderson. 4 vols. Edinburgh: Blackwood, 1902
Smiles, Samuel. A Publisher and His Friends: Memoir and Correspondence of John Murray. 2 vols. London: Murray, 1891.
Southam, B. C. Jane Austen: The Critical Heritage. London: Routledge, 1996.
Strickland, Mary (Cartwright). A Memoir of the Life, Writings, and Mechanical Inventions, of Edmund Cartwright, D.D., F.R.S., Inventor of the Power Loom, Etc., Etc. London: Saunders, 1843.
Stafford, Fiona, ed. Jane Austen's Emma: A Casebook. Oxford: OUP, 2007.
Todd, Janet. The Cambridge Introduction to Jane Austen. Cambridge: CUP, 2006.