| | |
| --- | --- |
| PERSUASIONS ON-LINE | V.33, NO.1 (Winter 2012) |
"Jane Would Approve": Gender and Authenticity at Louisiana's Jane Austen Literary Festival

Corrie Kiesel

Corrie Kiesel (email: ckiesel1@cox.net) is a doctoral candidate in English at Louisiana State University, where she specializes in nineteenth-century British literature and folklore. She is completing the dissertation "Blame: Marriage, Folklore, and the Victorian Novel."
hoping to promote letter-writing and nurture appreciation for a nineteenth-century British author, a small group of organizers put on the first Jane Austen Festival in Mandeville, Louisiana, in February 2008. The festival combines costuming, period dancing, contests, and writing workshops, among other events, in order to provide attendees with an authentic experience that is both educational and entertaining. Founder Kerri Blache explains, "A Jane Austen Festival brings about so much that's good from the past [that] we need to carry forward and continue in our society as part of our culture." Because the festival attracts hundreds of participants with a wide range of experience of or contact with the author's work, however, there is no universal consensus among the festival community about what constitutes authentic Austen or what customs from the past need to be carried forward. In this essay, I consider the festival's development during its first five years, in particular its two continually changing, gendered contests: the men's "Looking for Mr. Darcy" and the women's "No Plain Janes." Over this period, changes in contest formats reflect an ongoing process of negotiation among festival organizers, volunteers, contest participants, and audience members about how to translate the world of Austen's life and fiction to twenty-first century Louisiana.
By observing the festival in its first five years and interviewing participants, I hoped to learn how modern-day Louisianans create a meaningful experience centered on an early nineteenth-century British author. The answers are not simple, however, because the festival is continually evolving. Two years ago the word "Literary" was added to its title, reflecting the quadrupling of the festival's literary offerings since its inception, in the form of poetry readings and academic lectures (one of which I delivered in 2010). Responding to popular demand, the festival has also expanded its period dance demonstration to an evening of dancing for attendees. These changes reflect the fact that organizers are attentive to input from the festival audience, tailoring the festival's offerings to the interests of its participants. This essay focuses primarily on the "Looking for Mr. Darcy" and "No Plain Janes" contests because those two events have changed almost every year of the festival, making readily apparent the process by which participants collaboratively (and continually) translate Austen's world to today's purposes.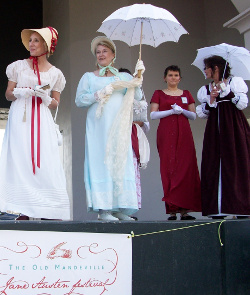 Jane Austen Festival, 2009
Despite Mandeville's physical and historical differences from Regency England, festival organizers see the city as having an old-time, small-town vibe capable of evoking the atmosphere of Austen's era, especially because the festival is held in the historic section of the town, called Old Mandeville. Mandeville is situated on the North Shore of Lake Pontchartrain, with New Orleans on the South Shore. Although the opening of the Causeway Bridge across the lake in 1956 put Mandeville within commuting distance of New Orleans, Mandeville still prides itself, according to the city's official website, on its "slower paced style of life," exemplified "by a preference for sailboats, rather than motor boats on the lake." With an estimated 2010 population of 11,560, Mandeville's small size accommodates slow-paced living. Still, the city's population has increased by more than 700 percent since the opening of the Causeway, from 1,368 in 1950 (U.S. Census Bureau). Such growth may account for the appeal of a festival that offers an opportunity to spend two days immersed in the presentation of a past culture.
Although festival participants are separated by both time and location from the era the festival hopes to embody, organizers work to provide an authentic experience.1 Which activities constitute the authentic, however, is open to interpretation. Because the festival audience is a group with a diverse range of experience with Austen—some have read and studied her fiction, some have enjoyed film adaptations of her work, and some have done neither but attend the festival because they are looking for something fun to do with their families on a weekend afternoon—attendees have differing expectations about what constitutes a meaningful Austen encounter.
The interpretative process that festival participants bring to bear on assessments of authenticity is reflected in other recent studies by folklorists. At one time, scholars considered authenticity an intrinsic quality of a text, custom, or event. For instance, folklorists once searched for authentic versions of folk narratives, labeling some texts genuine while dismissing others as "fakelore."2 Now, however, scholars more commonly consider authenticity as a quality that is constructed in the moment of performance. Rather than deciding whether a text or tradition is genuine or fake, then, folklorists seek to understand what makes something authentic to a particular group of people. Such study can show what qualities or values are important to the group; what a group deems authentic has value that something considered inauthentic lacks. Moreover, the practices that a group hopes to preserve or revive from the past can tell us something about what they believe is missing from the present.
As it is most commonly used by Jane Austen Festival participants, the term "authenticity" means historically accurate. According to Richard Handler and William Saxton, this usage of the term is often found during historical reenactments, in which the authentic presentation of history is understood as one that perfectly recreates past events (242). At the Jane Austen Literary Festival, this desire for historical accuracy is reflected in several of the activities offered. In various years festival-goers have been able to ride in "very authentic looking" carriages, according to planner Richard Boyd, to purchase wax seals for their letters, or to try writing with a quill pen. One of the festival's organizers, Danna Acker, told me that the preparation for the first festival involved "researching the cuisine of the time, . . . what people ate, what people drank, what the etiquette was, customs of that time." One of Acker's responsibilities was lining up vendors for a market on the first day of the festival, and she noted that the vendors "would have to be artisans who had some type of art of that period." She sought out artisans in candle-making, soap-making, stained glass, drawing, painting, and jewelry-making. She also looked for artisans in needlepoint and dress design, "people who could actually talk about the fabrics that were used at that time." The use of research to ensure the festival's historical accuracy is also reflected in the professional hairstyling services that festival-goers can purchase. Boyd commented that the hairstylists "had done the research. They had found photographs, and they had done all the research. And they actually knew of, I think, five or six actual women's hairstyles that are a part of the Regency era of Jane Austen." The repeated emphasis on research and the use of the word "actual" show the importance of authenticity to festival planners.
Despite the substantial research that goes into the festival, it can, of course, only approximate nineteenth-century practices. For instance, when the "No Plain Janes" costume contest judge calls a particular bonnet authentic, she means that it looks like a bonnet from early nineteenth-century England. Even costumes deemed authentic, however, are not actual Regency garb but approximations created for twenty-first century Austen fans. The authentic costume is not any more a "real" Regency dress than the inauthentic. As Handler and Saxton point out, despite the goal of historical accuracy, re-enactors "are well aware that the past in all its detail can never be recovered" (244).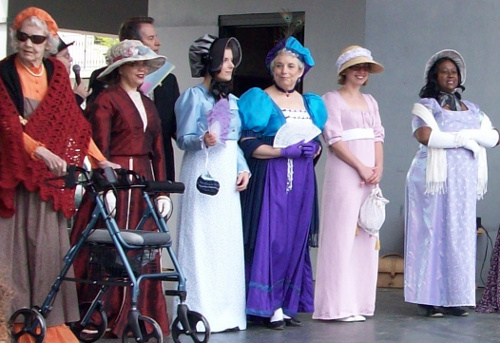 No Plain Janes, 2012
Because total historical accuracy is not possible, participants in historical re-enactments or period festivals produce authentic experiences in other ways. Handler and Saxton, for instance, argue that living history practitioners conceive of authenticity partly based on a personal connection, as experiences in which they "feel themselves to be in touch with a 'real' world and their 'real' selves" (243). At the Jane Austen Festival, participants judge the value of festival activities in part by imagining what Austen herself would do if she were still alive today. The instructions for the "Perfect Love Letter" writing contest imply that entrants can know Austen's tastes, dictating, "In 250 words or less, write a love letter that would receive adamant approval and knowing nod from Jane Austen." As contestants in the 2012 "No Plain Janes" contest promenaded across the stage, Blache commended them: "Jane would be proud. Jane would approve." Additionally, a woman who entered the Mr. Darcy contest in 2012 told me she was not discouraged from entering by the male-oriented contest title, and, she added, "I don't think Jane would have been either." These examples indicate that participants are thinking about what should happen at a Jane Austen Festival in terms of what they think the author would want done. In other words, in this place and at this time, what activities most represent Austen?
Answering such a question involves very personal interpretations about Austen and her work. As Claudia L. Johnson has shown, Austen has meant different things to different groups of people over time. While many (including many Louisiana festival-goers) have seen Austen and her work as unquestionably heteronormative—reflecting what some refer to today as a traditional family—others have been equally certain of Austen's queerness ("Divine Miss Jane"). Brandy Foster discusses the personal applicability of Austen interpretations in her essay, "Pimp My Austen," which examines the way Austen's admirers customize her to suit their own aims. When festival participants assert that Austen would approve of an activity, such statements tell us more about a particular interpretation of Austen's life and work that is important to modern-day festival-goers than about Austen's actual values. The confidence with which some Janeites assert Jane's preferences—referring to her by first name—reflects the personal nature of their relationship to the author, which Johnson describes as a "tendency to collapse distance" (Jane Austen's Cults and Cultures 10), Deidre Shauna Lynch describes as "fantasies of personal access" (111), and Mary Ann O'Farrell describes as a kind of friendship. O'Farrell argues, "To want to know what Jane Austen was like—to want to personify—is to want something in excess of what historicist or biographical detail might yield; such knowing demands a relation that includes me, that ultimately is about me" (45). As O'Farrell suggests, speculating about what Austen would be like today takes Janeites beyond the details available in any historical record, extending ideas about what Austen was to what she could be now. By doing so, Janeites imagine Austen in relation to themselves, in effect saying, "If Jane were here with us today, this is what she would want us to do."
Varied opinions among festival participants about how to translate Austen to present-day Louisiana reflect differing interpretations of the author and her work. For instance, the winner of the 2008 "Perfect Love Letter" contest, schoolteacher Melissa Anderson, told me she submitted a contest entry at her students' urging, even though she preferred Charlotte Brontë's writing style to Austen's. When I spoke to Anderson that year, she said she disagreed with the festival organizers that love-letter writing was an appropriate genre for a Jane Austen Festival, because she did not consider Jane Austen romantic. She said, "You can't have a Jane Austen love letter, so it's a paradox. They really need to change the writing contest to a Jane Austen reality letter." Given her opinions about Austen's writing, Anderson was quite surprised to learn that she had won the contest. Of the festival's award ceremony, in which writers read their letters aloud, Anderson said, "I felt very bad being there."
Despite her initial reluctance, after learning she had won the contest, Anderson fully embraced the spirit of the festival. After watching film versions of Austen novels for inspiration, she appeared at the festival wearing a blouse that she made out of her living room's lace curtains. She brought a new puppy with her to the festival, which she had named after Emma Woodhouse. Anderson was also able to use her contest participation as a learning opportunity for herself and her students. They not only read letters by Austen but also researched letter-writing practices of the era, such as crossing letters. So, in spite of Anderson's initial feelings about Austen, her participation in the festival did fulfill organizers' hopes of encouraging letter writing and generating appreciation for the author. As Anderson acknowledged, "She's not one of my favorite writers, but I like her better now that I've done so much research on her." Anderson's experience shows how the festival can provide a venue for the collaborative production of Austen interpretation. In this example, festival planners first put forward one interpretation of Austen as "Perfect Love Letter" writer. Although Anderson was initially inclined to reject this interpretation—she didn't particularly care for Austen and didn't associate her with love letters—her participation in the contest developed a more favorable assessment of the author and a personal connection with Austen's work.

The two parts of the festival in which I have observed the greatest difference of opinion about how to reproduce Austen's world today are the two gendered contests, "Looking for Mr. Darcy" and "No Plain Janes." Blache explains the rationale for the Mr. Darcy contest: "I was single for a long time. . . . I remember those days. So we wanted to honor gentlemen. That's all it was: looking for gentlemen." According to Boyd, Mr. Darcy was the character chosen as the contest focus because he "represents [Austen's] romantic ideal." Darcy is arguably Austen's most well-known male character; the "Darcymania" that followed Colin Firth's memorable performance in the BBC production of Pride and Prejudice is a notable example (Brownstein 47-50). Before the first festival, planners developed a nomination form to evaluate aspiring Mr. Darcys. Deciding which qualities to put on the form was a point of contention. Acker reports, "We went round for round with that. . . . We had e-mails going back and forth. And everybody's got their own opinion of Mr. Darcy, so . . . sometimes we would kind of debate about it, if it would be appropriate or not." For instance, Acker had suggested that nominees must "be able to ride a horse," but she said they dropped that criterion because "we certainly don't want to . . . disqualify anybody who might be . . . physically challenged." This move reflects the organizers' efforts to adapt the festival to the values of their community. As Boyd recalls, discussions about the contest criteria boiled down to the question of "what do we want Mr. Darcy . . . to be?" In translating Austen's Mr. Darcy to contemporary Mandeville, organizers had to determine which qualities of the character were relevant to their own culture.
The discussions about contest criteria show that community values can be as important as the source text in assessing modern-day Mr. Darcys. The contest aims to find someone who embodies the spirit of Mr. Darcy rather than someone who most accurately reproduces the character. One criterion organizers agreed on, for example, was that the nominee should be "a good father," even though Austen's Mr. Darcy does not have children. Another notable feature of Austen's character—his wealth—has never been a criterion for Mr. Darcy contest hopefuls. In debating which qualities to put on the contest form, organizers collaborated on an interpretation of what makes Mr. Darcy such a beloved character among Austen fans and translated that interpretation to a twenty-first century model. But even after achieving a consensus on the contest criteria, organizers realized that others might interpret Mr. Darcy differently. The nomination form stated: "There will be several winners. We are looking for gentlemen of strong spirit and sound character. . . . Please refer to Pride & Prejudice for further attributes." By sending applicants to Austen's novel to find "further attributes" of Mr. Darcy, organizers invited contest participants to offer their own interpretations of the Austen character.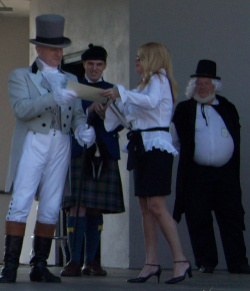 Looking for Mr. Darcy, 2009
In subsequent years, the contest has shifted away from the application form and toward on-stage performance. In the first year, each of the contest participants was called up on stage to take a bow, but not asked to perform. At least one of the festival organizers was disappointed with the scope of the contest. Acker said, "It would have been nice if there could have been some type of contest [where] they could have performed on stage. I just felt like we should have had more than just calling people's names." Following the first festival, organizers expanded the on-stage portion of the contest, asking participants to read a passage from Pride and Prejudice. While this addition may have addressed Acker's desire to have more substance in the staged portion of the contest, it also may have worked against organizers' initial goal of honoring men "with strong spirit and sound character." Instead, the contest may have identified the men with the best acting skills. In 2009, a female emcee prompted the men to read "in your best British accent" and "as romantic as you can get, right ladies?" One of the winners that year was a student of theater with experience performing a British accent. In addition, several contest participants expressed their own indifference to the criteria originally set out by the organizers by completely ignoring the contest entry form. Thus, both judges and contest participants changed the terms of the contest as it was being conducted. The contestants helped determine a new set of contest criteria by ignoring the initial rules, while the judges sanctioned adaptation of the event by allowing—and even rewarding—participation by men who had not been formally nominated. In fact, in the contest's current incarnation, the Mr. Darcy application form is no longer in use.
In 2012, the contest further evolved with the addition of two female contestants who viewed the Mr. Darcy contest as a reading contest rather than as a contest to choose the most "Darcy-like" man. The 2012 contestants would have no way of knowing of the organizers' 2008 debate about how best to honor gentlemen. The women's participation was a first for the contest; the only previous female contestant was half of a male-female pair in 2010, for which she read the part of Elizabeth Bennet. The couple's joint participation did not bring any objections from contest judges, although the emcee noted that if they won they would have to share the prize. (They did not win.) In 2012, the female participation seemed to be welcomed by the judge, Lynn Larsen-Ruffin, who awarded the women a tie for first place, noting that they had given "really good readings." In determining which contestants best embodied Mr. Darcy, replicating the character's gender—or, indeed, any specific qualities—was not a requirement. Instead, the contest shifted to an entirely performed sense of authenticity, one that is "experiential, rather than static and lasting" (Bendix 198, original emphasis). Rather than rewarding Mr. Darcy contestants for qualities that extend beyond the festival stage, the 2012 contest assessed only the quality of the reading. As the contest evolved during its first five years, character traits, family status, and, finally, gender dropped from the judges' consideration. However, gender is one of the possible Darcy-contest criteria still under negotiation; after the 2012 festival, planners suggested that they would return to an all-male Mr. Darcy contest in 2013.
Like the Mr. Darcy contest, the format of the "No Plain Janes" costume contest has changed slightly in each of the five years of the festival. It was initially intended to honor sewing skills and reward the research involved in developing an authentic Regency costume. At the first festival, the winner had made her own costume. Acker, who served as a judge, described the winning look: "The way she wore her hair, the way she carried herself, I mean she looked like she just stepped out of a Jane Austen novel. . . . You know, you look for authenticity. It didn't look like a costume. It looked like something someone might have worn in that time period." For the judges, what was important was how successfully contestants were able to create the impression that they could have actually been members of the Regency culture, that their dresses were "real" rather than costumes.
Assessing the authenticity of the "No Plain Janes" contestants has taken different forms. Sewing ability is one criterion about which judges have indicated flexibility: winning costumes have been both homemade and store-bought. This flexibility is one area in which some contestants (particularly those who make their own costumes) might not agree with judges; one participant unsuccessfully tried to impress judges by announcing that her costume was "completely handmade" in the same year that a costume purchased from Goodwill earned an award. In some years, contestants have been assessed based on performance. In 2011, the "No Plain Janes" contestants were asked to read, paralleling the Mr. Darcy contest, and prizes were based on both the quality of readings and the quality of the costumes. In other years, interviews by the emcee allowed contestants to impress judges with their personalities. One honorable mention winner, for instance, introduced herself as "Elizabeth Bennet in her older years." This contestant not only won over the judges but also influenced how the contest was conducted, as the emcee subsequently asked some of the contestants if there were particular Austen characters they were emulating. Thus, the shape the contest takes each year depends on the combined contributions of contest planners, volunteer emcee and judges, and contestants. Whatever structure organizers give to the event beforehand, the contest is ultimately a collaborative and unpredictable creation.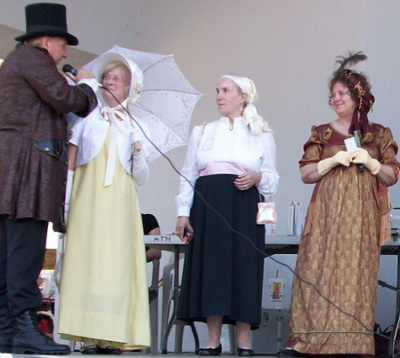 No Plain Janes, 2009
Like the Mr. Darcy contest—and perhaps many collaborative projects—"No Plain Janes" has been a source of some disagreement among festival participants. At the 2009 festival, for example, "No Plain Janes" immediately followed "Looking for Mr. Darcy" on the same stage. Festival attendees quickly noticed the difference between the men's contest, which judged reading, and the women's contest, which did not. As one woman observed, "They just have to look good." For some audience members, the way the two contests were staged did not align with their own attitudes toward gender roles. They perceived the contests as rewarding a more active role for male contestants and a passive role for women. One called out, "Where is the Jane Eyre contest? They have the Mr. Darcy contest." Reinforcing the gendered difference between the two contests, on the day of the 2009 festival, the male "No Plain Janes" emcee prompted: "Now I want to know, when you ladies put together your costume, did you think about what would entice your Mr. Darcy? Remember now, you're trying to get a man." Rather than asking about seamstress skills or the research of a particular era, the contest instead forged a connection with Austen's marriage plots. The emcee's remarks cast the costume-contest participants as single women from an Austen novel who are hoping for husbands. As he encouraged the contestants to embody a particular character type, he promoted a performance-based sense of authenticity for the contest, much like the woman who called herself "Elizabeth Bennet in her older years."

In examining the way authenticity is constructed by festival participants, the goal is not to sort out whose viewpoint most accurately reflects Jane Austen or Regency England, but rather to consider what the festival can tell us about how participants translate Austen in a variety of individually meaningful ways. As Juliette Wells argues, "If we evaluate non-academic approaches according to scholarly standards, or if we dismiss those whose literary knowledge is less than or different from our own, we will not appreciate fully what Austen means to readers today" (7). Merely dismissing the call for a Jane Eyre contest as a lack of knowledge of Jane Austen, would prevent us from fully understanding what Austen means to some festival-goers: the expectation of speaking roles for women.
For the 2011 festival, organizers minimized the differences in judging criteria for the two contests by adding a recitation component to the women's contest, so that both men and women were evaluated at least in part by public speaking ability. In 2012, however, the reading was dropped from the "No Plain Janes" contest. The judge, Larsen-Ruffin, explained to me that if women wish to perform at the festival, they are welcome to do readings at other times, just not as part of a contest. This time I did not observe any objections from the audience to the "No Plain Janes" format, perhaps because women had been able to read in "Looking for Mr. Darcy." It may be a different story in 2013, however, if organizers follow through on their plan to limit the Mr. Darcy contest to men. Even in years when there have been complaints, however, "No Plain Janes" is one of the festival's most popular events. This year the contestants in "No Plain Janes" outnumbered aspiring Mr. Darcys by a proportion of more than three to one, possibly reflecting Elise Barker's assertion "that men might be uncomfortable joining in on the fandom fun." The Jane Austen Literary Festival fits the pattern Barker has found elsewhere of gendered participation in Austen culture, with women and girls more likely to step onto the festival stage than men and boys.
Regardless of how festival-goers react to gendering in these two contests, the events will assuredly continue to evolve. Blache noted, "You keep things loose and flexible and not as strict with the rules to give people a chance to participate." Such flexibility is a key to the festival's ability to continue attracting a diverse audience going into its sixth year. For some festival-goers, experiencing Jane Austen means dressing in period costume, learning Regency dance styles, or writing with a quill pen. For others, it means celebrating the courtship and marriage plots of her characters. Still others consider a festival named for a female author as an opportunity to recognize women's achievements and to give women a voice on stage. As festival-goers resist existing contest rules or offer their own opinions of judging criteria or format, the festival will likely continue to adapt to community demands. Changes in the two gendered contests show that what constitutes the authentic for the festival community is still under negotiation, as various participants bring with them different ideas about how Austen's life and work should be adapted to a contemporary venue.
Notes
1. The Jane Austen Festival is what Lee Udall and Joe Wilson call a "Non-Community Monocultural Festival" in which "the organizers are not of the culture presented and prepare the presentation for others not of the culture" (qtd in Gillespie 154).
2. The term "fakelore" was coined by folklorist Richard Dorson in a 1950 article in American Mercury. Regina Bendix's 1997 study, In Search of Authenticity: The Formation of Folklore Studies, provides the most detailed account of the shifting attitude toward the concepts of authenticity and tradition in folklore studies. See also articles by Alan Dundes, Richard Handler and William Saxton, Debora Kodish, Dan Ben-Amos, Charles Briggs, and Handler and Jocelyn Linnekin. My consideration of authenticity at the Jane Austen Festival is also indebted to studies focusing on authenticity in literature by Jeff Karem, Nathaniel Lewis, and Lionel Trilling.
This essay follows other recent work on authenticity in relation to specific aspects of Austen culture. Marilyn Francus discusses this issue in relation to contemporary Austen-inspired literature, in which fictional Janeites "yearn for an authentic realization of their literary experience" but are unable "to enact an originary Austen experience." Deidre Shauna Lynch (116-17) and Mike Crang (118-20) discuss authenticity in relation to Jane Austen tourism. Amanda Gilroy addresses the question of authenticity in her essay about her students' Austen fan fiction.
Works Cited
Acker, Danna. Personal Interview. 28 Oct. 2008.
Anderson, Melissa. Telephone Interview. 9 Nov. 2008.
Barker, Elise. "Playing with Jane Austen: Gender Identity and the Narrowing of Interpretation." Persuasions On-Line 31.1 (2010).
Ben-Amos, Dan. "The Seven Strands of Tradition: Varieties in Its Meaning in American Folklore Studies." Journal of Folklore Research 21.2/3 (1984): 97-131.
Bendix, Regina. 1997. In Search of Authenticity: The Formation of Folklore Studies. Madison: U of Wisconsin P, 1997.
Blache, Kerri. Personal Interview. 3 Oct. 2008.
_____. Personal Interview. 13 Aug. 2009.
Boyd, Richard. Personal Interview. 7 Nov. 2008.
Briggs, Charles L. "Metadiscursive Practices and Scholarly Authority in Folkloristics." Journal of American Folklore 106.422 (1993): 387-434.
Brownstein, Rachel M. Why Jane Austen? New York: Columbia UP, 2011.
City of Mandeville, LA. "History." City of Mandeville, 2012. Web. 25 Apr. 2012.
Crang, Mike. "Placing Jane Austen, Displacing England: Touring between Book, History, and Nation." Jane Austen and Co.: Remaking the Past in Contemporary Culture. Ed. Suzanne R. Pucci and James Thompson. Albany: SUNY P, 2003. 111-30.
Dorson, Richard M. "Folklore and Fake Lore." American Mercury 70 (1950): 335-43.
Dundes, Alan. "Nationalistic Inferiority Complexes and the Fabrication of Fakelore: A Reconsideration of Ossian, the Kinder -und Hausmärchen, the Kalevala, and Paul Bunyan." Journal of Folklore Research 22.1 (1985): 5-18.
Foster, Brandy. "Pimp My Austen: The Commodification and Customization of Jane Austen." Persuasions On-Line 29.1 (2008).
Francus, Marilyn. "Austen Therapy: Pride and Prejudice and Popular Culture." Persuasions On-Line 30.2 (2010).
Gillespie, Angus K. "Folk Festival and Festival Folk in Twentieth-Century America." Time Out of Time: Essays on the Festival. Ed. Alessandro Falassi. Albuquerque: U of New Mexico P, 1987. 152-61.
Gilroy, Amanda. "Our Austen: Fan Fiction in the Classroom." Persuasions On-Line 31.1 (2010).
Handler, Richard, and Linnekin, Jocelyn. "Tradition, Genuine or Spurious." Journal of American Folklore 97.385 (1984): 273-90.
Handler, Richard, and William Saxton. "Dyssimulation: Reflexivity, Narrative, and the Quest for Authenticity in "Living History." Cultural Anthropology 3.3 (1988): 242-60.
Johnson, Claudia L. "The Divine Miss Jane: Jane Austen, Janeites, and the Discipline of Novel Studies." Janeites: Austen's Disciples and Devotees. Ed. Deidre Lynch. Princeton: PUP, 2000. 25-44.
_____. Jane Austen's Cults and Cultures. Chicago: UCP, 2012.
Karem, Jeff. The Romance of Authenticity: The Cultural Politics of Regional and Ethnic Literatures. Charlottesville: U of Virginia P, 2004.
Kodish, Debora. "Envisioning Folklore Activism." Journal of American Folklore 124.491 (2011): 31-60.
Larsen-Ruffin, Lynn. Telephone Interview. 15 Mar. 2012.
Lewis, Nathaniel. Unsettling the Literary West: Authenticity and Authorship. Lincoln: U of Nebraska P, 2003.
Lynch, Deidre Shauna. "Cult of Jane Austen." Jane Austen in Context. Ed. Janet Todd. Cambridge: CUP, 2005. 111-20.
O'Farrell, Mary Ann. "Jane Austen's Friendship." Janeites: Austen's Disciples and Devotees. Ed. Deidre Lynch. Princeton: PUP, 2000. 45-62.
Trilling, Lionel. Sincerity and Authenticity. 1971. Cambridge: Harvard UP, 1997.
United States Census Bureau. "Mandeville (city) QuickFacts from the U.S. Census Bureau." U.S. Census Bureau, 2012. Web. 25 Apr. 2012.
Wells, Juliette. Everybody's Jane: Austen in the Popular Imagination. New York: Continuum, 2011.