---
Persuasions #10, 1988 Page 48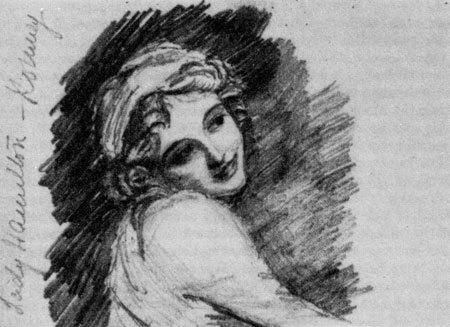 <![if !supportEmptyParas]> <![endif]>
<![if !supportEmptyParas]> <![endif]>
Jane Austen and the Other Emma
<![if !supportEmptyParas]> <![endif]>
MARY A. MILLARD
North York, Ontario
<![if !supportEmptyParas]> <![endif]>
On Wednesday, 3 November 1813, Jane Austen, at Godmersham, wrote to Cassandra in Henrietta Street, telling instances of the growing fame of her first two published novels, and commenting: " – I do not despair of having my picture in the Exhibition at last – all white and red, with my Head on one Side; –".  (Chapman, Letter 90).
This description jumped into my mind when I was going through my grandmother's sketchbooks, relics of her two Grand Tours in 1890 and 1891 when, chaperoned by her elder sister Cassandra, she visited England, France and Italy, making pen and pencil renderings of paintings, sculpture and architecture, as art students were then encouraged to do.
Usually she identified her subjects – British Museum for the Elgin Marbles; National Gallery, Uffizi, Louvre; Amiens for the cathedral, and so on.  The drawing reproduced here is labelled merely Lady Hamilton – Romney.
Which of the numerous Romney portraits of Emma Hart, Lady Hamilton, was the subject of this copy?  If it can be identified, then is it possible to discover whether Jane and Cassandra could have seen it?  Perhaps they might have laughed together at a reproduction, displayed in a print shop in London or Bath.
A nice little problem for the JASNA Detective Agency.