---
Persuasions #13, 1991 Pages 104-107
Jane Austen and the MTV Generation:
Teaching Emma at a Community College
<![if !supportEmptyParas]> <![endif]>
MARY GAITHER MARSHALL
College of DuPage, 22nd Street and Lambert Road, Glen Ellyn, ILL 60137
<![if !supportEmptyParas]> <![endif]>
Am I Crazy?  "Yes!" will respond some teachers when they learn I taught Emma seven times to community college students during the 1990-91 academic year.  But I have not been committed to a state mental hospital; rather, I have had the pleasures of reading a book I love and successfully teaching my students the art of writing a research paper.
I have been teaching the freshman composition sequence for five years at the College of DuPage, one of the five largest community colleges in the United States.  We have a diverse population both in age (high school graduates to senior citizens) and in culture (one of my recent classes had students from eight different countries).  English 103, which requires students to write a research paper, presents a major problem for teachers.  A drop-out rate of almost fifty percent for this class causes our faculty to question "Where have we gone wrong?"
<![if !supportEmptyParas]> <![endif]>
"WHAT CAN I WRITE MY RESEARCH PAPER ABOUT?"
<![if !supportEmptyParas]> <![endif]>
The high drop-out rate is usually the result of panicky students trembling at the mere thought of writing a research paper.  "Mrs. Marshall, I don't know what to write about," is a frequent refrain.  Many students wander aimlessly through the library stacks as late as the last three weeks of the eleven-week quarter, hoping for a book to fall on them and open to the perfect subject.  I have greatly reduced the panic of my students, and thus the high drop-out rate, by assigning students a subject for the research paper – Emma.  With all students working on the same project, they share information with each other – the real point of research.  The students' initial response to writing a research paper on a novel is a mixture of panic and relief – panic at having to read a 300 page book; relief at having a subject for the dreaded research paper.  One student expressed the majority opinion when she wrote after completing the paper, "The major reason I enjoyed writing this research paper is that the topic was all but picked out for me.  In my other 103 class, I dropped because picking a subject to write on was too stressful."  Another student concluded, "I feel that it is better to be uncomfortable with someone else's decision than with your own."
<![if !supportEmptyParas]> <![endif]>
"WHERE DO YOU BEGIN TEACHING A 19TH CENTURY NOVEL
TO STUDENTS RAISED ON MTV?"
<![if !supportEmptyParas]> <![endif]>
The first step was to introduce them to the late 18th and early 19th centuries.  To acquaint them with the sound of the language, the costume, and the setting, I began with videos – a familiar medium to them – one Jane Austen's Life and the other the first 15 minutes of the BBC version of Pride and Prejudice.  Then to introduce them to both the times and research methods, I gave them my version of Bill & Ted's Excellent Adventure.  The students were sent by their civilization to England on September 29, 1815, the day Jane Austen's Emma was published.  Working in groups of two or three, they were to learn as much as possible about an aspect of the time (education, architecture, fashion, entertainment, food, gardens, professions, for example) and to compose an oral and written presentation for their superior and colleagues at the Center for Time Travel.  Many of the students became involved in the spirit of the assignment.  One group filmed a news report, complete with weather and sports for the day.  Others prepared food samples, staged a fashion show with Barbies, and presented plays, music, and art popular in the period.  Not only did the students obtain a feel for the times, but they also learned the skills necessary for completing a research paper: library research, documentation, summary, and organization.
<![if !supportEmptyParas]> <![endif]>
"WE HAVE TO READ A BOOK!"
<![if !supportEmptyParas]> <![endif]>
While the class was working on the "Bill and Ted" research project, they were also reading the novel.  How did I persuade students who reluctantly plowed through fifty page assignments to read a 300 page book?  During Fall quarter, I naively believed that students would complete the book by the due date if I threatened to give a quiz.  No such luck!  So Winter quarter, I gave Marshall Notes – handouts with two to three sentence summaries of the chapters in Volume One and a list and description of places and the characters who resided there.  I also placed a complete audiotape version of the novel on reserve in the Library for those who had trouble getting started.  Surprisingly, only a few listened to the tape version, using it as an aid rather than as a substitute for reading.  My most successful means of helping students complete the novel was assigning a few chapters to read each week and having the students respond to those chapters during our weekly meeting in the computer lab.  Initially, the questions I gave were relatively simple:
<![if !supportEmptyParas]> <![endif]>
"1.  What is your first impression of Emma?  Is she like anyone you have known or read about?  Would you want her for a friend?
<![if !supportEmptyParas]> <![endif]>
  2.  Mr. Knightley and Mrs. Weston discuss Emma's relationship with Harriet.  What is your opinion of the relationship between Emma and Harriet?"
<![if !supportEmptyParas]> <![endif]>
By the end of the quarter, the questions were more complex, asking for more thought and referral to the text:
<![if !supportEmptyParas]> <![endif]>
"Do you think Emma has changed?  Write a thesis giving an assertion on this topic. Give three examples from the text to support your thesis."
<![if !supportEmptyParas]> <![endif]>
These questions helped the students read more critically and discover topics of interest.  We used the Norton Critical Edition of Emma, enabling us to have the same selection of critical essays to read, discuss, and use as a source for learning the skills needed for writing the research paper – reading critically, quoting, paraphrasing, summarizing, documenting sources, and completing works cited.  Although some students struggled to read fifty pages a week, many would agree with the student who wrote of Emma at the end of the course, "I read it constantly, passing the recommended dates, and couldn't wait to see what happened next."
<![if !supportEmptyParas]> <![endif]>
"DO STUDENTS HAVE ANYTHING TO SAY ABOUT EMMA?  OR,
WILL I BE DELIVERING A MONOLOGUE TODAY?"
<![if !supportEmptyParas]> <![endif]>
Although we read and wrote about Emma for several weeks before class discussion was scheduled, I was still worried about whether the students would have anything to say.  I began the first day of discussion by asking my students to freewrite for ten minutes on the character they liked best or least.  After the ten minutes I conducted a "Tad Poll" (similar to those Tad Mosel gave at AGMs), first listing all the characters students wrote about and then tabulating votes for favorite and least favorite characters.  Emma and Harriet usually made both lists.  Depending on the perversity of the class, Miss Bates and Mrs. Elton occasionally also appeared on the favorite list.
After the "Tad Poll," we switched to a discussion of why we liked or hated Emma by agreeing or disagreeing with: "Jane Austen has created a character that no one but herself will much like."  After writing this statement on the board, I had my students all stand in the center of the room, I posted one sign, "Agree," "Disagree," "Strongly Agree," or "Strongly Disagree," on each of the four walls.  After thinking about the statement for one minute, they moved to the side of the room that best reflected their reaction to the statement.  From this point on, I did not comment or ask questions.  The students argued their viewpoints, trying to lure other students to their side of the room.  They usually had quite heated discussions, bringing up a number of interesting ideas that we used as basis of discussion for other days.  One student, for example, thought "the main reason for Emma remaining single is the fact that in her eyes, there is no man quite as interesting as Emma herself."  Another commented on Harriet's role, "I found the novel to be very interesting and really the only part that I felt was boring was that Harriet fell in love with so many people that it got a bit ridiculous."  So great was the students' enthusiasm that I often entered the classroom at the beginning of the hour and found students already discussing some aspect of the novel!
<![if !supportEmptyParas]> <![endif]>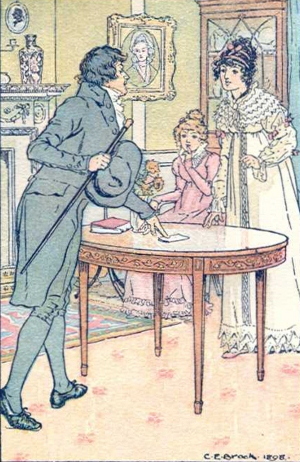 "Just to leave a piece, of paper on the table." (E)<![if !supportEmptyParas]> <![endif]>
<![if !supportEmptyParas]> <![endif]>
Discussion frequently began with the reading aloud of important scenes.  We focussed on the characteristics Emma shared with Mrs. Elton and Jane Fairfax, Mr. Knightley as a "spokesman," a comparison of the couples and their marriages, and the "mystery" elements of the novel.  One student later wrote about the "mystery" discussion, "I enjoyed … finding … hints throughout the novel that foreshadowed the outcome.  It was interesting to see the many scenes in which something was done or said by one of the characters that revealed what was going to occur, but in an inconspicuous way.  I realized Emma is a novel one must carefully read in order to absorb the true meaning from a variety of passages."
After about two weeks of discussion, we ended the quarter with a spirited trivia game, similar to Trivial Pursuit.  The class was divided into teams to answer questions in various categories: "Identify," "Places," and "Who Said …?" for example.  Even as we played the game, we continued our discussion of Emma.  The students frequently argued among their team members, "No, remember when Emma said …?  The answer must be …."  The vast majority of the class gave this game their highest rating on the course evaluation.
Why do I teach Emma to a generation of students raised on MTV?  My practical motive is that at the end of the quarter, less than 10% of my students have dropped the course and all but a few have completed acceptable research papers.  My idealistic motives are to open a new world to my students and to make a difference in their lives.  When I read anonymous student evaluations at the end of the quarter, I learned that some students liked the novel and some did not, as was to be expected; but, interestingly, the majority were glad they had the opportunity to read the novel: "I guess the parental figure in me has to say, 'It has broadened my horizons!' " and "Although I didn't like my topic, I have to say that it was a good learning experience …," and "I am glad I have been exposed to one of the great literary pieces as a result of having taken this class," and "Everyone should have an opportunity to read classic literature at least once in his life."  They felt good about themselves and what they had accomplished.  I knew that I had succeeded beyond my hopes when one student wrote: "I loved reading a classic.  It opened a new world of books to me.  I can't wait to read Jane Austen's other works."  What more could a teacher ask?
† The color image has replaced the original black and white image for the on-line edition of this essay. – C. Moss, JASNA Web Site Manager