---
Persuasions #15, 1993 Pages 30-31
Jane Austen and the Rajah of Sarawak
<![if !supportEmptyParas]> <![endif]>
ANNE TAGGE
Lasell College, Newton, MA
<![if !supportEmptyParas]> <![endif]>
Sir James Brooke, First White Rajah of Sarawak, was an enthusiastic reader of Jane Austen's novels.  Brooke's companion and biographer Spenser St. John writes:
<![if !supportEmptyParas]> <![endif]>
Sir James was a great admirer of Miss Austen's novels; he read and re-read them.  During quiet hours in Sarawak he would read them aloud; and he filled me with the same admiration, which has continued to this day.  (St. John 221)
<![if !supportEmptyParas]> <![endif]>
In an 1842 letter to his friend John Templer, Brooke comments on his "favorite Mrs. Bennet" and her style of conversation.  He urges Templer to get all the Austen novels and "set to work" adding "I have read them a dozen times since I have been out … and am likely to read them a dozen times more …  They are unique and inimitable."  (Brooke to Templer in Jacob 221)
Brooke shows social irony similar to Austen's own in a letter to his mother joking that if "your pride or your prejudice, my dearest mamma, dislikes that your son should be a paltry knight, set to and make me a baronet or peer!"  (Brooke to mother in Jacob 199).
Brooke met Admiral Charles Austen in 1850 while seeking naval support on a mission to the King of Siam.  Although impatient to start for Bangkok, Brooke, according to St. John, found "it was difficult to be angry with that pleasant old Admiral Austen, who, being the brother of the author of 'Pride and Prejudice,' won our hearts by such relationship."  (St. John 221)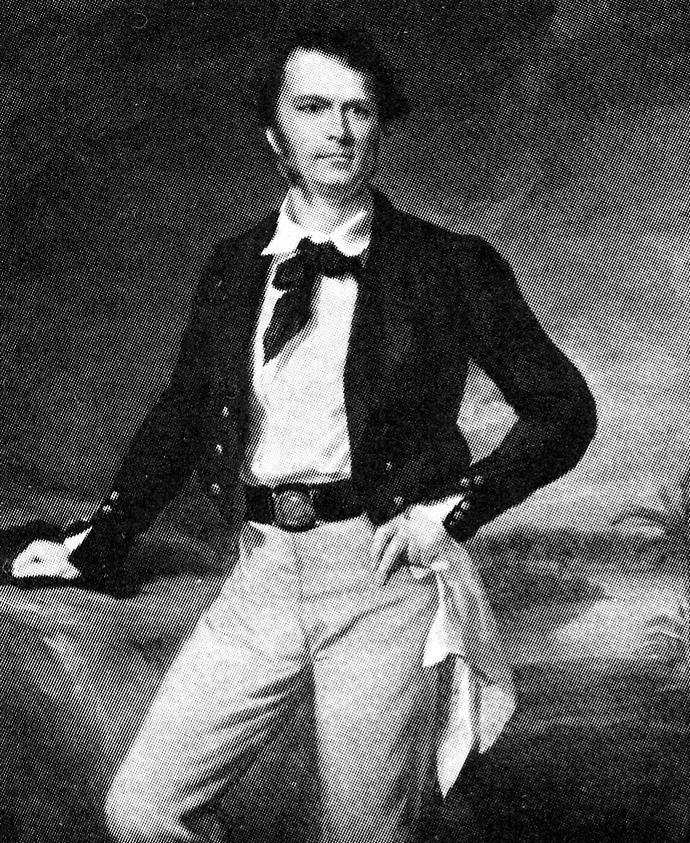 <![if !supportEmptyParas]> <![endif]>
Sir James Brooke
<![if !supportEmptyParas]> <![endif]>
Why was Brooke so fond of Austen's novels?  His own early life, his British ideals, and his viewpoints on character and society reveal some answers.
Brooke, born in India to a large family of six children, was sent home at age twelve in 1815 to be cared for by his grandmother at Reigate.  He had lived too long an indulged life in a warm climate not to feel this as a sort of exile.  This family history of a child "sent away" and often disapproved of is echoed in Mansfield Park.  Brooke spent about three years at school in Norwich but apparently disliked (quite unlike Fanny Price) formal studies and confinement.  He was rebellious and fun-loving.  When his best friend George Western left school to go to sea, Brooke ran away from school and was never sent back.  Envying and missing Western, Brooke would have later connected Austen's naval brothers to Western and his own close friend Admiral Keppel.  Brooke, though not trained as a sailor, was an enthusiastic yachtsman and amateur mariner in the Mediterranean even before his voyages on British naval ships pursuing pirates in the Far East.  Brooke found visiting naval personnel a welcome social diversion in Sarawak.  Austen's naval characters in Persuasion and Mansfield Park would have seemed to Brooke true images of the men he knew and enjoyed as guests in his Kuching bungalow.
Austen's novels show the vaults of the British rural gentry class and they show a few individuals who are able to overcome its restrictions, who see through its pretensions.  Brooke evidently enjoyed this re-creation of the world he had left behind in England, the world of his childhood, including even specific locations like Bath.  Like Austen, he laughed at pompous clergymen, status-seekers, and hypocrites.
Brooke, in Sarawak, tried perhaps unconsciously to re-create a British "county" in Borneo based on the ideal of a benevolent "squire," a small group of "country gentry," and a populace to be taken care of.  He chose to remember nostalgically the small southern towns of his British youth coinciding roughly with Austen's scenes.  He re-captured this world at will through continued contemplation of her novels while far away from England.  More than a sentimental adventurer, Brooke found local memories in Austen, counterparts of his sailor friends, and women with whose decisions he could identify.  Like Austen, Brooke seems to have valued, not wealth or show, but the personal freedom that financial security can bring.
How enchanting to think of Miss Austen's irony and moral acuity, savored by expatriate adventurers as insects fluttered around the candlelight in the soft Borneo breeze.  Brooke's combination of skepticism and idealism is reflected in his fondness for Jane Austen and in his struggle to create a tiny Utopia as the first Rajah of Sarawak.
<![if !supportEmptyParas]> <![endif]>
<![if !supportEmptyParas]> <![endif]>
WORKS CITED
<![if !supportEmptyParas]> <![endif]>
Jacob, Gertrude LeGrand.  The Rajah of Sarawak.  An Account of Sir James Brooke K.C.B., Lld., given chiefly through Letters and Journals.  Vol. 1. London: Macmillan, 1876.  2 vols.
<![if !supportEmptyParas]> <![endif]>
St. John, Spenser.  The Life of Sir James Brooke, White Rajah of Sarawak, from his Personal Papers and Correspondence.  Edinburgh: Blackwood, 1879.