---
Persuasions #2, 1980 Page 28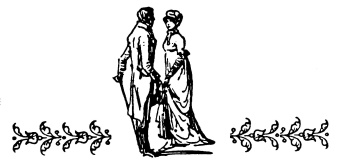 THE OUTS AND NOT OUTS
Reference: Mansfield Park, Chapman, pp. 48-51)
by Mary Millard
Willowdale, Ontario
Edmund may have been uninformed, and was clearly not interested, but Tom Bertram and Mary Crawford, denizens of the fashionable world, knew its rules concerning the "appearance" of young ladies, and their proper conduct before and after that event. Mary decided that Fanny Price is not "out," because she says so little, and dines only at the parsonage. The three young people, in their discussion of customs governing "a young lady's entrance into the world" (subtitle of Fanny Burney's Evelina) give us a miniature textbook on the subject, at the same time revealing much in their own characters. Edmund is blunt, Tom is affable and entertaining, Mary is shrewd and moderately critical of the artificial society in which her life has been spent.
When Fanny makes her debut at the Mansfield Park ball, Mary Crawford, who proclaimed early in the book: "'One does not like to see a girl of eighteen or nineteen so immediately up to everything,'" must have approved. Poor Fanny is terrified by having to "lead the way and open the ball." But, "young, pretty and gentle … she had no awkwardnesses that were not as good as graces."
Jane Austen made fun of the appearance convention in a juvenile sketch recording the dizzying excitement of two girls whose mother took them out to pay morning calls. In another early work we find Frederica Vernon being prepared for society by a mother who does not want her daughter educated, but demands that she be able to display herself ("she has my hand and arm"). Catherine Percival, miraculously recovered from toothache, bursts into an assembly with the rattle, Edward Stanley. Emma Watson, who had probably come out when living with her aunt, makes a second appearance at a ball in the town of D—, where she dances with the respectable clergyman she is (possibly) destined to marry.
In the novels, published or prepared for publication in Jane Austen's lifetime, we find many references to the convention of the outs and not outs. Catherine Morland comes out in Bath, thanks to Mrs. Allen. Northanger Abbey is in large part a parody of Evelina.
In Sense and Sensibility, readers should understand that Marianne has not properly come out. Her great-uncle's death puts the Dashwood family into mourning. Mr. Henry Dashwood's death, a year later, prolongs the time during which his female relations must array themselves in crepe and bombazine and refrain from going to assemblies and other public parties. Elinor came out before the disasters. Marianne was deprived of a normal debut. She has to blunder her way around the complicated process of growing up, and nearly dies in the attempt. Elinor, discussing her sister with Colonel Brandon, says: "'Her systems have all the unfortunate tendency of putting propriety at nought, and a better acquaintance with the world is what I look forward to as her greatest possible advantage!'"
Pride and Prejudice contains an extraordinary family. All five girls are out, even Lydia, who is "not sixteen." Lady Catherine is shocked, and rightly so. If Lydia had been kept in the schoolroom until she was seventeen, she would not have encountered the militia officers so briefly quartered in Meryton.
Emma becomes (nominally) mistress of Hartfield at twelve, when Isabella marries. She might have presided at Mr. Woodhouse's card parties when she was fifteen, or even younger. She has a good deal of managerial talent, and is betrayed by her success in running a small, though rich, household, into thinking that she can run the world. Harriet Smith is introduced to the best Highbury society by Mrs. Goddard, who brings her to an evening party at Hartfield. Emma undertakes to give the girl some necessary polish, with a certain success, as Mr. Knightley acknowledges: "'You have cured her of her schoolgirl's giggle: she really does you credit.'"
Anne Elliot, in Persuasion, has not been allowed all the privileges of a grown woman of her class. Sir Walter and Elizabeth won't take her to London on their yearly visits. Jane Austen, at 27, had had far more social experience than Anne, whose bloom returns in the lively, if marginally elegant, atmosphere of Uppercross. The elder Musgrove girls, out for a year or so, are "like thousands of other young ladies, living to be fashionable, happy and merry." We detect a jab of the Austen needle.
Perhaps Jane Austen's sharpest comment on the preparation of girls for life in genteel society comes in Mansfield Park, where Mrs. Norris admonishes Maria: … "'much as you know already, there is a great deal more for you to learn.'" Maria answers: "'Yes, I know there is until I am seventeen.'" And so we return to Edmund: "'My cousin is grown up. She has the age and sense of a woman, but the outs and not outs are beyond me.'"