---
Persuasions #5, 1983 Page 23
<![if !supportEmptyParas]> <![endif]>
<![if !supportEmptyParas]> <![endif]>
THE BOOKSHOP
<![if !supportEmptyParas]> <![endif]>
<![if !supportEmptyParas]> <![endif]>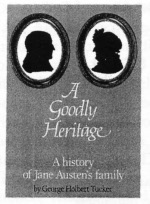 A Goodly Heritage by George Holbert Tucker (Carcenet Press, 1983, Price about $19.95) is a truly fascinating history of Jane Austen's family. Written by one of our members, it contains much new and hitherto undiscovered information and has been enthusiastically reviewed by Elizabeth Jenkins. Order from your bookseller.
The first issue of Persuasions, Occasional Papers, will be published in late January. It will contain two essays: Tad Mosel's "Jane Austen's Two Inches of Ivory," and J. David Grey's "Henry Austen: Jane Austen's 'Perpetual Sunshine.'" Jack Grey, of course, was JASNA's first president, and has remained an active member of our board of directors. Tad Mosel was also a founding member; Tad is famous to us for his "Tad Polls" at our annual banquets, and to the rest of the world for numerous fine television scripts and his drama, All the Way Home, which earned him a Pulitzer Prize. We believe that this first issue of Occasional Papers will be interesting to all of Jane Austen's readers. The issue will consist of around 14 pages. The cost will be $1.50. If you wish to order a copy, mail a cheque to Gene Koppel, Department of English, University of Arizona, Tucson, Arizona 85721.
"I'd rather be Reading Jane Austen" is the legend in white on a heavy, quality, long-sleeved, red sweatshirt. It comes in S, M, L and XL, costs $20.00 and may be ordered from Sally Costa, Nanuet, NY. Proceeds to JASNA.