---
Persuasions #9, 1987 Pages 37-44
The Unknown Lover
<![if !supportEmptyParas]> <![endif]>
CONSTANCE PILGRIM
Abingdon, Oxford, England
<![if !supportEmptyParas]> <![endif]>
Cassandra Austen told her niece Caroline (sister of the biographer) (some years after Jane Austen's death) of a gentleman they had met one summer,
<![if !supportEmptyParas]> <![endif]>
when they were by the sea – I think she said in Devonshire … – who had seemed greatly attracted by my Aunt Jane – I suppose it was an intercourse of some weeks – and that when they had to part … he was urgent to know where they would be the next summer, implying or perhaps saying that he should be there also, wherever it might be.  I can only say the impression left on Aunt Cassandra was that he had fallen in love with her sister, and was quite in earnest.  Soon afterwards they heard of his death … I am sure she thought he was worthy of her sister, from the way in which she recalled his memory, and also that she did not doubt, either, that he would have been a successful suitor.
<![if !supportEmptyParas]> <![endif]>
Francis Warre Cornish comments, "The dates are uncertain, the evidence inconclusive; but it seems highly probable that a severe disappointment in love, and not improbably the death of the lover, took place somewhere near the end of the century, when Jane was staying in the West of England; nor is it unlikely that this sorrow indisposed her to writing, and rendered a period of twelve years unproductive."1
In my book, Dear Jane (London, 1971), I have suggested that the name of the unknown lover of Jane Austen was Captain John Wordsworth, younger brother of the poet William.  As Warre Cornish says, the dates are uncertain and the evidence inconclusive.  However, since writing my theory of John Wordsworth in 1971, I have discovered facts which should be added to any re-print of Dear Jane – so that the reader may judge for himself, if he thinks these new discoveries confirm the identity of Jane's lover.
In Dear Jane (Chapter 4, page 35) mention is made of John Wordsworth's ship, The Duke of Montrose, being on the South Devon coast, "by a series of delays … had to put into Torbay … in July (1797) and was kept there by adverse winds till September, eight weeks of enforced idleness."  Research has revealed that the ship began the journey from the Downs in May, round to Portsmouth, on its way to India.2
The crew of the ship, however, were anxious about the sea-worthiness of the vessel, and ugly rumours were spreading among the crew, and when it was time to leave Portsmouth on June 5th, they refused to comply with the order to weigh anchor until the leak they complained of was dealt with.  Captain Patrick Burt, in command of the vessel, attempted to argue with the men that all was well, and when that failed, he tried to sail with the help of the passengers (an idea which the crew thought of with contempt).  They became increasingly mutinous – and one of the passengers, Charles William Johnson (a young man who was on his way to take up an appointment in Calcutta), may have tried to help the Captain – and was threatened by the mutineers.  But (as we are told by his son, years later in his account of his father's experience) his life was saved by the action of the 2nd Mate, John Wordsworth, who quelled the mutiny and saved Charles Johnson's life thereby.  About twenty "disaffected" and "refractory" seamen were sent ashore by the Company's Surveyor, who came on board and announced that the leak was not important! – a mere inch an hour.  It was later to become thirteen inches.3<![if !supportEmptyParas]> <![endif]>
<![if !supportEmptyParas]> <![endif]>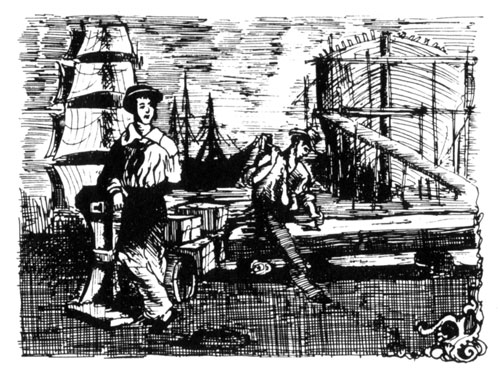 <![if !supportEmptyParas]> <![endif]>
<![if !supportEmptyParas]> <![endif]>
There are points of interest to look at now, in connection with those eight weeks of "idleness" on the South Devon coast – in the summer of 1797 – between July and September.  But first we must discover the identity of Charles William Johnson – whose life was saved by the poet's younger brother, John Wordsworth.  Sir Joshua Reynolds, the great eighteenth-century portrait painter, was related to him, by the marriage of his uncle, William Johnson, of Great Torrington, North Devon, to Sir Joshua's sister, Elizabeth Reynolds.  Sir Joshua had helped the young man to his appointment in Calcutta4 by introducing him to Warren Hastings; Charles Johnson's father was Daniel Johnson, also a son of Rev. Samuel Johnson, Vicar of Great Torrington.  Daniel Johnson had been a surgeon on board an Hon. East India Company's ship – and was later of Walthamstow and Torrington, North Devon.
Charles William Johnson was later to be connected with one of the oldest families in North Devon – in that beautiful part between the two rivers of Taw and Torridge – in the village of Dolton, near Great Torrington, at Halsdon House.  The name of the family was Furse.  Mary Johnson, one of the seven children of William Johnson and Elizabeth (née Reynolds) married in 1789, the then Vicar of Great Torrington, Rev. Peter Wellington Furse.  Mary, we are told, was a friend of Jane Austen's and presumably this friendship began before her marriage, either at the Abbey School, Reading (bearing in mind that the Johnson family were long-established in Reading); or it is likely that Mary Johnson may have been employed as a Governess5 during the time of her mother's misfortune.  Theresa Furse, their daughter, was still a young child when her cousin was on his way to Calcutta, and Charles William was devoted to his little cousin, ten years his junior.  It is not difficult to imagine that when the news that The Duke of Montrose was to be anchored for some weeks on the South Devon coast at Torbay – some of the family in Torrington would make an effort to travel the short distance to be with their cousin Charles before he sailed again – for India – and as it was for an absence of ten years, it would be a chance not to be missed.
There is also a strong possibility that the Austen family were themselves on holiday, on a "ramble," that summer too, "when they were by the sea (I think she said in Devonshire)," "Somewhere near the end of the Century."  The summer of 1797 would almost certainly have been the year.  (As we know from Jane Austen's letters, the summer of 1798 is spent partly at Godmersham, and the summer of 1799 partly at Bath, partly at Godmersham.  No details of the Austens' rambles are available: letters from that year do not begin until November 1797.)  So when Rev. George and Mrs. Austen and their two daughters, Cassandra and Jane, were on holiday on the south-west coast of Devon, they would have been so happy to meet Jane's old friend, Mary Furse, again.  And undoubtedly Charles William Johnson would have invited John Wordsworth to share in the happiness of their family circle – especially as he would be able to introduce him as the brave officer who saved his life on The Duke of Montrose.  When John was introduced – then the meeting described by Cassandra Austen, all those years later, to her niece Caroline, comes vividly to life for us.  When we read Dorothy Wordsworth's description of her brother of October 9th 1791, (mentioning his arrival in England) saying: "he is grown a very tall handsome man …" and then Cassandra's description of the "unknown," "he was very pleasing and very good-looking"; or if we turn to the description in Persuasion of the hero, Captain Wentworth: "He was, at that time, a remarkably fine young man, with a great deal of intelligence, spirit and brilliancy"; we may feel they are all descriptions of the same man.
If we now turn to The Letters and Journals of William Johnson Cory,6 the nineteenth-century Eton tutor and poet, and second son of Charles William Johnson and Theresa (the devoted little cousin he married on his return from Calcutta), we find Cory quotes his grandmother, Mary Furse,7 as having said of Jane Austen's "unknown" admirer: "Her Wentworth is her own lost lover."  Coming from this friend of Jane Austen's, her witness is of the greatest value – as someone who knew the circumstances of the meeting with the "unknown" and the weeks on the South Devon coast of their falling in love.  Then too, Mary Furse's witness shows that later on, Jane either personally, or by corresponding with her, described the plot of Persuasion, to her friend, and the character and appearance of Captain Wentworth.  He was so like the "nameless and dateless" lover that she was quite certain Jane Austen was describing him, and so made the unforgettable statement to her grandson, William Cory.  Furthermore, I believe this incident of the meeting at Torbay confirms the identity of the unknown lover of Jane Austen to have been John Wordsworth.
<![if !supportEmptyParas]> <![endif]>
<![if !supportEmptyParas]> <![endif]>
NOTES
<![if !supportEmptyParas]> <![endif]>
1 Francis Warre Cornish, Jane Austen, English Men of Letters series (London: Macmillan, 1913), pp. 29-30.
<![if !supportEmptyParas]> <![endif]>
2 The Letters of John Wordsworth, ed. Carl H. Ketcham (Cornell University Press), pp. 17-19.
<![if !supportEmptyParas]> <![endif]>
3 Ibid.
<![if !supportEmptyParas]> <![endif]>
4 Sir Joshua's Nephew: being letters written 1769-1778 by a young man to his sisters, edited by his great-great-great niece, Susan M. Radcliffe (London: John Murray, 1930).
<![if !supportEmptyParas]> <![endif]>
5 Ibid.
<![if !supportEmptyParas]> <![endif]>
6 The Letters and Journals of William Johnson Cory, author of "Ionica," selected by Francis Warre Cornish (London, 1897).
<![if !supportEmptyParas]> <![endif]>
7 Sylvia Townsend Warner, Jane Austen, published for the British Council, 1951, 1970.
<![if !supportEmptyParas]> <![endif]>
Back to Persuasions #9 Table of Contents

Return to Home Page