---
by Joanne Forman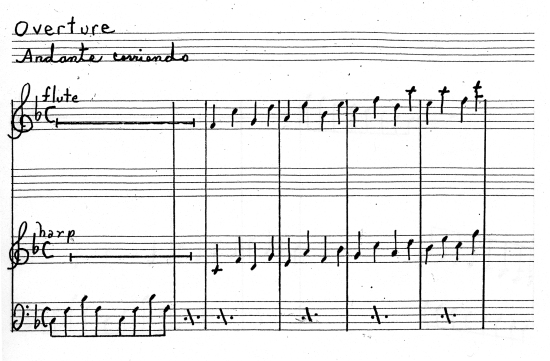 It was at the JASNA AGM in New Orleans, where my opera of Jane Austen's Lady Susan was premiered, that my long-time friend and fellow-Janeite Vivian Hall gave me a copy of Juliet's picture-book of The Beautifull Cassandra. I was instantly enchanted.
Instantly, too, I thought of a musical setting, à la "Peter and the Wolf," music with narrative. (A friend once told me that I think the universe exists for me to set to music – to which my answer could only be "Of course!") It took a while before I could get to the project. However, things do evolve. When I became the Resident Composer of Soundscapes, a new Taos-based chamber music group, I had access to a wide spectrum of vocal and instrumental performers from New Mexico, Colorado and Texas. When I was arranging the annual Youth Concert I had devised, it dawned on me that here was the structure that would enable The Beautifull Cassandra to make her musical début.
Having recently composed and produced an opera about the Holocaust, I was ready for something completely different. For the sake of my health and sanity, I turned to innocent, gentle Cassie. So I set to work, and, buoyed up by Jane and Juliet, I finished the new musical version of The Beautifull Cassandra in about five weeks. One of the numerous joys of Taos is that we have a pool of high-quality musicians; so I could stitch up the music on the musicians, because they were right there. Most people in any of the arts, certainly including me, feel that there is no more sacred and rewarding obligation than working with and for the young. Soundscapes is dedicated to Outreach work.
The flute was a natural, and I was so pleased to be able to use the Celtic harp, which is smaller and more resonant than the big concert harp. Everything a composer writes sounds good on this wonderful instrument. Cassie was premiered at a concert for children in Taos in July 2007, and became a CD which has been broadcast several times. The story doesn't end there. My music inspired a ballet by Amber Vasquez, director of the Taos Youth Ballet, to create a ballet of The Beautifull Cassandra for children. But that's yet another story ...

Note: The music CD of The Beautifull Cassandra can be purchased from User Friendly Music.
---
| | | |
| --- | --- | --- |
| THE BEAUTIFULL CASSANDRA | ABOUT THE MUSIC | |
---