---
Persuasions #6, 1984 Pages 31-33
<![if !supportEmptyParas]> <![endif]>
<![if !supportEmptyParas]> <![endif]>
A PARTIAL PEDIGREE OF JANE AUSTEN
<![if !supportEmptyParas]> <![endif]>
Donald Greene
"It is pleasant to be among people who know one's connections and care about them," Jane Austen wrote in 1808 to her sister Cassandra (named, like her mother, after their collateral ancestress, Cassandra, Duchess of Chandos). The main point of this selective excerpt from her family tree is to combat the myth that Jane Austen was a cloistered spinster familiar with little beyond the bounds of a country parsonage. Her family's connections with nobility and even royalty, with the worlds of politics, learning, and high society from the seventeenth to the twentieth century, are remarkable, and Jane Austen was well aware of them, as a glance at her letters and the names she gives the major characters in her novels will show. When the snobbish Sir Walter Elliot says of the hero of Persuasion, "Mr. Wentworth was nobody … quite unconnected, nothing to do with the Strafford family. One wonders how the names of many of our nobility become so common," it adds to the piquancy of the satire that Jane Austen's family was in fact "connected" with the Strafford Wentworths, who, incidentally, were ancestors of the Earls Fitzwilliam, of Wentworth Woodhouse, Yorkshire – the hero of Pride and Prejudice is the nephew of an earl named Fitzwilliam. As for his obnoxious aunt Lady Catherine de Bourgh (née Fitzwilliam), it is interesting to learn from Jane Austen's equally snobbish would-be cousin Sir Egerton Brydges that his family name and that of Jane Austen's great-grandmother, of the ducal house of Chandos, was earlier written "De Burgh."
Asterisks designate individuals who are the subjects of articles in the Dictionary of National Biography. Broken lines indicate omissions in the direct line of descent. "N.c." means a new creation of a peerage. I am indebted to Joan Corder, Jane Austen's Kindred (typescript in the College of Arms, London) for information in the more recent part of the listing.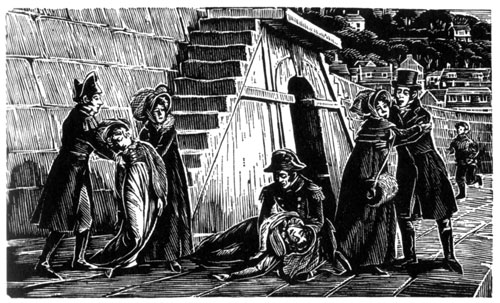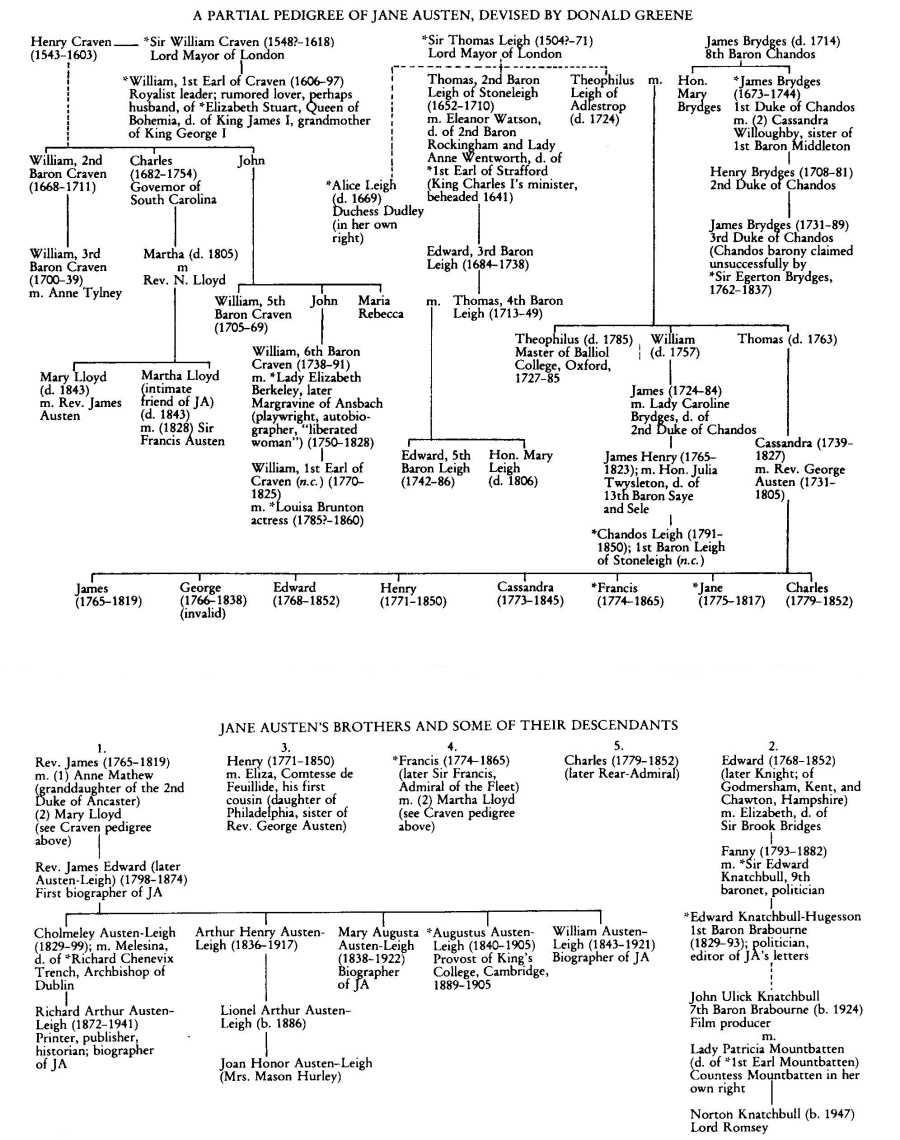 This pedigree is taken from a new Life of Jane Austen by John Halperin,
Johns Hopkins University Press, by whose permission it is printed here.