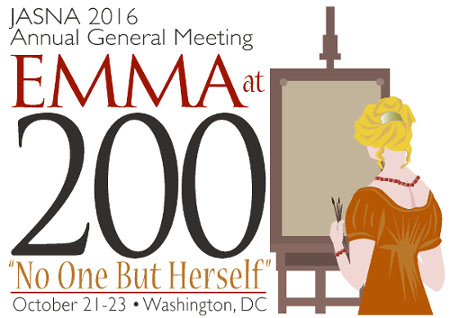 The District of Columbia, Washington DC Metropolitan Region invites you to Washington DC for the 2016 AGM, Emma at 200: "No One But Herself." Our theme echoes Jane Austen's reported statement, "I am going to take a heroine whom no one but myself will much like," as well as Emma's famous realization that "Mr Knightley must marry no one but herself!" Emma Woodhouse and her story are singular in many ways: Emma is the only Austen heroine who never travels. She is also Austen's only wealthy heroine, and the only one not seeking or hoping to be married. Of Austen's six major works, Emma is the only eponymous novel, and the only one to attract Royal attention.
To celebrate the 200th anniversary of the publication of Emma, we will invite JASNA members to explore both Emma, the heroine, and Emma, the novel, from a variety of perspectives.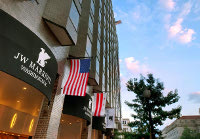 JW Marriott
Our venue, the JW Marriott, is situated in downtown Washington DC, around the corner from the White House. The location is ideal for AGM attendees who want to be at the center of activity in the U.S. capital. Attendees will enjoy access to an impressive list of attractions, from the monuments and museums on the National Mall to inspiring cultural treasures, such as the National Cathedral, Library of Congress, and historic houses from the Federal period. Visitors can explore fascinating neighborhoods, such as Georgetown and Alexandria, Virginia, and enjoy nature in urban parks and gardens. A special museum exhibit is already in the planning stages, and we anticipate several other special events that will enable attendees to enjoy the best of Washington DC while gaining insights into Jane Austen's era and her work.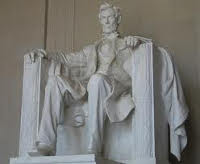 Lincoln Memorial
Washington DC is a vibrant city with an international flavor. The National Gallery of Art, the Smithsonian museums, and public art collections display the treasures of cultures around the world. Museum shops and unique boutiques will delight shoppers. Dining options are similarly varied and multi-cultural, from authentic Native American food at the National Museum of the American Indian to Spanish tapas at Jaleo. Serious foodies can find memorable dining experiences at destination restaurants such as 1789 and Citronelle. For tea devotees, choices range from casual, Asian-inspired Teaism to elegant service at the Willard Hotel and the National Gallery of Art.
Many critics and readers rate Emma as Jane Austen's most perfect novel. We are tempted to call it "capital," if you'll excuse the pun. Please plan to join us in 2016 as we celebrate its bicentennial.