Get ready to rock out
to these 2020 AGM highlights: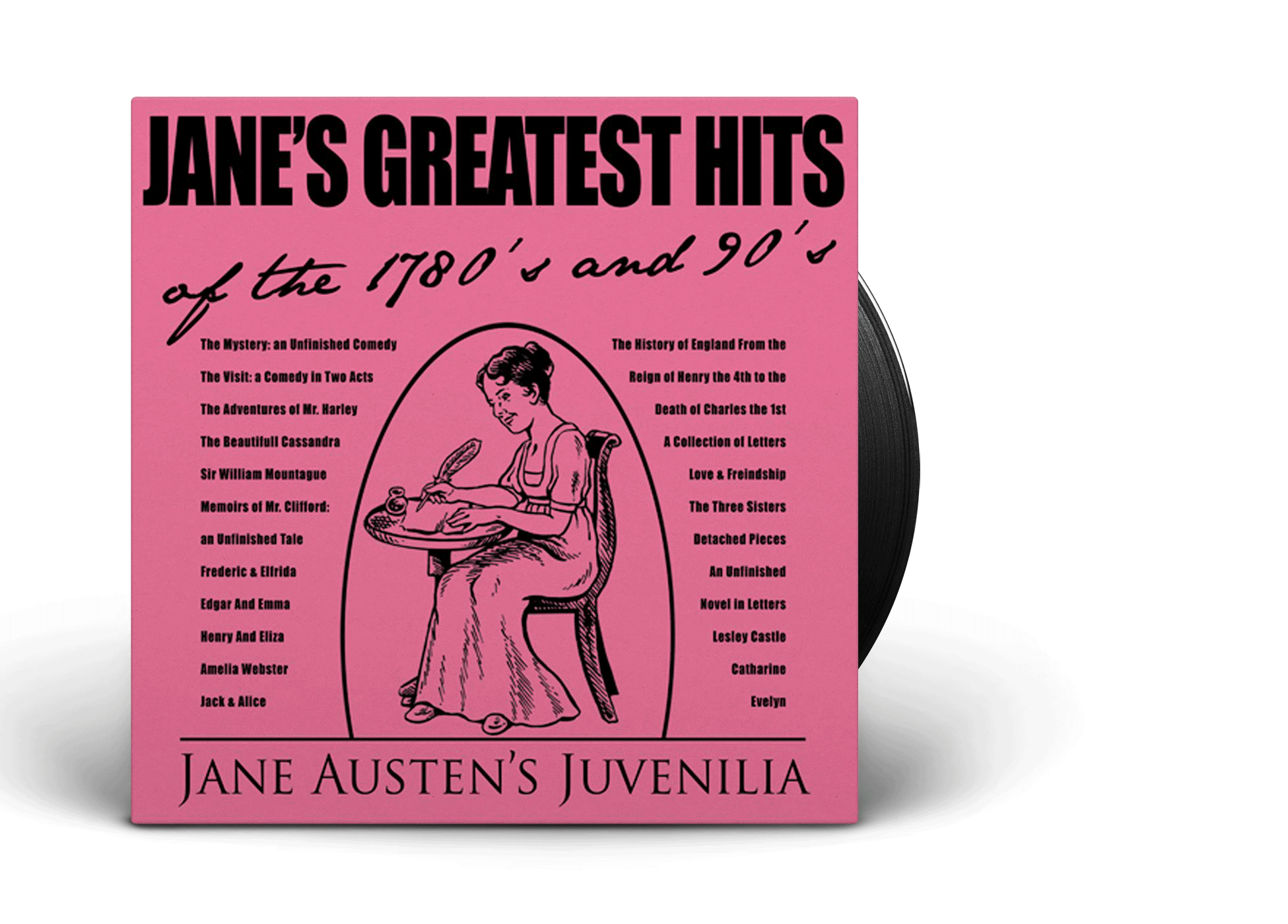 Jane Austen's
Greatest Hits:
Lady Susan • The Mystery: an Unfinished Comedy • The Visit: a Comedy in Two Acts • The Adventures of Mr. Harley • The Beautifull Cassandra • Sir William Mountague • Memoirs of Mr. Clifford: an Unfinished Tale • Frederic & Elfrida • Edgar And Emma • Henry And Eliza • Amelia Webster • Jack & Alice • The History of England From the Reign of Henry the 4th to the Death of Charles the 1st • A Collection of Letters • Love & Freindship • The Three Sisters • Detached Pieces • An Unfinished Novel in Letters • Lesley Castle • Catharine • Evelyn
INCLUDING BONUS TRACKS:
click + for details
• Apollo's Fire

+

Grammy-winning baroque ensemble Apollo's Fire hosts us for their season opening with an Austen-themed performance.
---
• Fashion Revolution

+

Western Reserve Historical Society is assembling a special exhibit "Revolutions in Fashion" to showcase the period of Austen's youth.
---
• Rock & Roll HOF

+

Relive your own teen years when touring the Rock & Roll Hall of Fame. Attend a feature performance on Regency Rock Stars led by Jocelyn Harris.
---
• Wicked Wickham

+

Spend an evening with Adrian Lukas, the quintessential Jane Austen bad boy from the 1995 P&P.
---
• Gilded Age Cleveland

+

Downton Abbey aficionados will enjoy Gilded Age walking tours of Cleveland's attractions, including beautiful architecture and renovated Playhouse Square.
---
• Bookbinding

+

Attend a workshop where you bind your own book fashioned after Volume the First.
---
• CMA minis

+

See Regency portrait miniatures in a private showing with the curator at the Cleveland Museum of Art.
---
• JA Vespers

+

Attend Evensong with a Jane Austen theme at beautiful Trinity Cathedral.
---
• 18 c kids clothes

+

Learn what Jane Austen and her siblings wore in the 18th century.
---
• Battle of L. Erie

+

Explore the island National Park that memorializes a critical battle in the War of 1812 fought in the waters of Lake Erie, and enjoy the view from the Perry Peace Memorial, taller than the Statue of Liberty.
---
• Eat in the CLE

+

Enjoy exciting international cuisine walking distance from the Hilton Cleveland Downtown.
...and so much more

Tentative 2020 AGM Schedule
Some activities require an additional fee. Schedule is subject to change.
7 OCT, WED
(3:00 pm and later)
Gilded Age/
Playhouse Square Tour
(repeats on Sunday)
Ticketed Event:
Portrait Miniatures
at CMA
Vespers at Trinity Cathedral
Welcome/Social Activity
8 OCT, THU
Dance Workshops
Ribbon/Bonnet Workshops
Morgan Conservatory Bookbinding Workshops
WRHS Historical House/
Costume Tour
Ticketed Event:
Jocelyn Harris:
Rock Stars of the Regency
Rock & Roll Hall of Fame
First-timers Orientation
Special Event:
Louise West: Hampshire Fashion
Ticketed Event:
Adrian Lukis
9 OCT, FRI
Friday Morning Workshops
Christine Alexander: Contextualizing Juvenilia
AGM Opening
Plenary 1: Juliet McMaster
Breakout Sessions
Special Interest Session:
Special Guest TBA
Beer and Pierogi Crawl
Ticketed Event:
Apollo's Fire
The Cleveland Museum of Art
Film Screeing at Hilton
10 OCT, SAT
Continental Breakfast
Plenary 2:
Peter Sabor
Breakouts Sessions
Plenary 3:
Kathryn Sutherland
JASNA Business Meetings
Social Hour, followed by
Banquet
Promenade and Regency Ball
Juvenilia Pub Quiz
11 OCT, SUN
Author Signing
Plenary 4:
Brunch Bunch
Gilded Age /
Playhouse Square Tour
Lakeview Cemetery/
President Garfield Tour
Dinner:
Gilded Age of Cleveland
12 OCT, MON
Put-in-Bay Tour:
The Battle of Lake Erie
Amish Country Tour
She plays, sings and Dances, but has no taste for either, and excells in none, tho' she says she is passionately fond of all.
Lesley Castle