Tours
"I never spent a pleasanter morning in my life."
Tour registration is now closed.
Since 1849 Fort Worth has been welcoming visitors to "Where the West begins." Fine museums, exquisite botanical gardens, and a variety of historical sites should delight those AGM attendees with Marianne Dashwood's penchant for exploration and cultural verve.
Read on for tour and registration information.
Note: Attendees should bear in mind when making lodging and travel accommodations that tours could be canceled or altered, depending on the number who sign up for each tour. Every effort will be made to hold to the proposed schedule. The tour registration postmark deadline is August 1, 2011.
Tour A - Fort Worth Cultural Tour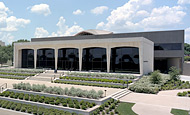 Amon Carter Museum
Thursday October 13 - 9:30 am-1:30 pm
Come explore the delights of Fort Worth"s Cultural District. The permanent holdings at the Kimbell Art Museum range from antiquity to the twenty-first century including paintings by Gainsborough, Holbein, El Greco, Velazquez, Rembrandt, Picasso, Cezanne, Van Dyck, Monet, and Rubens. The Modern Art Museum of Fort Worth has gallery space that is second only to New York's Museum of Modern Art and focuses on post-World War II international art in all media. The Amon Carter Museum highlights paintings and sculptures from the American west. This is a perfect tour for Mrs. Jennings as the museums are located within easy walking distance of one another; however, no lunch will be served. You may also wish to visit the National Cowgirl Hall of Fame and Museum. More than just memoriablia, AGM attendees can live the cowgirl experience through interactive exhibits, film presentations, and intriguing stories from the past.
Cost: $55
Tour limit: 150 JASNA attendees and companions
Tour B - Dallas Cultural Tour Unavailable
Thursday October 13 - 9 am-4 pm
This tour has something for everyone! After driving in a luxury coach to Dallas, AGM attendees will visit the world famous Nasher Sculpture Center, the Dallas Museum of Art, and the Crow Collection of Asian Art. After a delicious lunch at one of the Dallas Museum of Art's restaurants, the tour will conclude with docent guided brief tours of the Meyerson Symphony Hall, the Wyly Theater, and the Winspear Opera House.
Cost: $89 (including lunch)
Tour limit: 150 JASNA attendees and companions
Tour C - Fort Worth Botanical and Japanese Gardens Tour
Friday October 14 - 9 am-12 pm
Join author Kim Wilson (In the Garden with Jane Austen) at the 109 acre Fort Worth Botanical Gardens where you can see more than 150,000 plants representing more than 2,500 native and exotic species in 21 speciality gardens. The Conservatory and the 7 1/2 acre Japanese Garden with its waterfalls, pools, pagoda, and teahouse are not to be missed. During the driving tour of the Botanical Gardens there will be a stop at the Rose Garden overlook with time to walk down into the Rose Garden.
Cost: $35
Tour limit: 150 JASNA attendees and companions
Tour D - Dallas Cowboys Stadium Unavailable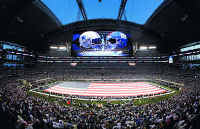 Dallas Cowboy Stadium
Friday October 14 - 9 am-12 pm
Get behind-the-scenes access to the Cowboys Locker Room, Cheerleaders Locker Room, Playing Field, and the Player Interview Room on this tour of the new 3-million square foot Dallas Cowboys Stadium. This architecturally significant National Football League venue boasts the world's largest column-free room, stretching a quarter-mile in length. This tour is moderately active and comfortable walking shoes are recommended. The only "Steele" not in this structure is Lucy.
Cost: $54
Tour limit: 200 JASNA attendees and companions
Tour E - Dallas Arts District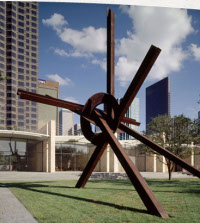 Eviva Amore
Sunday October 16 - 1 pm-6 pm
Traveling to Dallas after the AGM brunch, JASNA attendees will begin a driving and walking tour of the Arts District. After visiting the Dallas Museum of Art and the Crow Collection of Asian Art, we will convene at the Nasher Sculpture Center to meet Jane Austen fans Andrea and Joan Nasher. They will give us a private tour of their family's sculpture collection and tell us why Sense and Sensibility is their favorite Austen novel.
Cost: $62
Tour limit: 80 JASNA attendees and companions
Tour F - Armstrong Browning Library
Monday October 17 - 9 am-4 pm
We will complete the conference with a true life couple of sense and sensibility — Robert and Elizabeth Barrett Browning. AGM attendees will travel to the Waco campus of Baylor University to visit the Armstrong Browning Library. This library houses the largest collection of Browning related materials in the world as well as major books and manuscripts by Dickens, Emerson, MacDonald, Milsand, Ruskin, and Arnold. The library also features furniture and objects once owned by the Brownings including paintings, sculpture, stained glass, clothing, and other antiques. The full day event includes deluxe transportation, a docent guided tour of the museum, lunch, time on your own to browse, and a lecture on the Brownings.
Cost: $78
Tour limit: 100 JASNA attendees and companions
Tour Registration Postmark Deadline: August 1, 2011
While a tour registration form was included in a mailing to all JASNA members, we would prefer that you fill out the version in Adobe Acrobat PDF format posted below. (Click on "Tour Registration Form" in the blue button.) This is an auto-fill version that will allow you to easily type in your information, and it will even calculate your Total amount at the bottom of the form. We ask you to print out two copies, keep one, and mail in the other with your check or money order made out to Destinations by JMC (address on the form). Tour registration confirmations will be sent by Destinations by JMC.
Tour questions? Please e-mail Destinations by JMC, at jasna2011jmc@gmail.com.

Notes about the Form:
Before completing the registration form, please check the tour descriptions above to see if any have sold out.
Only the Total amount at the bottom of the form will be calculated automatically. You will need to enter the correct fee amount on each line, multiplying the fees yourself if you are purchasing tickets for more than one person. Some Mac users may find that the Total does not calculate automatically. In that case, please write in the Total manually.