Hilton Cleveland Downtown
The 2020 AGM will take place at the Hilton Cleveland Downtown Hotel, 100 Lakeside Ave E, Cleveland, OH 44114.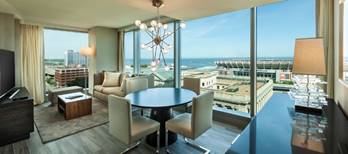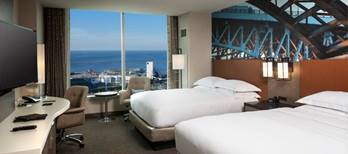 Rooms include a mini-fridge, hair dryer, iron and ironing board, safe and built-in workstation. Every room in the hotel features stunning Cleveland-themed art and each has a breathtaking view over the city's skyline or the Lake Erie shore – some have both.
The hotel is located a short walk from Cleveland's beautifully remodeled Public Square, home to the eye-catching Soldiers' and Sailors' Monument. Public Square is a public transit hub and houses restaurants offering breakfast and healthy snacks all day. The Hilton is steps in any direction from a plethora of dining choices, from easy-on-the-budget convenience food to upscale dining on East 4th Street and in the fashionable Flats district.
"Lovely & too charming Fair one, notwithstanding your forbidding Squint, your greazy tresses & your swelling Back, which are more frightfull than imagination can paint or pen describe, I cannot refrain from expressing my raptures, at the engaging Qualities of your Mind, which so amply atone for the Horror with which your first appearance must ever inspire the unwary visitor."
Frederic & Elfrida