Hotel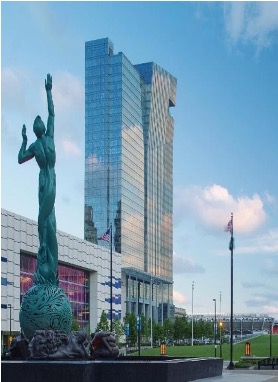 The 2024 AGM will take place at the Hilton Cleveland Downtown Hotel, 100 Lakeside Ave E, Cleveland, OH 44114.
Downtown Cleveland is a 20-minute drive from Cleveland Hopkins International Airport (CLE), which provides non-stop service to 50 markets from Los Angeles to Boston. The Hilton is accessible from CLE by RTA Rapid service running to Tower City Center on Public Square. From Tower City, it is approximately a 15-minute walk to the Hilton. A one-way RTA Rapid fare is $2.50, while an all-day unlimited pass is $5.50. Farecards are available at the train station, and all-day and 7-day passes may also be purchased through the RTA CLE app for iPhone and Android. Farecards may also be used for buses, including the Healthline which offers a direct link between Downtown Cleveland and the many arts and cultural institutions in University Circle. Taxis and ride-sharing services are available for transportation from Hopkins airport to Cleveland.
Many visitors to Cleveland also choose to fly in to Akron-Canton Airport, which is less than an hour from downtown and offers competitive airfare. Taxis and ride-sharing services are available for transportation from Akron to Cleveland. To accommodate those with mobility concerns, all guest rooms are located a short walk to an elevator opening directly onto conference floors.
The JASNA room block with special rates for our AGM attendees will open in mid-2024. Room rates are as follows: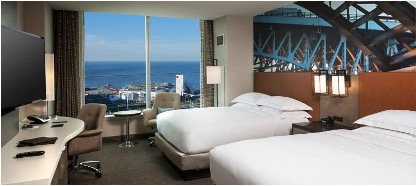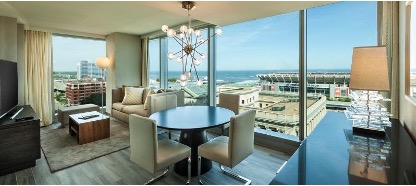 Rooms include a mini-fridge, hair dryer, iron and ironing board, safe and built-in workstation. Every room in the hotel features stunning Cleveland-themed art and each has a breathtaking view over the city's skyline or the Lake Erie shore—some have both.
The hotel is located a short walk from Cleveland's beautifully remodeled Public Square, home to the eye-catching Soldiers' and Sailors' Monument. Public Square is a public transit hub and houses restaurants offering breakfast and healthy snacks all day. The Hilton is steps in any direction from a plethora of dining choices, from easy-on-the-budget convenience food to upscale dining on East 4th street and in the fashionable Flats district.