On 21 March 2020, as lockdown became a global reality, William Shakespeare and Jane Austen reassured fans on Twitter that they, too, were self-isolating but otherwise doing well.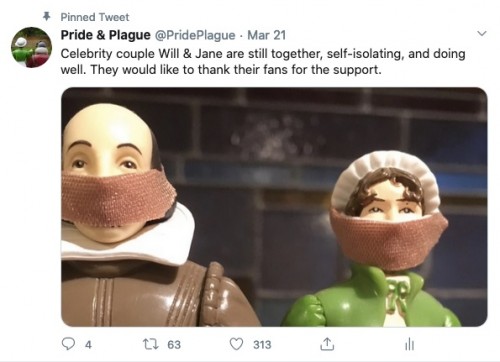 Over the next ninety days of lockdown, Will and Jane tweeted daily snaps of their domestic activities on a dedicated "Pride & Plague" Twitter account (@PridePlague). With humorous tweets that took aim at the gloom and indignities of self-isolation, Will and Jane demonstrated solidarity and a stay-calm attitude in the face of the pandemic. After three months, their daily dollops of self-deprecating humor and social commentary ended. Before going dark, Will and Jane explained that they had leveraged their formidable influence and resources to remove to a deserted pandemic-free island, pledging to spend all their time at the undisclosed location rewriting the human condition. On 22 June 2020, the account showed them waving goodbye to the helicopter crew. They have not Tweeted since.
The "Pride & Plague" account showed the literary immortals engaged in the same stages of lockdown familiar to us mere humans:
Like the rest of us, Will and Jane squirreled toilet paper, Zoomed, took long walks, streamed movies, baked, and broke up the monotony of isolation with music and FaceTime yoga. In their case, activities also mined a shared creativity and interest in the arts. For example, they participated vigorously in the world-wide Museum Challenge to recreate famous artworks with ordinary objects at home.
They also devoted time to writing, with Will promising a new play entitled King Covid XIX and Jane pitching a controversial rebuke to her literary critics. She also announced an intention to assist Andrew Davies by finishing Sanditon properly.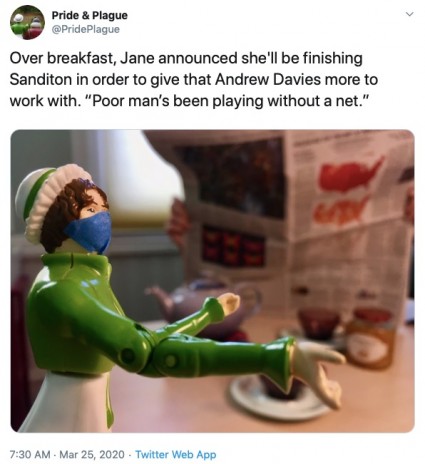 Their most popular and retweeted message was, unsurprisingly, Will's good-natured willingness to indulge Jane in some well-deserved Firthing once the local park reopened: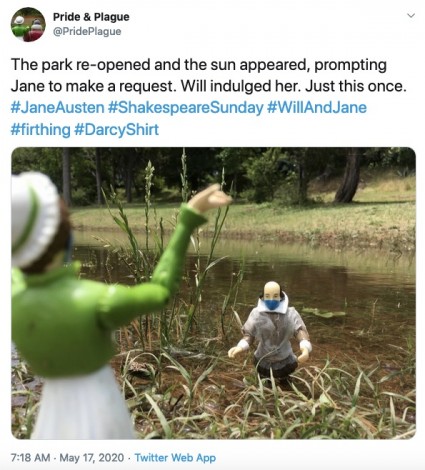 Their optimism, too, ebbed and flowed, and the candid celebrities confessed to moments of heavy drinking, loss of motivation, and domestic frustration.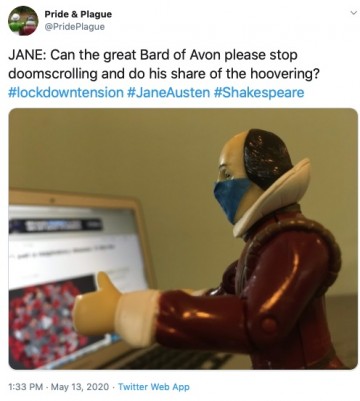 As for my role in this, I enjoyed the honor and diversion of stepping in as Will and Jane's publicist during lockdown. Seeing our literary heroes valiantly struggle with restrictions and virtual home arrest relieved a bit of my own weariness. In the face of pandemic indignities and helplessness, the responsibility of tweeting out their daily chuckle was, for a time, an effective coping mechanism.
More representative tweets from "Pride & Plague" are reproduced here:
Those who want to see the fullness of "Pride & Plague," even if not on Twitter, can just click on this link: @PridePlague. No one needs a social media account to visit. First-time visitors may prefer to read through Will and Jane's lockdown story in chronological order—which means scrolling patiently down to the very first tweet and then reading your way back to the top. Enjoy!