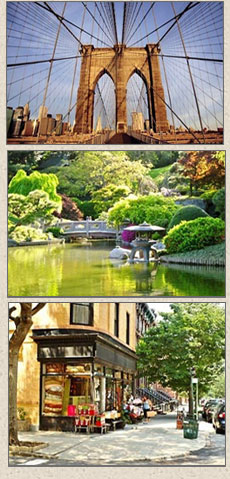 The Borough of Brooklyn boasts many attractions. Here's just a sampling:
Literary Brooklyn: It's not only where Walt Whitman worked as a newspaper editor, but where Truman Capote wrote "Breakfast at Tiffany's," where many contemporary well-known authors live and work* – and where good independent bookstores still thrive. Check out this map (complete with relevant quotes) of bookish sights to explore -- courtesy of the main branch of the Brooklyn Public Library, itself a worthy destination.
Culture vultures can visit art galleries and the Brooklyn Museum, known for its Egyptian collection and American paintings. Then there's the Brooklyn Academy of Music, a triple threat: cinema (showing classic as well as first-run films), concert venue, and theater (where Alan Rickman -- Colonel Brandon in the 1995 "Sense and Sensibility" – recently starred in Ibsen's "John Gabriel Borkman"). We will post their upcoming events when we are close to the AGM.
NYC & Co. has created an interactive page, especially for AGM 2012, where you can browse for shows, attractions, and restaurants. Please click on the "Broadway Bound"ť button.

Historic and Architectural Brooklyn: Brooklyn Heights houses impressive 19th century brownstones as well as the Brooklyn Historic Society. Green-Wood Cemetery, built in 1840, is an urban oasis of hills, ponds and statues, featuring graves of well-known folk such as Frank Morgan, who played the Wizard in the 1939 "Wizard of Oz".
Shopping: There are trendy boutiques and other wonderful stores. Click here for a list of some recommended stores.
Food: Enjoy classic American cuisine and substantial global snacking, from Middle East specialties to Vietnamese sandwiches to world-class pastrami -- cooked, surprisingly, Montreal-style. Click here for a list of recommended restaurants.
*"Brooklyn is repulsive with novelists, it's cancerous with novelists" – said, tongue-in-cheek, by formerly Brooklyn-based novelist Jonathan Lethem