Dance Workshops by Beverly Francis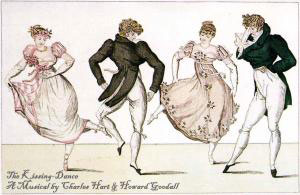 Cost $20 each
Workshop 1: Wednesday, October 3 3:00 PM - 4:30 PM
Workshop 2: Thursday, October 4 10:00 AM - 11:30 AM
Workshop 3: Thursday, October 4 12:00 PM - 1:30 PM
Workshop 4: Friday, October 5 8:30 AM - 10:00 AM

Everyone loves a good ball, so why not make the most of it by preparing for the dances? Beverly Francis has taught English Country Dance in New York City and across North America for 30 years, and she was the Dancing Mistress at the 2011 Fort Worth A.G.M. Beginners are welcome at the workshops, as well as dancers with experience. Come to practice or learn new dances, or perhaps engage someone for the first two dances of the ball.

Click here for Detailed Descriptions of the Dances.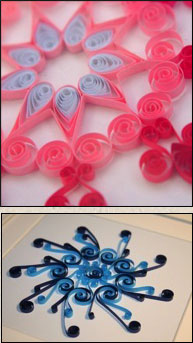 Quilling Workshops by Juliet Hwang
Cost $20 each
Workshop 1: Friday, October 5 9:00 AM - 10:30 AM
Workshop 2: Friday, October 5 11:00 AM - 12:30 PM

Elinor Dashwood "rolled papers" in Sense and Sensibility in order to help Lucy Steele finish Annamaria's basket. What exactly were they doing? Juliet Hwang will discuss the art of quilling (paper filigree) and how it relates to Jane Austen. Participants will then create a design by taking thin paper strips and rolling them into shapes to glue together. Instructions, tools and materials will be available.

Juliet is a member of the North American Quilling Guild.

Divine Stars Facebook group | Watch her Youtube video

"Lucy directly drew her work table near her and reseated herself with an alacrity and cheerfulness which seemed to infer she could taste no greater delight than in making a fillagree basket for a spoilt child."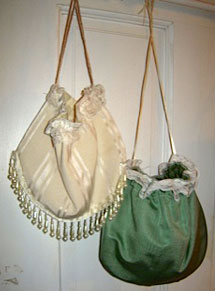 Reticule Workshops by Maureen O'Connor
Cost $20 each
Workshop 1: Thursday, October 4 3:00 PM- 4:30 PM
Workshop 2: Friday, October 5 10:30 AM - noon

Go to a ball without a reticule? Impossible! Maureen O'Connor will ensure that you have the proper reticule so you'll be perfectly attired. You will be provided with a kit with precut fabric, needle and matching thread. Basic sewing skills are necessary. You may note the color of your gown on the registration form, so you will have a matching or contrasting reticule.