Wednesday, October 3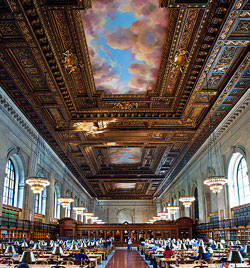 New York Public Library Guided Tour: 2:00 PM - 3:00 PM
Free
Robert Armitage, Humanities Bibliographer at NYPL, will lead you on a guided tour of this historic landmark, a century-old building in midtown Manhattan. www.nypl.org/help/about-nypl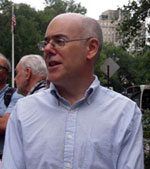 Francis Morrone,
photo by
Elsa Solender
A History of Brooklyn in the Time of Jane Austen: 5:00 PM - 6:00 PM by Francis Morrone at the Brooklyn Historical Society
Cost: $10
Mr. Morrone, an architectural historian and a leading authority on the history of Brooklyn, will illustrate for us Brooklyn in Jane Austen's era. Lecture will be held at the beautiful Brooklyn Historical Society in Brooklyn Heights. www.brooklynhistory.org
Thursday, October 4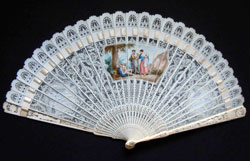 Venus Taquinant
Cupidon Fan,
photo by
Serge Davoudian
Antique Fan Exhibition: 2:00 PM - 5:30 PM by Abbey Block Cash
Free
Dr. Cash is president of the Fan Association of North America (FANA). She will display memorable fans from the Austen period. Exhibition will continue on Friday morning. Learn more about FANA at their website. (www.fanassociation.org)
Lady Susan: A Staged Reading: 6:30 PM - 7:30 PM
Cost: $25 (includes round-trip subway fare)
The lady who personifies Sex, Money and Power will receive her long-overdue close-up during a staged reading by professional actors at The Morgan Library & Museum. Mr. Morgan's magnificent library, including an Austen treasure, will be open for attendees prior to the performance. Not to be missed.
Friday, October 5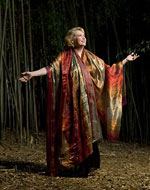 Julianne Baird,
photo courtesy of
Julianne Baird.
Jane Austen and Her Music: 8:30 PM - 10:00 PM by Julianne Baird
Cost: $20
One of the world's foremost sopranos, Julianne Baird, will create a wonderful artistic encounter when we welcome her to the AGM. Ms. Baird has appeared with orchestras and opera companies throughout the world, and has made a specialty of performing the Baroque repertoire. Her many recordings have made her artistry known throughout the world. Her Jane Austen recitals interweave songs from the Austen family collection (as well as other standards of the period) with narrations drawn from Austen's novels. More about Ms. Baird, whose voice The Washington Post praised for "supreme expressive beauty," can be found here. (www.bach-cantatas.com/Bio/Baird-Julianne.htm)
Sunday, October 7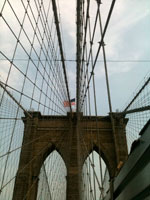 Brooklyn Bridge,
photo by Jerald Vetowich
Run/Walk to the Brooklyn Bridge: 8:00 AM - 9:30 AM
Free
There will be an early-morning group pilgrimage to the middle of the bridge to say good morning to NYC from a special point on the bridge. Runners and walkers will form appropriate groups for this 2-mile round trip, depending on their speed.
Authors' Signing: 8:00 AM - 10:00 AM
Free
Many of the speakers at the AGM will be available to sign and discuss their books.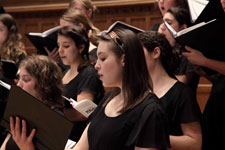 Vassar College Women's
Chorus, photo
courtesy of Vassar College
The Vassar College Women's Chorus Post-AGM Concert: 3:30 PM - 5:00 PM
Cost $20
The chorus, which has performed in New York, Chicago, Boston and Philadelphia as well as abroad, will perform works based on Jane Austen texts, specially commissioned for the Chorus by Vassar College and JASNA from composers Eleanor Daley and Joelle Wallach. The concert will be held at The Plymouth Church of the Pilgrims, where Abraham Lincoln prayed and where escaped slaves were sheltered on the Underground Railroad. The church is a short walk from the hotel.
• Read about Canadian composer Eleanor Daley at www.alliancemusic.com
• Read about American composer Joelle Wallach at joellewallach.com
Closing Dinner: 5:00 PM - 8:00 PM at The Plymouth Church of the Pilgrims.
Cost: $75
The magnificent Tiffany windows in Hillis Hall of The Plymouth Church of the Pilgrims will grace our post-conference dinner. Be prepared for wonderful food and wine, conversation, and a fun "Jane Game." Dinner will immediately follow the choral concert. Learn more about this historic church at www.plymouthchurch.org/our_history.php.
Monday, October 8
The Berg Collection at New York Public Library: 2:00 PM - 3:00 PM
Free with donation of $100 or more
Twenty lucky patrons of the conference will enjoy a private view of treasures of the Berg Collection. Jane Austen's letter to Cassandra from her brother Henry's home in London as she corrected proofs of Emma -- one of the longest extant letters -- is a jewel of the collection.