Austen Chat Podcast

Welcome to Austen Chat, JASNA's new podcast dedicated to exploring the life and works of Jane Austen! Follow us here or in your favorite podcast app. New episodes are released on the first Thursday of the month.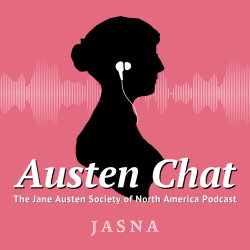 JASNA's mission is at the heart of Austen Chat—to further the study, appreciation, and understanding of Jane Austen's works, life, and genius. We believe there is always more to learn and enjoy about Jane, and we invite you to join us for the ride! Each month our host, Breckyn Wood, will talk to scholars, authors, and subject experts on a wide variety of topics related to Austen's life and works. We think you'll have fun and learn something new from each episode—whether you are a lifelong reader, an Austen newbie, a seasoned Austen scholar, or somewhere in between. Join us each month for a delightful Austen chat!
Our Host
Breckyn Wood is a member JASNA's Georgia Region and an independent Jane Austen scholar. She is a freelance writer, editor, and children's book author, and her paper, "Austen Reworking Smith: Sympathy, Objectivity, and Moral Passivity in Mansfield Park" has been published in Persuasions 44.
Questions or suggestions for the podcast? Email podcast@jasna.org.
Where to Find Austen Chat
Listen to the episodes and read transcripts and show notes here on our website. Episodes are listed below as they are released.
Follow and stream the episodes in your favorite podcast app. Austen Chat is available in Apple Podcasts, Google Podcasts, and Spotify, and other streaming platforms.


---

Episodes and Transcripts
To stream episodes and access show notes and transcripts, click on the episode titles below. New episodes are listed here as they are released.

Trailer
Wondering what Austen Chat is all about? Listen to our show trailer.
---

Music: Country Dance by Humans Win