"Nobody Could Catch Cold by the Sea":
Austen's Unfinished Chapters

A Pathfinders Tour • July 9-19, 2020
(Tentative as of January 2020)


Jane Austen famously produced two unfinished novels: The Watsons and Sanditon. Both have been adapted recently for television and the theater and are now inspirations for this year's JASNA-sponsored tour.


Wednesday, July 8: Tour participants fly to London in time to join JASNA members Thursday morning at a designated Heathrow airport hotel. (Pre-tour overnights will be available at the hotel.)
Thursday, July 9: Depart for Hampshire in the morning. Visit Jane Austen's birthplace and St. Nicholas Church, Steventon. Travel to Winchester, visit the Hampshire Cultural Trust for a talk on costumes, then continue to the hotel and a welcome dinner. Hotel in Winchester; D*
Friday, July 10: Explore Winchester and the Cathedral, with a ceremony at Jane Austen's grave. Travel to Chawton village to visit Chawton House and its library and Jane Austen's House Museum. Hotel in Winchester; B, L*
Saturday, July 11:

Explore more of Winchester in the morning. After an early lunch, depart for Chawton to attend the afternoon proceedings of the Jane Austen Society's AGM, including the keynote lecture, tea, and the opportunity to meet informally with JAS members. Attend Evensong at St. Nicholas Church.

Hotel in Winchester; B, Tea.
Sunday, July 12: Travel to Lyme Regis on the southern coast of the county of Dorset. See the location of Louisa's fall in Persuasion. Explore the town and the Philpot Museum with its special exhibit about Mary Anning. In the afternoon, journey along the North Somerset coast, where Sanditon was filmed, to Bath. Hotel in Bath; B, D*
Monday, July 13: On a guided tour of the beautiful city, visit a number of sites associated with the Austen family and their stay in Bath after the Rev. George Austen's retirement: Sydney Place, Green Park, and the Assembly Rooms, as well as No. 1 Royal Crescent. The afternoon is open to explore more of Bath, perhaps visiting the Roman Baths. Hotel in Bath; B*
Tuesday, July 14: Visit Dyrham Park, the stately home used as the filming location for "Denham Hall" in the re-creation of Sanditon. Return to Bath for a visit to St. Swithin's Church, where Jane Austen's parents were married and her father is buried. Dinner and evening musical entertainment. Hotel in Bath; B, D*
Wednesday, July 15: Depart Bath for the university city of Oxford, traveling through Wiltshire. On the way, visit the beautiful village of Lacock ("Meryton" in Pride & Prejudice and other films). Continue to Oxford to see some of the most famous colleges, then check into our hotel. Hotel in Oxford; B, D*
Thursday, July 16: Visit Oxford University's Bodleian Library for a presentation by Dr. Chris Fletcher on the manuscript of The Watsons. After lunch continue to one of the University's most prestigious colleges, St. John's, where Jane Austen's father and two of her brothers were undergraduates. George Austen became a fellow of the College. Hotel in Oxford; B*
Friday, July 17: En route to London, visit the Abbey Gateway in Reading. Part of this medieval abbey housed a boarding school attended by Cassandra and Jane Austen for a short time. In London, take an orientation tour of places visited by Jane Austen as well as areas of the Mayfair district featured in Sense and Sensibility. We end the day with a visit to the British Library and the opportunity to see some of Austen's manuscripts and her writing desk. Farewell dinner tonight. Hotel in London; B, D*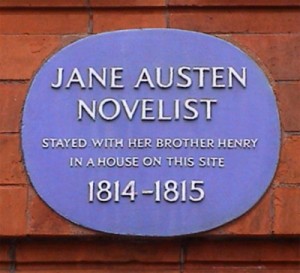 Saturday, July 18: The day is open for sightseeing, visiting museums (the Dickens Museum is located near our hotel), and shopping. In the evening, we attend a West End performance of The Watsons. Hotel in London; Play; B*
Sunday, July 19: Transfers will be provided to Heathrow Airport for return flights. Extension stays can be arranged through Pathfinder.

To register, email tour@jasna.org. Please include your name, mailing address, email address, and phone number.


"Sea air was healing, softening, relaxing—fortifying and bracing—seemingly just as was wanted—sometimes one, sometimes the other."
SANDITON


NOTES
---

* B, L, D, and Tea indicate meals included in tour price.

Photos:
• Winchester Cathedral (Carol Moss)
• Lyme Regis (Carrie Bebris)
• Radcliffe Camera, Oxford (David Iliff, License CC BY-SA 3.0)
• Blue Plaque, Hans Place, London (Jane Austen Society of North America)