2020 Essay Contest Focuses on Austen's Juvenilia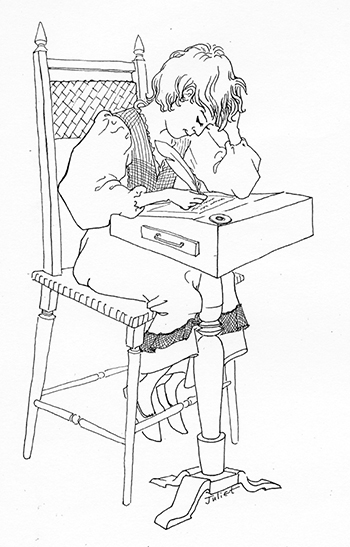 JASNA's annual Essay Contest is under way, and we invite high school, college, and graduate school students worldwide to compete for scholarship awards in three divisions. This year's contest links Jane Austen's novels to her Juvenilia: the brief stories, plays, and chapters of novels she wrote as a young teenager. Many are laugh-out-loud funny and feature memorably naughty young ladies who are the inspiration for the 2020 essay topic: female "villains" in Austen's novels.
The deadline for essay submissions is Monday, June 1, 2020. First-, second-, and third-place winners in three divisions will receive scholarships of $1,000, $500, and $250, respectively. The first-place winners will also be offered complimentary registration and two nights' lodging for JASNA's 2020 Annual General Meeting in Cleveland.
Important details about the essay topic, contest rules, and submission guidelines are posted on JASNA's Essay Contest web page, along with a promotional flyer that teachers and mentors can share with interested students.


Drawing of the young Jane Austen by Juliet McMaster, published in The Beautifull Cassandra, edited and illustrated by Juliet McMaster, Victoria: Sono Nis Press, 1993