Jane's Fascination with Whipt Syllabub
November 12, 2021
by Dan Macey

Syllabub is a sweet, frothy alcoholic dessert drink wildly popular in Jane Austen's time. She even referred to it in Lesley Castle, a story from her juvenilia. Why was syllabub so popular among her contemporaries? With this post, food historian Dan Macey introduces the first of three short videos created for the 2020 AGM on cooking with Jane Austen. Learn more about the drink and how it was made during Austen's time. Period recipes included!—Editor




Tell me why a drink that is basically made up of whipped cream and wine and popular for hundreds of years still not something we order today? Well, Jane Austen, from a young age, apparently loved the frothy, dessert/drink syllabub.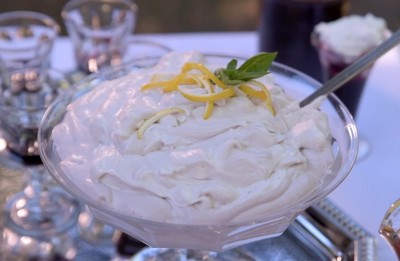 At the age of 16, when she wrote the short, epistolary work Lesley Castle, Austen used the fluffy, rich, white concoction as an adjective to refer to a character's complexion—a comparison her readers at the time would have understood immediately. Recipes collected by her friend and fellow Chawton housemate Martha Lloyd included the delicious advice to top a trifle with syllabub.
While there are minimal ingredients in syllabub, and actually no cooking involved, it is the amount of effort and wrist strength that makes it a challenge to prepare. A variety of mechanical devices and cooking tools were invented in the 18th and early 19th centuries to make the job of whipping the wine-infused cream easier.
While attending an 18th century immersion experience, I used a whisk made from birch branches to whip up my syllabub. It was able to sit on the shelf for three days and got better with age. We ate the solid cream on top of the syllabub with a spoon and then drank the wine underneath the cream.
Closed captioning in English can be turned on and off with the CC icon in the control panel. Copyright Dan Macey.
Recipes
Here are a couple of period syllabub recipes to try. Hopefully, we can bring back its once enormous popularity.
To Make Everlasting Syllubub, take five half pints of thick cream, half a pint of Rhine wine, a half a pint of sack, the juice of two large Seville oranges, or lemons. Grate in just the yellow rind of three lemons and a pound of double-refined sugar well beat, and sifted. Mix all together with a spoonful of orange-flower water, beat it well together with a whisk half an hour, then with a spoon fill your glasses.

—Hannah Glasse, The Art of Cookery Made Plain and Easy, 1747
Lemon Syllabub
Put a pint of cream to a pint of white wine, then rub a quarter of pound of loaf sugar upon the out rind of two lemons, till you have got out all the essence, then pour the sugar to the cream, and squeeze in the juice of both lemons let it stand for two hours, then mill them with a chocolate mill, to raise the froth, and take it off with spoon as it rises, or it will make it heavy, lay it upon a hair sieve to drain, then fill your glasses with remainder, and lay on the froth as high as you can, let them stand all night, and they will be clear at the bottom, send them to the table upon a salver, with jellies.

—Elizabeth Raffald, The Experienced English Housekeeper, 1769




Dan Macey is the president of the Historic Foodways Society of the Delaware Valley in Philadelphia, which aims to keep culinary history alive. He has presented a variety of food history programs and demonstrations, including the recreation of an authentic regency era banquet to benefit Chawton House Library. He also writes about food history and was nominated for a national food writing award for penning a piece about mutton in Emma. He has contributed to a number of food history books, including the James Beard awarding winning The Oxford Companion to Cheese. He works as a professional, commercial food stylist, making food look beautiful for the camera. He is an enthusiastic Life Member of JASNA.