2021 Young Filmmakers Contest Judges Announced

The fifth annual JASNA Southwest Young Filmmakers Contest is well under way, and a stellar panel of judges will be scoring the 5-minute-and-under entries from amateur filmmakers.
Our six judges, all Austen enthusiasts and well known in film and book circles, are:
Amy Heckerling
Amy Heckerling directed Fast Times at Ridgemont High, followed by Johnny Dangerously and European Vacation. Heckerling later wrote and directed Look Who's Talking, Look Who's Talking too, Clueless, I Could Never Be Your Woman and Vamps, and produced A Night at the Roxbury, executive produced, wrote and directed episodes of the TV series of Clueless and Fast Times, and directed episodes of The Office, Gossip Girl, The Carrie Diaries, Red Oaks, Weird City and Royalties.
Gurinder Chadha, OBE
Film director and producer Gurinder Chadha's award-winning films include Bend It Like Beckham, Bride & Prejudice, Viceroys House, a sumptuous period

drama [?]

set during the last days of British Rule in India 1947, and the Bruce Springsteen-inspired Blinded by the Light. Chadha recently created Beecham House, an epic, returning drama series set in India in 1795 for ITV and Masterpiece/PBS.
Laura Rister
Laura Rister is an award-winning Los Angeles-based film and television producer at Untitled Entertainment. She was recently nominated for Emmy, Critic's Choice and Independent Spirit awards for the landmark cine-memoir The Tale starring Laura Dern, distributed globally by HBO Films. She is currently in post production on Mr. Malcolm's List, a Regency-era romantic comedy/drama in the spirit of Jane Austen, in collaboration with Bleecker Street and Universal International. She previously served as VP of production, development and casting at Miramax Films in New York and Los Angeles, working on films and TV series including Chicago, Blue Car, Finding Neverland and Project Greenlight.
Sonali Dev
USA Today bestselling author Sonali Dev writes Bollywood-style love stories that explore universal issues. Her novels have been named Best Books of the Year by Library Journal, NPR, the Washington Post and Kirkus. Dev's acclaimed Rajes series (Pride, Prejudice, and Other Flavors, Recipe for Persuasion, and Incense and Sensibility) reimagines her four favorite Austen novels under one story universe of a politically ambitious Indian American family in San Francisco.
Suzanne Allain
Suzanne Allain is the author of Austen-inspired historical novels set in the Regency period. She adapted one of these novels, Mr. Malcolm's List, into a feature script that is currently in post-production. Allain also wrote the script for the 2019 short film Mr. Malcolm's List—Overture, starring Gemma Chan and Freida Pinto.
Ty Burr
Film critic for The Boston Globe since 2002, Ty Burr is also the author of the critically acclaimed books Gods Like Us: On Movie Stardom and Modern Fame (2013), The Best Old Movies for Families (2007) and the e-book The 50 Movie Starter Kit: What to Know if You Want to Know What You're Talking About (2013). He wrote for Entertainment Weekly during the 1990s and programmed movies for HBO/Cinemax in the 1980s. A member of the National Society of Film Critics and the Boston Society of Film Critics, Burr also teaches courses in film and criticism at Boston University and Emerson College.
About the Contest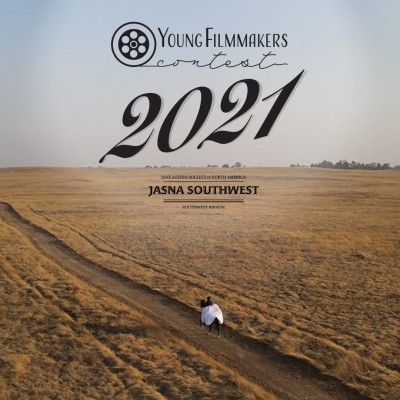 Sponsored by JASNA Southwest, the 2021 Young Filmmakers Contest is open to all amateur filmmakers age 30 or under who reside in North America. The deadline for 2021 entries is October 1, 2021. The contest is designed to encourage the study, interpretation of, and appreciation for Jane Austen among new generations.
Are you an aspiring Ava DuVernay or Steven Spielberg? Do you know a talented high school, undergrad or graduate student who is? Or any aspiring filmmaker or Austen fan under the age of 30? Enter, or help spread the word about, the fifth annual Young Filmmakers Contest.
Films must be five minutes or less and should be adapted from, or inspired by, Jane Austen's writing or life. Past entries have included animated films, documentaries, modernizations and tributes to Austen's genius. They've ranged from heart-tugging stories to hilarious adventures, and everything in between. All you need is your imagination and a smart phone.
Winners will receive cash prizes, one year's JASNA membership, and a special screening at JASNA's Annual General Meeting in Chicago in October 2021.