Brothers and Sisters
"A family of ten children will be always called a fine family, where there are heads and arms and legs enough for the number."
Statistics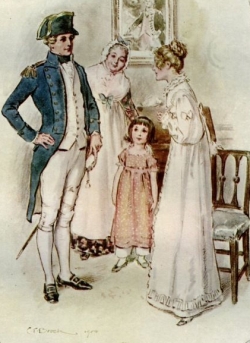 Siblings, conservatively estimated: 173
All seven heroines have siblings.
All seven heroes have siblings.
Cads Willoughby and Wickham have no siblings.
Number of siblings who are major characters in each novel:

Sense and Sensibility: 12
Pride and Prejudice: 16
Mansfield Park: 12
Emma: 9
Northanger Abbey: 7
Persuasion: 13

Total of important or principal characters who have siblings in the novels: 69
Number of children: 22 (does not include all the children in the novels)
With children subtracted from the grand total number of siblings, there are 151 characters remaining who are siblings.
There are 91 sisters among the principal siblings and 23 brothers.
There are also incidental characters that have bit parts and inconsequential characters who are mentioned only once, e. g., the Misses Owen.
If an indefinite number of siblings is listed, the younger Miss Lucases, for instance, they are counted as two only. The same with sons.
Half bloods are counted as whole persons—never mind what Mrs. John Dashwood says.
Not counted are any ambiguities, e.g., Mrs. Long's two nieces.
Asterisk indicates a non-principal character.
Note: We look to our JASNA brothers & sisters to alert us to any discrepancy.