Breakout Sessions
"He always speaks to the purpose; open, straightforward, and very well judging."

Session A: Friday, October 9

Kathleen Anderson, Palm Beach Atlantic University A1
'A Most Beloved Sister': The Influence of Sisterly Love on Romantic Relationships in Austen's Novels
In Austen novels, a heroine's relationship with her sister significantly influences her relationship with men. Anderson will explore how and why a close bond with a sister empowers a woman to assert a role of equality with and even mentorship toward a man, whereas the lack of such a bond leads to her subservience in love.
Mary Basson, Wisconsin Region A2
Siblings at a Distance
Austen's fictional siblings wrote many letters to each other, as the author herself wrote to her siblings, particularly Cassandra. Basson will compare the details of the factual letters, topics, context, language, and structure, with the fictional letters to illustrate the author's portrayal of sibling relationships.
Pauline Beard, Pacific University A3
Brotherly Love or Sibling Rivalry?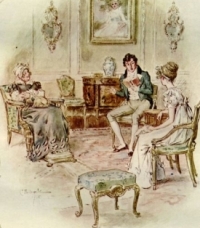 Three sets of brothers, the Bertrams, the Tilneys, and the Ferrars, demonstrate that Austen understood how one family could produce the "good" brother and the "not so good" brother. The elder brothers act as foils to the younger of each pair and move along the plot. Beard presents her case that the elder brothers never had a chance to be good.
Miriam Rheingold Fuller, Ph.D, University of Central Missouri A4
"An affection for her sister that is very pleasing": Sibling Bonds as Moral Markers in Austen's Novels
Sibling relationships are as vital as romantic ones in Austen's novels. Austen uses family bonds to reflect characters' moral worth or lack thereof, comparing three or more sibling groups in each novel to show degrees of emotional merit. Austen rewards those who strongly express sibling love with strong conjugal love.
Jocelyn Harris, University of Otago, New Zealand, Professor Emerita A5
Sisterly Relationship to Frances Burney: Persuasion, The Wanderer and the Cancelled Chapters
Published in Persuasions 31 (2009). "Frances Burney's The Wanderer, Jane Austen's Persuasion, and the Cancelled Chapters" Persuasions 31 (2009): 130-144.
Jane Austen responds in a spirit of admiring sibling rivalry to Frances Burney as well as to brother-authors such as Richardson. Harris explores Austen's appropriations from The Wanderer for Mansfield Park, Emma, and Persuasion, and suggests why she discarded the cancelled chapters.
Juliet McMaster, University of Alberta, Professor Emerita A6
"If you don't marry my sister you will mortally offend me": Sibling Matchmakers
Published in Persuasions 31 (2009). "'If you don't marry my sister you will mortally offend me': Sibling Matchmakers" Persuasions 31 (2009): 89-101.
In a time when your brother's friend was often your best chance of a husband, siblings in Austen's fiction take on the role of matchmakers – and are frequently more successful than mothers like Mrs. Bennet or busybodies like Emma. And then there are the matchbreakers, like Mrs. John Dashwood. Watch the maneuvering!
James Thompson, University of North Carolina at Chapel Hill A7
Between Sisters: Sense and Sensibility and Extraneous Men
Perhaps our discontent with Edward Ferrars and Colonel Brandon, as "rewards" for Elinor and Marianne respectively, stems from our misunderstanding of the primary relationship that is celebrated in Sense and Sensibility. The true love story is between the two sisters.

Session B: Friday, October 9

Celia Easton, SUNY at Geneseo B1
The Sibling Ideal in Jane Austen's Novels: When Near Incest Really is Best
Does Austen create an "incest ideal" in her novels like the plot contrived in Plato's Republic to ensure supportive and devoted relationships among pseudo-siblings? Family-style proximity gives Austen's romantic pairs an advantage of intimacy, despite hopes like those of Mrs. Norris that such "breeding up" will ensure that these "brothers and sisters" would never break the implicit taboo.
Stephanie Eddleman, Harding University B2
"Not half so handsome as Jane": Sisters, Brothers, and Beauty in the Novels of Jane Austen
How does physical beauty affect the relationships among Austen's siblings? How do physical comparisons by parents or outsiders affect personality development and individual behavior? Do these comparisons foster competition or lead to solidarity? Are brothers as affected as sisters? And does Austen use siblings' appearance as code for moral character?
Susan Allen Ford, Delta State University B3
"Exactly what a brother should be"? The Failures of Brotherly Love
Published in Persuasions 31 (2009). "'Exactly what a brother should be'? The Failures of Brotherly Love" Persuasions 31 (2009): 102-114.
Although there are examples of brothers defined by their care for and confidence in their siblings in Austen's novels (one thinks of Henry Tilney, Fitzwilliam Darcy, the Knightleys), others fail to provide the advice, the protection, the financial or emotional support, the establishment or mobility "particularly proper and becoming in a brother," to adopt Fanny Price's fretful though unspoken words. With plenty examples of negligent or actively bad brothering—John Thorpe, Frederick Tilney, John Dashwood, Col. Brandon's brother, Robert Ferrars, Tom Bertram, and Henry Crawford—Austen defines her fictional universe by a kind of negative standard. And once we consider those obviously bad brothers, we might then turn to James Morland and Edmund Bertram to consider how these so-called "kind" brothers measure up.
William Galperin, Rutgers University B4
Lady Susan and the (Dys)functional Family
Published in Persuasions 31 (2009). "Lady Susan and the (Dys)functional Family" Persuasions 31 (2009): 47-58.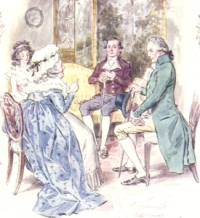 Only by behaving badly and treacherously, it seems, or by constantly dissimulating in their interactions with family members of all kinds, do women achieve agency and mobility in a domestic space where their destiny otherwise is to be contained and silenced. Is Lady Susan a "bad" sister or merely misunderstood?
Peter Graham, Virginia Polytechnic Institute and State University &
Pamela Graham Gurney, Walsh University B5
Ambiguities of the Crawfords: A Sister-and-Brother Discussion of Austen's Most Controversial Brother and Sister
A brother and sister, both professors of English, discuss Austen's most controversial brother-sister pair: Henry and Mary Crawford. Why do so many present-day reader dislike Mansfield Park's treatment of this sibling pair? Conversation will include matters of nature and nurture, ethics and esthetics, narratology and reader response.
Susan Jones, Palm Beach Atlantic University B6
"My Brother Was an Only Child": Onlies and Lonelies in Jane Austen's World of Brotherly Love
John Willoughby, Frank Churchill, Harriet Smith, and Walter Elliot have one thing in common: they are only children. How does Austen paint the only or lonely child as counterpoint to the sibling who experiences loving sibling relationships? How does being an only child direct that child's future behavior? What does Austen have to say about onlies and lonelies?
Juliette Wells, Manhattanville College B7
The Closeness of Sisters: Pride and Prejudice's Influence on How We Imagine Jane and Cassandra
No relationship intrigues us more than that of Cassandra and her remarkable sister Jane. It is tempting to fill in the gaps in our knowledge of them by imagining parallels with Jane and Lizzy Bennet. Wells will explore how the eldest Bennet sisters have influenced contemporary novelists' and filmmakers' depictions of the Austen sisters.

Session C: Saturday, October 10

Elaine Bander, Montreal Region C1
Brothers and Sisters in Austen's Mansfield Park and Burney's Camilla
Elaine Bander will explore the similarities and differences between the way Austen and Burney portray sibling relationships in novels of education: Austen's Mansfield Park and Burney's Camilla. Both writers enjoyed close relationship with their siblings, and both explore sibling relationships in their novels.
Margaret Chittick, London Branch of the Jane Austen Society &
Vera Quin, London Branch of the Jane Austen Society C2
Marginal Siblings Stir the Plot
Think of Lydia Bennet, not the perfect sister, but she moves the plot along, provides essential information and heightens the atmosphere around our heroine. How many other marginal siblings fulfill this role in Jane Austen's novels, as well as providing much amusement and helping to give us our happy ending? There are more than you think!
Liz Philosophos Cooper, Wisconsin Region &
Molly Philosophos, Greater Chicago Region C3
The Bingley Sisters Advise Their Brother Charles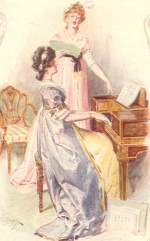 The warm, loving -- and ever so stylish -- Bingley sisters hold forth directing Charles on how to make the most of his free time with pleasurable pastimes, sophisticated shops, high spirited holidays and acceptable acquaintances. They will present a pictorial guide to advise their brother. Their kindly meant comments may even include guidance on the best sort of woman for him to marry.
Laura Dabundo, Kennesaw State University C4
The City of Sisterly Love: Jane Austen's Community as Sorority
Jane Austen's novels reinforce the perfect community – of sisters. While many of her brothers are admirable, the true culmination of perfection is in the community of sisters she so artfully creates. Learn about the many examples that exist in each novel.
Marcia McClintock Folsom, Wheelock College C5
Children of the Same Family: Brothers and Sisters in Mansfield Park
In Mansfield Park, numerous sibling pairs – of brothers and sisters, of brothers, of sisters, and of a near-sibling pair of cousins – demonstrate the remarkable richness of Austen's imagination in sorting through the effects of birth order, parental influence, sibling bonds, and temperament on personality. In the novel, even though these influences are formative, the plot still suggests that crucial decisions are not predestined – even by the novelist.
Julienne Gehrer, Metropolitan Kansas City Region C6
How Jane Austen Uses Birth Order to Define Her Characters
Long before psychologists studied the effects of birth order, Jane Austen assigned her characters strategic placement in the family. Gehrer explores how Austen's sequencing of older, middle and younger siblings explains character motivation and propels the action in her novels. This examination is presented with illustrative slides and optional audience participation.
Peter Sabor, McGill University C7
Brothers and Sisters for Brothers and Sisters: Jane Austen's Juvenilia
Published in Persuasions 31 (2009). "Brotherly and Sisterly Dedications in Jane Austen's Juvenilia" Persuasions 31 (2009): 33-46.
Jane Austen never dedicated a novel to a sibling, but she did dedicate eleven of the stories, plays and miscellaneous items that comprise her Juvenilia to her brothers and sisters. Were these dedications to real siblings ironic or reflective of the fictional characters? Learn what the dedications tell us about the real and fictional brothers and sisters.

Session D: Saturday, October 10

Inger Brodey, University of North Carolina at Chapel Hill D1
Jane Austen's Sisters in Japan: Pride and Prejudice, Persuasion, and The Makioka Sisters
Are the Bennet sisters universal? Can they be transported to Japan without significant change? Meet the Makiokas—a family of sisters, differing in character, lacking parental guidance, suffering economically, and needing to find husbands. Through a comparison of Austen and Tanizaki, author of The Makioka Sisters, we can learn of the ability of sororal relationships to depict history and change within a single-family setting, as well as of Austen's reach into Asia.
Jan Fergus, Professor Emerita, Lehigh University D2
My Dear Charlotte
Hazel Holt, popular British detective novelist, has set her latest mystery plus romance in 1814, using an epistolary style modeled on Jane Austen's letters to Cassandra. Ms. Holt captures Austen's style and the sisters' sibling bond in her novel. Fergus, who believes this to be the only successful Austen imitation she knows, will explore Jane and Cassandra's correspondence reflected in this clever book.
Sheila Kindred, St. Mary's University, Halifax, Nova Scotia D3
Sibling Influences and North American Echoes in the Naval Novel
Published in Persuasions 31 (2009). "The Influence of Naval Captain Charles Austen's North American Experiences on Persuasion and Mansfield Park" Persuasions 31 (2009): 115-129.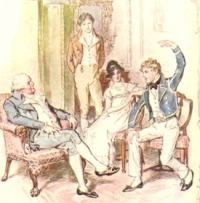 Charles Austen was stationed in North America from 1805-1811 while he served in the British navy. Tales of his naval exploits are echoed in both Persuasion and Mansfield Park. Were the worries and concerns that Fanny Palmer felt for her husband Charles used to paint the portrait of Mrs. Croft, wife and sister to naval officers? Learn what other influences Charles's experiences had on his sister's novels – besides the famous amber cross.
Cheryl Kinney, Medical City Dallas Hospital &
Theresa Kenney, University of Dallas D4
Sickly Siblings: "There, I fancy, lies my cure."
While Professor Kenney describes the behavior and impact of the sickly sibling on the family, as well as on the novel's plot, Dr. Kinney will detail the many cures and medicines for those imagined illnesses, even dispensing samples. Among many examples, favorites Mary Musgrove and Mrs. Bennet will be discussed.
Deborah Knuth Klenck, Colgate University D5
"You Must be a Great Comfort to Your Sister, Sir": Why Good Brothers Make Good Husbands
The best brothers buy their sisters pianos, discuss with accuracy the price of muslin, or even compare a ship with a pelisse. Klenck will discuss how sympathy with his sister can prepare a brother to be the very best husband for an Austen heroine.
Sally Palmer, South Dakota School of Mines D6
Uneasy Being Green: Sibling Envy in Austen
How do Austen's siblings compete with each other? In what well-written dialogue do we read the evidence of envy between sisters and brothers? Are Austen's brothers and sisters competing for the attention of not only their family and friends but also for the attention of the reader?
Nora Stovel, University of Alberta D7
"Brother and sister! No, indeed!": From Friendship to Courtship in the Novels of Jane Austen
Austen's devotion to her elder brothers, James and Henry, inspired the love relationships in her novels, Stovel argues, particularly Emma and Mansfield Park. While the "brother-and-sister" relationship may be instrumental in bringing the central couple together, the fact that they are not related by blood allows them to progress from siblings to lovers and friendship to courtship.

Post-banquet Session, Saturday, October 10

Janine Barchas, University of Texas at Austin
The Sister Arts and Jane Austen
Published in Persuasions 31 (2009). "Artistic Names in Austen's Fiction: Cameo Appearances by Prominent Painters" Persuasions 31 (2009): 145-162.
In Pride and Prejudice, Jane Austen neatly invokes the sister-art of painting in an allusion to Sir Joshua Reynolds (1723-1792), the era's greatest portraitist, in the name of the housekeeper, Mrs. Reynolds. Similarly, Northanger Abbey's explicit discussion of art and the picturesque, and the name of Morland may conjure up actual landscape canvases and prints by George Morland (1763-1804), the popular painter of rural life. Barchas ties the art of the period to the art of Jane Austen's fiction using examples of these and several more painters -- all of whom make cameo appearances in Austen's stories.