Conference Hotel
". . . they were now safely lodged in perfect bliss . . ."
The conference hotel is sold out completely. We expect that some rooms will become available at the Sheraton Society Hill throughout the summer due to cancellations. If you wish to reserve a room now at a regular rate, we recommend nearby hotels. Please refer to the list at the bottom of this page.
Note: If you wish to cancel or make a reservation at the conference hotel, we encourage you to call the hotel directly at 215.238.6034. Ask for Aimee, the Group Services Manager. You must supply arrival and departure dates. You may also call 215.345.1158 or email agmphiladelphia@gmail.com and supply this same information.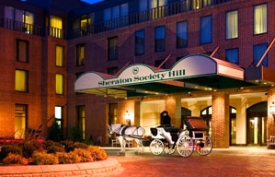 The Philadelphia AGM will be held at The Sheraton Society Hill Hotel, situated in the United States' most historic square mile. The cobblestone streets and beautiful Federal homes and mansions that surround the hotel will appeal to JASNA members and only add to the pleasure they derive from "all things Jane." Within walking distance of the hotel are Independence Hall, Betsy Ross's House, the National Constitution Center, and many other historic sites. After a short cab trip or subway ride—or long walk—the attendee can visit such sights as The Rodin Museum, The Philadelphia Museum of Art, or the Pennsylvania Academy of Fine Arts, dine in the best restaurants, and shop for the finest lace.
Room Reservations
The JASNA room rate is $199 per night, plus 14% city and state tax, for up to 4 people from October 4 through October 14, 2009.
Call 800.325.3535 or 215.238.6000 to make reservations, and ask for the conference rate for the Jane Austen Society of North America (JASNA).
If you plan an extended hotel stay, i.e. arriving before October 7th or staying past October 11, you must call 215.238.6000 to receive the JASNA rate.
Make your own reservations and get the JASNA rate by using this site.
Be certain to specify whether you want a king bed or two double beds when making reservations by phone or through the web site.
Rollaway beds are available in rooms with king beds for an additional fee.
The group rate is available for three days before and after the conference—based on availability—should you choose to sightsee.
Room Block
What is a room block and how does it affect an AGM attendee? The conference hotel for each AGM holds a certain number of rooms (the block) for attendees at the special JASNA rate. Once all the rooms in the block have been reserved, the hotel is under no obligation to accommodate a JASNA attendee with a room reservation. If the hotel has extra rooms that are not part of the block, it may offer them at a higher rate. Please be certain to make your reservations as early as possible to avoid disappointment.
Note: September 16, 2009 is the final day that you can make a reservation and still receive the special JASNA rate (if rooms are still available in JASNA's room block).
Guest Rooms
All guestrooms were fully renovated in 2007 and all are non-smoking. Enjoy fee-based high speed Internet access, wake-up service, cable television, voicemail, room service, maid service, the use of a coffee maker, an iron and ironing board, and room service, among many other amenities. Enjoy additional services if you reserve a club room or suite.
Roommate Referral Service
As in the past, if you would like to share a room, make new friends, and save money, roommate referrals will be made if you request this service when you register for the AGM. The registration brochure will indicate the last day on which roommate referrals can be accommodated. The name and contact information of a fellow JASNA member who also desires a roommate will be provided to you so that you and your future roommate can determine together the arrival and departure dates that best suit your travel requirements. Only one roommate referral per member can be made. Referrals are made based on gender and aversion to tobacco.
Restaurants
There are two restaurants on the premises, as well as a coffee bar. The restaurants at the Sheraton are popular with hotel guests and local residents. We urge you to make reservations for dinner should you choose to dine at the hotel. Hadley's Bistro and the Wooden Nickel Restaurant both provide American fare. Visit this site to learn more.

Parking at the Hotel
The Sheraton Society Hill provides only valet parking for drivers who are not guests of the hotel at a daily rate of $24 plus tax for parking from 8 AM to 5 PM or from 5 PM to midnight.
The Sheraton Society Hill provides parking for hotel guests, with in and out privileges, at the daily rate of $29 plus tax. Note: Prior to check-in, guests must use valet parking services in order to access the hotel garage.
Other Nearby Hotels
Best Western Independence Park Inn
235 Chestnut Street
Philadelphia, PA 19106
215.922.4443
800.780.7234
Omni Hotel at Independence Park
401 Chestnut Street
Philadelphia, PA 19106
888.444.6664