Brothers and Sisters
"Here you are in your own family."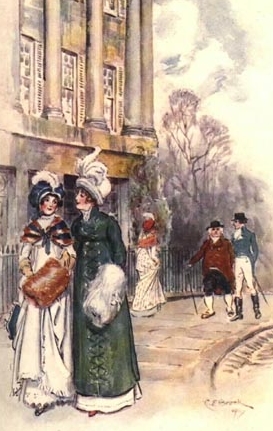 The 2009 Steering Committee, having spent quite some time in the company of Jane Austen's brothers and sisters, wondered what their JASNA brothers and sisters thought of the siblings that Jane wrought. Which two brothers and which two sisters, created by Jane Austen, would they like to have as their own brothers and sisters?
Who knew that so many of us harbor a desire to relinquish our own siblings in favor of Jane Austen's novel creations? The two brothers we would most like to call our own are Fitzwilliam Darcy and Henry Tilney. The two sisters we believe would be most likely to soothe our sorrows and gild our pleasures are Elizabeth Bennet and Elinor Dashwood.
Thank you to the JASNA members who took the time to weigh in on this important matter.
Other favorite siblings:
George Knightley, Edward Gardiner, William Price
Anne Elliot, Jane Bennet, Sophia Croft
Comments:
Who wouldn't want Henry Tilney for a brother? He knows his fabrics!
Lizzy Bennet would have to be the most fun sister to have, and Anne Elliot the most sensitive.
For my first brother, I vote for Fitzwilliam Darcy. He is kind and wise and generous and will buy me pianofortes and get me out of scrapes. And since I am his sister, I shall have a dowry of 30,000 pounds…
Marianne Dashwood. Because she's fun, impulsive—the perfect wild child sister!
My hero of choice is Mr. Knightley. If Henry Tilney and Fitzwilliam Darcy were my brothers, I'm sure they'd persuade him quickly into marriage with me.
The 2009 Steering Committee is not alone in their consideration of brothers and sisters. Many over the years have wondered and written about siblings in life and in literature in Persuasions, JASNA's literary journal. We were well prepared to discuss brothers and sisters after we read the essays assembled by our sister Susan Allen Ford, editor of Persuasions.
Brothers and sisters are considered and studied not only by JASNA members.  Read the TIME article, published July 10, 2006, titled "The New Science of Siblings."
Deborah Tannen, University Professor and Professor of Linguistics at Georgetown University, is well known for her work on socio-linguistics. Her latest book, You Were Always Mom's Favorite: Sisters in Conversation Throughout Their Lives, explores sisterly speech. So many people considering siblings!
Just how many siblings did Jane Austen create? Over 170 brothers and sisters live in the novels. Each novel contains at least three sibling pairs. Heroes and heroines, even minor characters, are blessed with siblings – if one can consider Lydia Bennet a blessing. Can one? Now, which novel is it where the Harrington sisters appear? Use the links below to learn about the many brothers and sisters in the novels.
Sibling Statistics
Sense and Sensibility
Pride and Prejudice
Mansfield Park
Emma
Persuasion
Northanger Abbey