Welcome to Chicago!
Jane Austen in the Arts
Presented by
Greater Chicago Region, Chicago, IL
October 15-17, 2021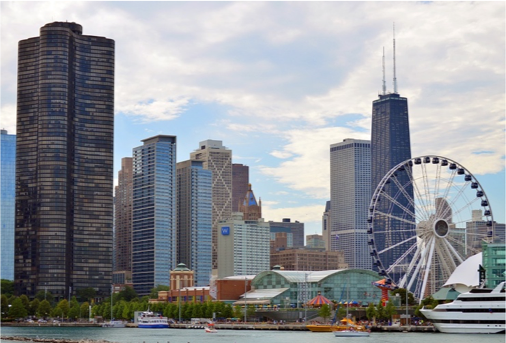 The Greater Chicago Region of the Jane Austen Society of North America is pleased and excited to invite all JASNA members to the 2021 AGM in the world-famous city of Chicago. You will experience an exciting lineup of plenary and breakout speakers and will have the opportunity to attend unique theater, music, and cultural events available only to AGM attendees. Plan to come early and stay late. Our kind of town will be your kind of town!
October is typically one of Chicago's nicest months, with clear, crystalline blue skies, very low humidity, and sunny days. Fall colors on Michigan Avenue are beautiful, with lots of autumn plantings of chrysanthemums and foliage. And Lake Michigan sparkles with diamonds in the bright autumn sun!
Each of Jane Austen's novels features the arts in some form—from the domestic female accomplishments of playing an instrument, singing, and drawing as practiced by Emma Woodhouse, to the elaborate but private preparations for a performance of Lover's Vows in Mansfield Park, to the public concert at the Assembly Rooms in Persuasion. We invite you to explore and experience this fascinating topic in the beautiful, exciting surroundings of the city of Chicago.
* * * * * * *
Watch the video below for a special AGM version of Sweet Home Chicago penned by JASNA member Debra Miller, and performed by Chicago actress Cory Goodrich on guitar and Debra Miller. Lyrics are provided below the video.
Lyrics

Greetings from Chicago! I am Debbie Miller, I am from the Jane Austen Society of North America-Greater Chicago Region, and I am part of the team that is working hard to bring you next year's AGM Jane Austen and the Arts, October 15th through the 17th of 2021; and this is my friend Cory Goodrich. She is a Chicago Artist, musician and star of stage and screen. We at the Greater Chicago Region have so many exciting announcements to share with you over the coming months, and we're sure that you have questions. We're going to do our best to answer them, but for right now, Cory and I have a question for you:

Sweet Home Chicago AGM Parody

Cory: C'mon Janeites don't you want to go
C'mon Janeites don't you want to go
To celebrate Jane and the Arts in my
Sweet Home Chicago
Both: C'mon Janeites don't you want to go
C'mon Janeites don't you want to go
To the AGM in my
Sweet Home Chicago
Deb: From quill & brush and bow
To memes of movie stills
Jane Austen has inspired art
And you know she always will
Both: C'mon Janeites don't you want to go
C'mon Janeites don't you want to go
To celebrate Jane and the Arts in my
Sweet Home Chicago
Cory: You can fly or drive or jog
Through rain and sun and fog
You'll all be warmly welcomed
Unless you put ketchup on your hot dog
Both: C'mon Janeites don't you want to go
C'mon Janeites don't you want to go
To the AGM in my
Sweet Home Chicago
Deb: Our North American Scholar is Devoney Looser,
Our Moss Keynote is Gillian Dow
I wouldn't pack my bags just yet
But I'd start plannin' now
Both: C'mon Janeites don't you want to go
C'mon Janeites don't you want to go
To the AGM in my
Sweet Home Chicago
Cory: When next October rolls around
Deb: Chicago'll be reeling with the sound
Of Women in finest muslin
Cory: And men with at least ten thousand pounds
Both: C'mon Janeites don't you want to go
C'mon Janeites don't you want to go
To the AGM in my
Sweet Home Chicago