Hotel
The 2021 AGM will take place at the Chicago Marriott Downtown Magnificent Mile
540 North Michigan Avenue, Chicago, Illinois 60611
The Hotel Room Block opens on July 14 at noon.

To reserve, go to https://book.passkey.com/e/50147469 or
call 1-877-303-0104 and ask for the Jane Austen Society of North America block.

The following room types are available:

Guest Room with 1 King Bed - $279 per night
Guest Room with 2 Double Beds - $279 per night
City View Room - $299 per night
Concierge Level Room - $309 per night

Room prices do not include tax. In-room wifi is $1; Marriott Rewards members receive free wifi.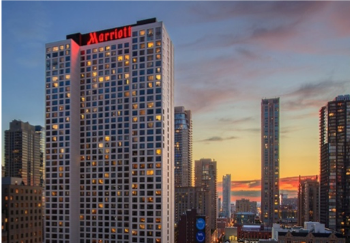 Our conference hotel is conveniently located on Chicago's beautiful "Magnificent Mile"–Michigan Avenue–and is within easy walking distance of shopping (including the American Girl store), dining, and so much more. The lobby, meeting space, and 1200 guest rooms have been completely renovated, and all rooms contain ergonomic chairs, comfortable desks, and flat-screen televisions. The hotel also has excellent restaurants, which are supported by a 95% scratch kitchen, a 24-hour pastry kitchen, and even four roof-top beehives. (The honey offered with the croissants each morning is really fresh!) The kitchen hand-makes its own pasta and sources vegetables from two local farms. We think you will be pleased.