Theme: Jane Austen in the Arts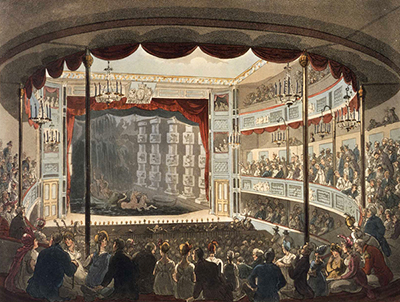 The theme of "Jane Austen in the Arts" allows us to explore and comment on the many facets of performance in Jane Austen's world. Austen attended private musical evenings and enjoyed visits to the theater and to galleries. She participated in family theatricals at Steventon and structured some of her juvenile writing as plays. In addition to examining how the visual and performing arts influenced Austen's writing, our theme embraces the study of film, stage, and other artistic adaptations of her work.
The theme is inspired by the fact that Chicago is the home of many great performance venues, from the world-famous Lyric Opera and the Chicago Symphony Orchestra, to the exciting world of professional theater—just one example of which is the award-winning Goodman Theatre. But there are also other types of "performance" Jane would have enjoyed as well: the acclaimed Art Institute of Chicago, the Joffrey Ballet, and even master performances in the culinary arts, such as those offered seasonally by Grant Achatz in his Michelin-starred restaurant, "Alinea."
Ways to explore the visual and performing arts are plentiful; we think Jane would have been happy here in Chicago, and we believe JASNA AGM guests will be as well.