Northanger Abbey (2007)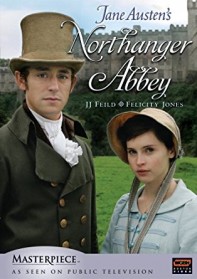 Studio/Network: ITV/Grenada Television Ltd. co-production with WGBH Boston
Director: Jon Jones
Screenplay by: Andrew Davies
Cast
Catherine Morland - Felicity Jones
Henry Tilney - JJ Feild
General Tilney - Liam Cunningham
Mrs. Allen - Sylvestra Le Touzel
See more on IMDb
Northanger Abbey (1987)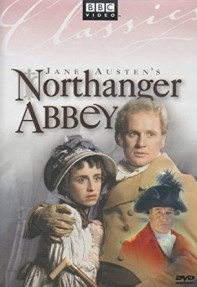 Studio/Network: A BBC TV Production in association with Arts & Entertainment Network
Director: Giles Foster
Screenplay by: Maggie Wadey
Cast
Catherine Morland - Katharine Schlesinger
Henry Tilney - Peter Firth
General Tilney - Robert Hardy
Mrs. Allen - Googie Withers
See more on IMDb


For Your Consideration...
---
Ruby in Paradise (1993)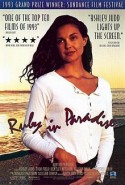 Like Catherine Morland, the heroine of this film, portrayed by Ashley Judd, leaves home and travels to a resort town, where she meets gentlemen and has adventures. She also reads Northanger Abbey, given to her by an intellectual gentleman of her acquaintance. However, the film, written and directed by Victor Nunez, is an homage to Northanger Abbey rather than an adaptation.
Wishbone: "Pup Fiction"

Wishbone was a children's television show broadcast on PBS in the 1990s, featuring a Jack Russell terrier named Wishbone with a very active imagination. When Wishbone's young owner's life reflects classic literature, Wishbone takes the lead in acting out the work in question. In "Pup Fiction," an adaptation of Northanger Abbey, Wishbone plays Henry Tilney, frightening Catherine Morland with a made-up Gothic story and teaching her that taking books too seriously can get one in trouble. These shows are currently being rebroadcast on PBS in some markets; as the saying goes, check your local listings!

Further Reading