Pride and Prejudice Atlanta (2019)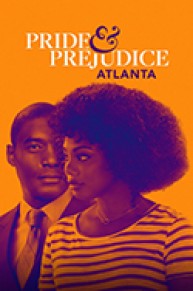 Studio/Network: Lifetime
Director: Rhonda Baraka
Screenplay by: Tracy McMillan
Cast
Lizzie Bennet - Tiffany Hines
Will Darcy - Juan Antonio
Jane Bennet - Raney Branch
Mr. Bingley - Brad James
George Wickham - Phillip Mullings Jr.
See more on IMDb
Pride and Prejudice and Zombies (2016)
Studio/Network: Lionsgate
Director: Burt Steers
Screenplay by: Burt Steers
Cast
Elizabeth Bennet - Lily James
Mr. Darcy - Sam Riley
Jane Bennet - Bella Heathcote
Mr. Bingley - Douglas Booth
Mr. Wickham - Jack Huston
See more on IMDb
Unleashing Mr. Darcy (2016)

Studio/Network: Hallmark Channel
Director: David Winning
Screenplay by: Tina Booth
Cast
Elizabeth Scott - Cindy Busby
Donovan Darcy - Ryan Paevey
Zara Darcy - Sarah Desjardins
The Lizzie Bennet Diaries (2013)
Find it on YouTube
Director/Creator: Hank Green and Bernie Su
Writers: Margaret Dunlap, Hank Green, Kate Rorick, Bernie Su
Cast
Lizzie Bennet - Ashley Clements
William Darcy - Daniel Vincent Gordh
Jane Bennet - Laura Spencer
Bing Lee - Christopher Sean
George Wickham - Wes Aderhold
Pride & Prejudice (2005)
Studio/Network: Focus Features
Director: Joe Wright
Screenplay by: Deborah Moggach
Soundtrack: Available
Cast
Elizabeth Bennet - Keira Knightley
Mr. Darcy - Matthew Macfadyen
Jane Bennet - Rosamund Pike
Mr. Bingley - Simon Woods
Mr. Wickham - Rupert Friend
See more on IMDb
Bride and Prejudice (2004)
Studio/Network: Miramax Films & Pathe Pictures
Director: Gurinder Chadha
Screenplay by: Paul Mayeda Berges & Gurinder Chadha
Soundtrack: Available
Cast


Lalita Bakshi - Aishwarya Rai
Will Darcy - Martin Henderson
Jaya Bakshi - Namrata Shirodkar
Mr. Balraj - Naveen Andrews
Johnny Wickham - Daniel Gillies
See more on IMDb
Pride and Prejudice (2003)
Studio/Network: Excel Entertainment Group
Director: Andrew Black
Screenplay by: Anne Black, Jason Faller, & Katherine Swigert
Soundtrack: Available
Cast


Elizabeth Bennet - Kam Heskin
Fitzwilliam Darcy - Orlando Seale
Jane Vasquez - Lucila Sola
Charles Bingley - Ben Gourley
Jack Wickham - Henry Macguire
See more on IMDb
Pride and Prejudice (1995)

Studio/Network: BBC and A&E
Director: Simon Langton
Screenplay by: Andrew Davies
Soundtrack: Available
Cast

Elizabeth Bennet - Jennifer Ehle

Fitzwilliam Darcy - Colin Firth
Jane Bennet - Susannah Harker
Charles Bingley - Crispin Bonham-Carter
George Wickham - Adrian Lukis

Pride and Prejudice (1980)
Studio/Network: BBC
Director: Cyril Coke
Screenplay by: Fay Weldon
Cast
Elizabeth Bennet - Elizabeth Garvie
Fitzwilliam Darcy - David Rintoul
Jane Bennet - Sabina Franklyn
Charles Bingley - Osmund Bullock
George Wickham - Peter Settelen
Pride and Prejudice (1940)
Studio: MGM
Director: Robert Z. Leonard
Screenplay by: Aldous Huxley & Jane Murfin
Cast
Elizabeth Bennet - Greer Garson
Mr. Darcy - Laurence Olivier
Jane Bennet - Maureen O'Sullivan
Charles Bingley - Bruce Lester
Mr. Wickham - Edward Ashley
For Your Consideration...
---
Twilight (2008)
Author Stephenie Meyer, an avowed admirer of Jane Austen, based Twilight on events and characters in Pride and Prejudice. When 17-year-old Bella Swan moves to a new school, she must cope with the rudeness of Edward Cullen, her handsome science lab partner. Edward is rich and intelligent, but his behavior toward Bella is at first cold and silent. He also happens to be a vampire, though his family is "vegetarian"—they do not drink human blood. The story of the couple's unexpected romance is told with biting wit, as befits the adaptation of a novel in the Austen tradition.
Bridget Jones's Diary (2001)
Helen Fielding admitted that she wrote the first Bridget Jones novel as an homage to Pride and Prejudice, and when the film was made, who but Colin Firth could be cast as Mark Darcy? He smoldered as well as he had done in the period film, and had a much better haircut, though the end of the movie was changed and is less like Pride and Prejudice than in Fielding's novel.
You've Got Mail (1998)
Janeite Nora Ephron wrote and directed this film, a remake of The Shop Around the Corner with influences of Pride and Prejudice. Meg Ryan plays Kathleen Kelly, owner of a small children's bookstore, and Tom Hanks plays Joe Fox, whose family owns a large chain of bookshops that is forcing little stores like Kathleen's out of business. They meet in an online chatroom and exchange anonymous e-mails; when they encounter one another in real life, not knowing that they are speaking with their e-mail buddy, they clash like another couple that Janeites love, Elizabeth and Darcy. Pride and Prejudice is Kathleen's favorite novel; it is directly referenced several times in the film, and Joe reads the book (with Colin Firth on the cover!) to try to better understand her. See if you can spot a small homage to the 1980 BBC miniseries near the end of the film.
Wishbone: "Furst Impressions"
Wishbone was a children's television show broadcast on PBS in the 1990s, featuring a Jack Russell terrier named Wishbone with a very active imagination. When Wishbone's young owner's life reflects classic literature, Wishbone takes the lead in acting out the work in question. He plays Mr. Darcy in "Furst Impressions," the Wishbone adaptation of Pride and Prejudice, and proves that every savage can indeed dance. These shows are currently being rebroadcast on PBS in some markets; as the saying goes, check your local listings!


Further Reading
---